Legal document: T-S 13J6.26
Legal document
T-S 13J6.26
Input date
In PGP since 2017
Description
Legal document (actually two different documents concerning the same persons) concerning the poor treatment afforded to R. Moshe, a new hazzan, by R. Nissim, the muqaddam of al-Maḥalla, and centered on issues relating to a marriage ceremony and the public evaluation of a dowry. Thirteenth century. (S. D. Goitein, Mediterranean Society, 2:74, 538; Mordechai Friedman, Jewish Marriage in Palestine, 1:296; Eliyyahu Ashtor, "The Number of Jews in Medieval Egypt," JJS (1967), 238) EMS.
T-S 13J6.26 1r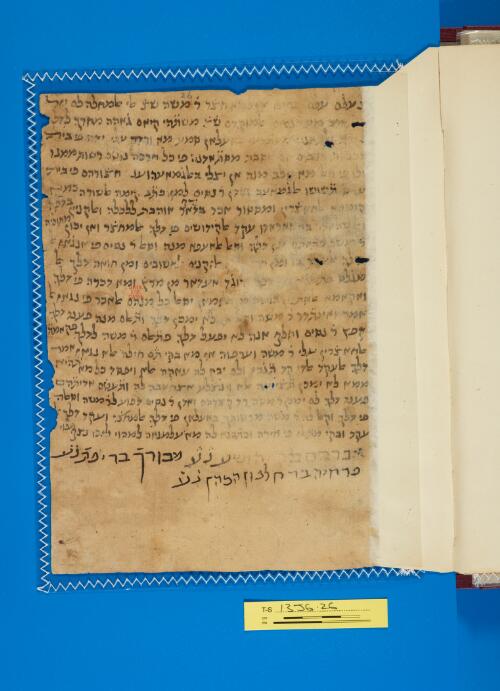 Transcription
S. D. Goitein, unpublished editions.
עדות שר' משה מאז בואו אל אלמחלה לא נכנס מעולם בגבולו של ר' נסים המוקדם,
וערך קידושים בהיעדרו רק ברשותו. חתמו שלושה. בעמוד ב' עדות דומה חתומה על
ידי עד אחר.
נעלם עלם צחיח אן למא חצר ר משה שצ אלי אלמחלה לם יזל
מת]אדב מע ר נסים אלמוקדם שצ משתהי קיאם גאהה מחרך לדלך
] מסתדעי באעלאן סמע מא ורדה עלי ידה פי בית
הכנסת ברבים יום אלסבת מסתאדנה פי כל חרכה נוטל רשות ממנו
ולו פי חאל מא טלב מנה אן יצלי באלגמאעה וענד חצורהם פי בית
ערס תשושו אלגמאעה ואדן ר נסים למן כתב קימה אלשורה כמא
קומהא אלחאצרין ומסטור אכר //נצף// בדאר אוהבת ללכלה ואלקניין בדלך
ואלשהאדה בה ואראדו עקד אלקידושים פי דלך אלמחצר ואן יכון מתוליה
ר משה פתאסף ען דלך וסאל אלעפא מנה וסאל ר נסים פי אנגאז [אל]
דלך אלעקד הו ומן חצר מן אלזקנים אלחשובים ומן חואה דלך אל
מגלס פתמ [[מן]] דלך .. וגד אעדאר מן מרץ ומא דכרה פי דלך
ואקאמא אלאתנין ברהה מן אלזמאן יסאל כל מנהם אלאכר פי נגאז אל
אמר ואעתדר ר משה וקאל אן לא ימכן דלך ותאלם מנה פענד דלך
קפץ ר נסים וחלף אנה לא יפעל דלך פתאלם ר משה לדלך פקאמה
אלחאצרין עלי ר משה וערפוה אן מא בקי תם חילה אלא נגאז אמר
דלך אלעקד אלדי קד תגהז ולם יבק לה עאקה אלא ויפסד כל מא תהיא
ממא לא ימכן תצייעה אלא וינצלע אצחאבה לה ותעטם אדיתהם
פענד דלך לם ימכן ר משה רד קצדהם ואדן ר נסים דפוע לר משה וסאלה
פי דלך וקאל לה ר משה מרשותך באעלאן פי דלך אלמחצר ועקד דלך אל
עקד ובקי מתאלם פי חירה וכתבנא לה מא עלמנאה למהוי לזכו נצף תלוי
אברהם ביר יהושע נע מבורך בר יפת נע
פרחיה בר חלפון הכהן נע
T-S 13J6.26 1v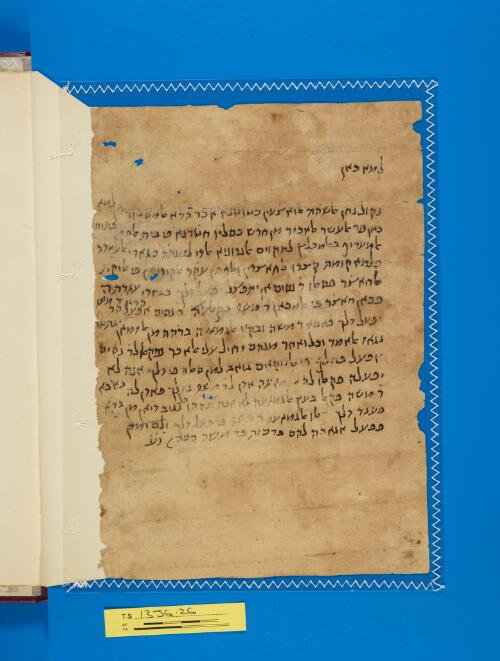 verso
למא כאן
נקול נחן אלשהוד אלואצעין כטוטנא אכר הדא אלמסטור אן למא
כאן פי אלעשר אלאכיר מן חדש כסליו חטרנא פי בית אלחתן פתוח
אלמערוף באלמכלץ לתקוים אלנדוניא אלדי לזוגתה כגארי אלעאדה
פלמא קומה קצדו אלחאצרין ואלחתן עקד אלקידושין פי אלוקת
אלחאצר פסאלו ר נסים אן יתפצל יפעל דלך כגארי עאדתה
פכאן חאצר פי אלמכאן ר משה פקאל [[לה]] ר נסים אפעל הדא //הדא ר מש[ה//
יפעל דלך פאבא ר משה ובקא אלגמאעה ברהה מן אלזמאן ינתטר
נגאז אלאמר וכל ואחד מנהם יחיל עלי אלאכר פקאלו לר נסים
אפעל פחלף פי אלמקאם גואב למן סאלה פי דלך אנה לא
יפעלה פקאלו לה אלגמאעה אדן לר משה בדלך פאדן לה פאבא
ר משה פקאל בעץ אלגמאעה לא אנת ולא הו //הל// נגיב דיאן מן ברא
פענד דלך קאלו אלגמאעה ר משה פיפעל [[ולם ימכן]]
פפעל אגאבה להם ברכות בר משה הכהן נע
Image Permissions Statement

T-S 13J6.26: Provided by Cambridge University Library. Zooming image © Cambridge University Library, All rights reserved. This image may be used in accord with fair use and fair dealing provisions, including teaching and research. If you wish to reproduce it within publications or on the public web, please contact genizah@lib.cam.ac.uk.