Legal document: T-S 13J6.25
Legal document
T-S 13J6.25
Input date
In PGP since 1990
Description
Recto: Acknowledgment of debt of seventy dinars Abu l-Tana al-Sukkari (the sugar seller) b. Abu l-Barakat the perfumer by Aharon Ha-Kohen the perfumer. Verso: Rhymed funerary poem.
T-S 13J6.25 1r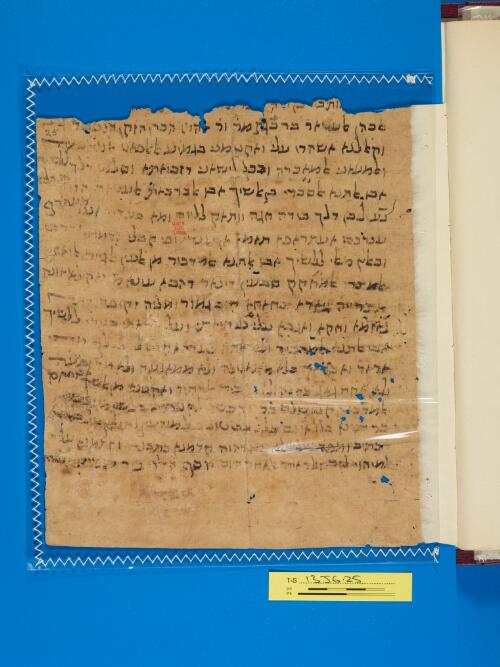 Transcription
S. D. Goitein, unpublished editions.
]ת כ[ ]ן [
אלכהן אלעטאר בר כגק מר ור אהרן הכהן הזקן הנכבד
וקאל לנא אשהדו עלי ואקנו מני בגמיע אלאלפאט אלמחכמה
ואלמעאני אלמאכדה ובכל לישאני דזכואתא וסלמו דלך ללשיך
אבו אלתנא אלסכרי בן אלשיך אבו אלברכאת אלעטאר הזקן הנכבד
נע' ליכן דלך בידה חגה וותאק לליום ומא בעדה אנני מעתרף
ענדכם אעתראפא תאמא אן ענדי ופי קבלי ודמתי וגהתי
וכאלץ מאלי ללשיך אבו אלתנא אלמדכור מן אלעין אלגייד אלואז[ן
אלמצרי אלמחקק סבעין דינאר דהבא עינא מתאקילא ואזנה
מצרייה גיאדא צחאחא חוב גמור ומלוה זקופה דינא
לאזמא וחקא ואגבא עלי פי חיאתי ועלי וראתי בעדי ללשיך
אבו אלתנא אלמדכור ולוראתה בעדה אקום לה בדלך מתי
אראד ואכתאר בלא ממאטלה ולא ממאנעה ולא מדאפעה
ולא אחתגאג בחגה ולא [תא]כיר אלבתה ואקנינא מן אלשיך אבו סחק (צ"ל: אסחק)
אלמדכור קנין שלם בכ[לי] הכשר לקנות בו בלשון מעכשיו
ברצונו בלא אונס כלל בבטול כל מודעין ותנאין על כל מה
דכתיב ומפרש לעילא ומא דהוה קדמנא כתבנא וחתמנא עליה
למיהוי לזכו ולראיה לאחר היום יוסף הלוי ביר שמואל
T-S 13J6.25 1v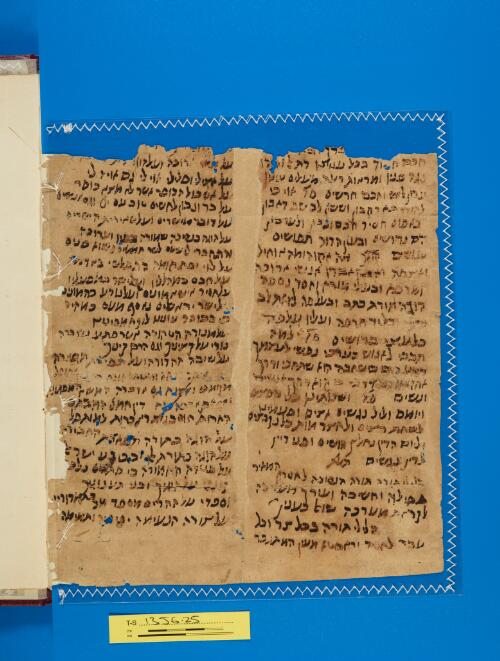 Image Permissions Statement

T-S 13J6.25: Provided by Cambridge University Library. Zooming image © Cambridge University Library, All rights reserved. This image may be used in accord with fair use and fair dealing provisions, including teaching and research. If you wish to reproduce it within publications or on the public web, please contact genizah@lib.cam.ac.uk.