Letter: T-S 13J6.16
Letter
T-S 13J6.16
Input date
In PGP since 2017
Description
Letter written by a poor physician who had not bought "one thread" of a new suit for two years and his children were going hungry. The writer further notes that "By chance I befriended a man from Damascus who introduced me to the family of Sayf al-Islam. I entered their house and treated them, whereupon they fixed for me a payment of one dinar every month." (S. D. Goitein, Mediterranean Society, 2:256, 579, 580) EMS
T-S 13J6.16 1r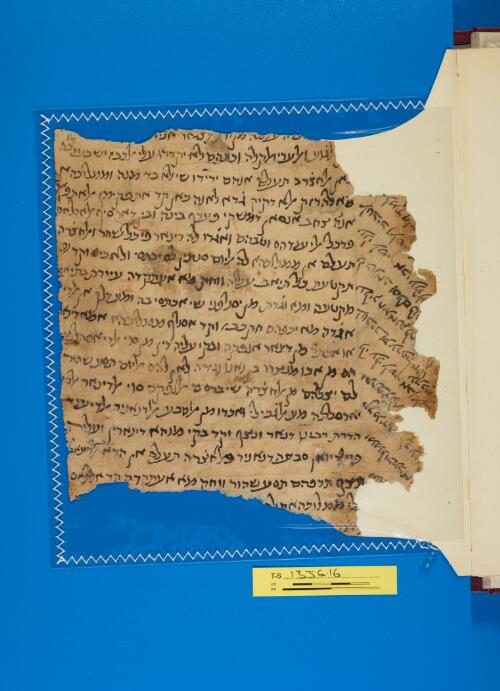 Transcription
S. D. Goitein, unpublished editions.
] מן חאל אלצגאר א[
] אלגוע ואלערי ואלקלה וכונהם לא יקדרו עלי אלכבז ישבעו בה
לאן אלחצרה תעלם אנהם ירידו שי לא בד מנה וממלוכהא
מא לה רזק אלא דקיק גדא לאנה כאן קד אתפק מן אלאתפאק
אנה צחב אנסאן דמשקי פערף בינה ובין דאר סיף אלאסלאם
פדכל אלי ענדהם וטבהם ואגרו לה דינאר פי כל שהר ואלחצרה
תעלם אן ממלוכהא לה אליום סנתין לם יכתסי ולא כיס וקד
תקטעת כל תיאב עליה ווחק מא אעתקדה עיידת בתיאב
מקטעה ומא וגדת מן יסלפני שי אכתסי בה ומע דלך אן אלדי
אגדה מא יכפהם חק כבז וקד אסלף ממלוכהא אמא דינאר
או אכתר מן דינאר אנפקה ובקי עליה דין מן סוי אלדי אסתלפא
הם מן אבו מנצור בן נאנו וגירה לאן להם אליום תסע שהור
לם יצלהם מן אלחצרה שי ברסם אלנפקה סוי אלדינאר אלדי
ארסלתה מע אלגבילי ואכדו מן אלסבע אלדנאניר אלדי ענד
הדרת רבינו דנאר ונצף וקד בקי מנהא דינארין ועליה
פי אלדיואן סבעה דנאניר פאלחצרה תעלם אן הדא אלדינאר
ונצף תרכהם תסע שהור ווחק מא אעתקדה קד אלת/ח/אם
]לי ממלוכהא [
]צ[
Margin
מנ[
וממלוכתהא [תקבל
קדמיהא ותדעו [
ותתפצלו [תסלמו
לי עלי אלשיך אבו עלי
אלטביב ותערפה אנני עתבאן
עליה חית אנה לם [ירסל
לי כתאב וסלם לי [
עלי אלשיך אבו עלי אל[
אלטביב ואלשי[ך
ת]למיד ואל[
T-S 13J6.16 1v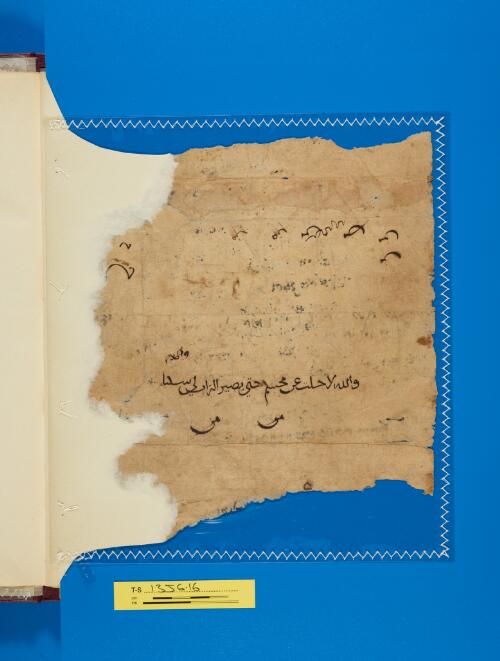 Verso, amidst Arabic jottings:
والله لا خلت عن محبتكم | حتى يصير التراب لي سكنا
Image Permissions Statement

T-S 13J6.16: Provided by Cambridge University Library. Zooming image © Cambridge University Library, All rights reserved. This image may be used in accord with fair use and fair dealing provisions, including teaching and research. If you wish to reproduce it within publications or on the public web, please contact genizah@lib.cam.ac.uk.