Legal document: T-S 13J4.4
Legal document
T-S 13J4.4
Input date
In PGP since 1990
Description
Draft of a lease of half a house with a garden for two years, stipulating that the tenant retains some of the rent for expenses on watering the garden, in Fustat, Adar 1540/March 1229.
T-S 13J4.4 1v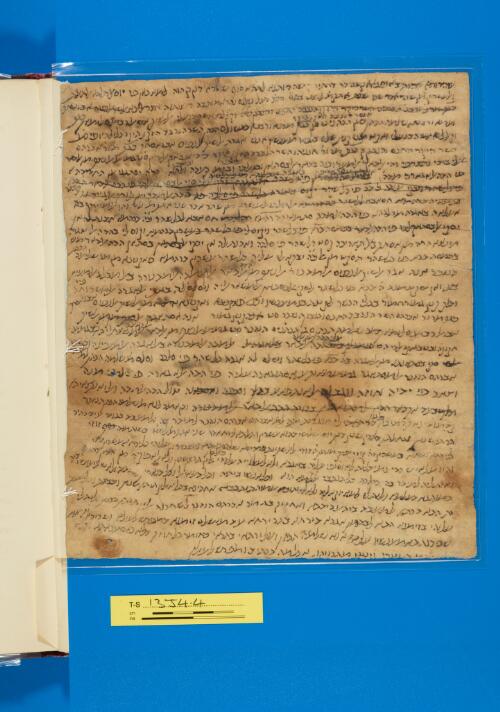 Transcription
S. D. Goitein, unpublished editions.
שהדותא דהות באנפנא אנן שהאדי דחתמין שהדותנא לתתא סוף שטרא דנן כן הוה למא כאן פי יום אלתלתא אלתאלת
ואלעשרין מן שהר אדר שני שנת אתקמ לשט בפס מצ דעל נילוס נהרא מותבה רשותיה חצר אלינא [[אלשיך אלנפיס אבו אסחק
כגק מרנ ורבנ אברהם השר היקר הזקן הנכבד החכם והנבון סט וקאל לנא אשהדו עלי]] אלשיך אבו אלרביע סלימאן כגק
מרנא ורבנא שלמה הכהן סגן הכהנים //השר הנכבד הזקן היקר// בן כגק מרנא ורבנא משולם הכהן השר הנכבד הזקן היקר כליל היופי נע
וקאל לנא אשהדו עלי ואקנו מני קנין שלם בלפט מעכשיו אנני אגרת אלשיך אלנפיס אבו אסחק כגק מ ור אברהם
השר היקר החכם והנבון בן כגק מר ור חנניהו השר הנכבד הזקן היקר דידיע באבן אלדיין סט גמיע אלנצף מן אלדאר
אלתי לי בידי ותצרפי והי אלדאר אלמערופה בדאר אלבסתאן נבי(?) אלרי(?) ובי(?) //ובסכנה// מן בעדה //ובסכני// ולהא שהרה יסתגני ען תחדידהא
פי הדא אלאגארה מדהא [[כמסה ועשרין פי אלשהר //אולהא יום תאריכה// אדנת לה אן יצרף עלי סקי אלבסתאן //באגרה מבלגהא .. פי כל סנה א// אלתי פי הדה אלדאר ה דרא
פי כל שהר ויבקי ענדה כ דר פי כל שהר יקום באגרה כל שהר פי סלכה פי הדה אלמדה מן אלורק אלגייד נקד מצר
סת מאיה דרהמא חסאבא ללשהר כה דרהמא]] אלתאלת ואלעשרין מן שהר אדר שני אתקמ לשט הו אלמוורך בה
אעלאה באגרה מבלגהא פי הדה אלמדה סת מאיה דרהמא [[חסא...]] חסאבא לכל שהר כה דרהמא [[אדנת לה אן
יסקי אלבסתאן אלדי פי הדה אלדאר בכמסה דרא פי כל שהר ויקום לי פי כל שהר בעשרין דרהמא]] יקום לי בהדה אלאגרה
משאהרה מן אסתקבאל תאריכה קסט כל שהר פי סלכה ואדנת לה אן יסקי [[אלבסתאן]] בסתאן הדה אלדאר מ . .
בכמסה דרא פי כל שהר תסקט מן אלכה יבקא לי עליה כל שהר עשרין דרהמא פאקנינא מן מר שלמה הכהן
הנזכר אנה אגר אלשיך אלנפיס אלמדכור אלנצף מן //הדה// אלדאר אל[[מ]]מדה אלמדכורה באלמבלג אלמעיין
בע ואן יסקט מנה ה דרא פי כל שהר לסקי [[אל]]בסתאן אלמשאר אליה ויסלם לה באקי אלאגרה אלמשרוחה //פיה//
ודלך קנין גמור חמור בכלי הכשר לקנות בו מעכשיו וכו [[פאקנינא]] ואקנינא [[איצא]] מן אלשיך אלנפיס אבו אסחק
כגק מרור אברהם השר הנכבד החכם והנבון הנזכר סט [[אנה]] קנין גמור אנה אסתאגר [[אלנצף מן]] מן אלשיך
אבו אלרביע סלימאן מר שלמה הכהן סגן הכהנים הנזכר סט גמיע אלנצף מן אלדאר //אלקאעה// אלמשאר אליהא בגמיע
חקוקה ובטבאקה אלדי הם פי [[מגלק באב]] הדה אלדאר //עלי הדה אלקאעה [[באלאגרה אל]] אלמדה אלמדכורה באלאגרה אלמעיינה ובשרט //
אלסי]] סקי בסתאנהא מן אלאגרה בה דרא פי כל שהר ויסלם לה אגרה כל שהר פי סלכה וסלם מ שלמה הכהן //אלאגר// למ
אברהם הנזכר אלמסתאגר גמיע מא וקע אסתיגארה עליה פי הדה אלאגארה פתסלמה מנה
וצאר פי ידיה וחוזה ווגב לה אלאנתפאע בדלך וסכנה [[ואסכאנה]] טול הדה אלמדה ואלי אנקצאיהא
ודלך בעד אקראר הדין אלמתואגדין ברויה הדה אלדאר אלמדכורה]] וכן אמר לנא מ שלמה הכהן הנזכר
קא מודינא קדמיכון //פלגו(?)// דרתא דילי אוגרית למ אברהם אברהם הנזכר למידר בה ולמעבד בגויה עובידתיה (!)
תרתי שנין ותחלתן דתרין שנין דנן יום שלישי דהוא עשרין ותלתא לירח אדר שני אתקמ לשט בשית מאה [[כסף]] זוזי
כל ירחא וירחא בעשרין וה זוזי יפיק מנהון ה זוזי לאשקיות פרדיסא שלדרתא דא וישתיירון עלוהי כל ירחא עשרין זוזי
והוו עלאי שהדי נמי דלית לאוסופי עליה באגרא ולא לעלוייה עלוהי //כולהון// אלין תרתין שנין ולא לאפוקיה מן הדין דרתא (?)
ואית ליה למידר בה כהלכת כל תותבי עלמא הוא וכל אנשי ביתיה וכל דעאייל וכל דנא . . ן . . . תיה ולאשתמושי ביה
כמנהגא דעלמא ולית לי לעאיוקא ליה ולא לאותובא עמיה תותבבא אחרינא בכל אילין תרתין שנין ויהבית ושלימית
ית הכא דרתא למעבד ביה עבידתא ואחזיק בה מר אברהם הנזכר לשכירות אלין תרתין שנין ולית לי
עלוהי בזימנא הכא לבד מן אגרא דירחא בתר ירחא עד מישלם זימנא דמפרש לעילא ושרירא וקיימא
שכירות דא מעכשיו עלאי אנא שלמה הכהן ועל ירתאי בתראי כחומר כל חוזק דלא כאסמכאתא ודלא
כטופ]סי דשטרי וקנינא מתרויהון אכל מה דכתיב ומפרש לעילא
T-S 13J4.4 1r
Image Permissions Statement

T-S 13J4.4: Provided by Cambridge University Library. Zooming image © Cambridge University Library, All rights reserved. This image may be used in accord with fair use and fair dealing provisions, including teaching and research. If you wish to reproduce it within publications or on the public web, please contact genizah@lib.cam.ac.uk.