Legal document: T-S 13J3.7
Legal document
T-S 13J3.7
Input date
In PGP since 1990
Description
Legal deed. Bill of sale for a female slave named Nisrīn for 20 dinars. Location: Fustat. Dated: Nisan 1459 Seleucid = March/April 1148 CE. Seller: Moshe b. Shemuel ha-Nagid (i.e., Shemuel b. Ḥananya). Buyer: the banker Abū l-Ḥasan b. Munajjā. For another document mentioning Moshe b. Shemuel ha-Nagid, see T-S NS 273.85r (PGPID 38099).
T-S 13J3.7 1r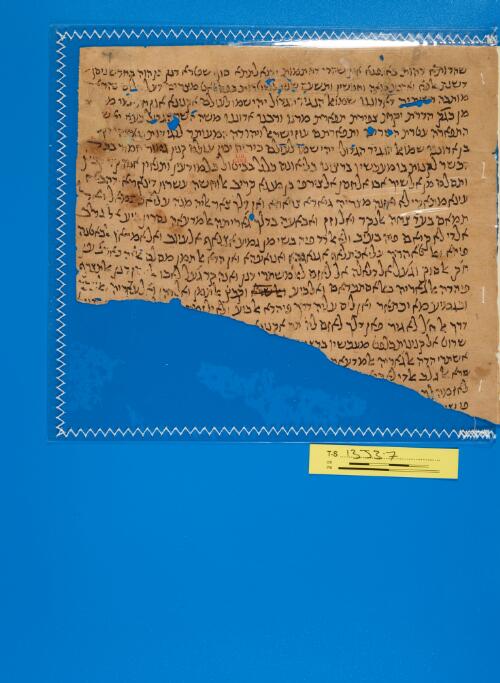 Transcription
S. D. Goitein, unpublished editions.
שהדותא דהות באנפנא אנן שהדי דחתמות ידנא לתתא סוף שטרא דנן כן הוה בחדש ניסן
דשנת אלפא וארבע מאה וחמשין ותשעה שנין לשטרות בפסטאט מצרים דעל נילוס נהרא
מותבה רשותיה דאדוננו שמואל הנגיד הגדול יהי שמו לעולם אקנינא אנן חתומי מ[טה
מן כגק' הדרת יקרת צפירת תפארת מרנו ורבנו אדוננו משה השר הגדול בעם יי' ש[ר
התפארה עטרת השרים ותפארתם עוז ישראל ויהודה המעותד לנגידות נטרוהי מן [שמיא
בן אדוננו שמואל הנגיד הגדול יהי שמו לעולם כיריח יכון עולם קנין גמור חמור בכלי
הכשר לקנות בו מעכשיו ברצונו בלי אונס כלל בביטול כל מודעין ותנאין אנה קד קבץ
ותסלם מן אלשיך אבו אלחסן אלצירפי בן מנגא קריב אלוחשה עשרון דינארא דהבא
עינא מתאקילא ואזנה מצריה גיאדא צחאחא ואן דלך צאר אליה מנה עלי אלכמאל ואל
תמאם בעד צחה אלנקד ואלוזן ואבאעה בדלך גאריתה אלמדעאה נסרין ביע אלגלב
אלדי לא קיאם פיה בעיב ולא אלרד פיה בשי מן גמיע אצנאף אלעיוב ואלאמראץ אלבאטנה
פיהא ואלטאהרה עלי אכתלאף אגנאסהא ואנואעהא ואן הדא אלתמן מסלם אליה כארג ען
חק אלסוק וגעל אלדלאלה אללאזם לאלמשתרי דנן ואנה קד געל לאבו אלחסן דנן אלתצרף
פי הדא אלגאריה באלאסתכדאם ואלביע [[ואלשרא]] וקבץ אלתמן ואלרהן ואלעאריה ואלעתק
ובגמיע מא יכתאר ואן ליס עליה דרך פי הדא אלביע ולא ילזמה[
דרך אלחל' לא גיר פאן דלך לאזם לה תם אקנינא [
שרוט אלקנינות בלפט מעכשיו ברצו[נו
אשתרי הדה אלגאריה אלמדעאה [
שרא אלגלב אלדי לא [
לאזמה לה[
פי נצ[
T-S 13J3.7 1v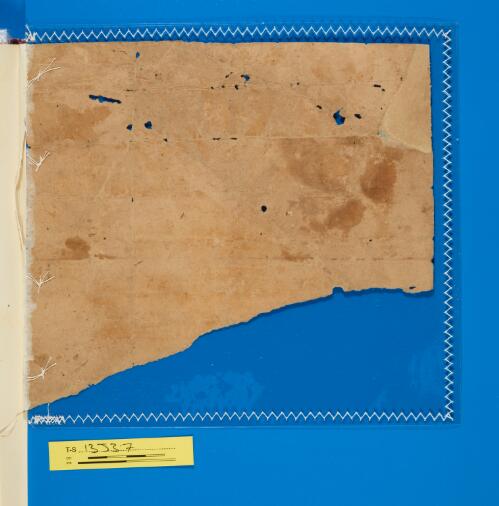 Image Permissions Statement

T-S 13J3.7: Provided by Cambridge University Library. Zooming image © Cambridge University Library, All rights reserved. This image may be used in accord with fair use and fair dealing provisions, including teaching and research. If you wish to reproduce it within publications or on the public web, please contact genizah@lib.cam.ac.uk.