Legal document: T-S 13J3.17
Legal document
T-S 13J3.17
Input date
In PGP since 1990
Description
Deathbed declaration of a physician who includes in his will a gift to his wife in addition to the money owed to her as written in her ketubba, Fustat, Ab 1552/July-August 1241.
T-S 13J3.17 1r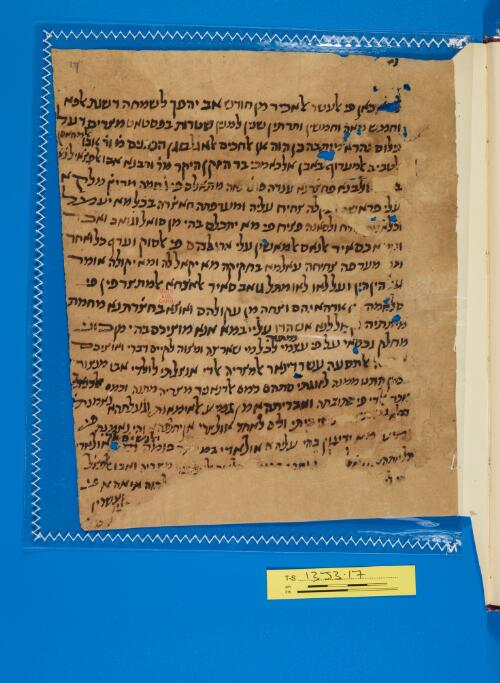 Transcription
S. D. Goitein, unpublished editions.
למא כאן פי אלעשר אלאכיר מן חודש אב יהפך לשמחה דשנת אלפא
וחמש מאה וחמשין ותרתין שנין למניין שטרות בפסטאט מצרים דעל
נילוס נהרא מותבה כן הוה אן אלחכים אלאגל סגן הכהנים מר ור אבו אלמחאסן
אלטביב אלמערוף באבן אלכאמכי בר הזקן היקר מר ורבנא אבו אלפצאיל נע
ב[ ] לבנא פחצרנא ענדה פוגדנאה מתאלם פי גסמה מריץ מלקא
עלי פראשה ועקלה צחיח עליה ומערפתה חאצרה בכל מא יעמל
וכלאמה [צ]חיח ולסאנה פציח פי מא יתכלם בהי מן סואל וגואב ואכד
ועטא כסאיר אלנאס אלמאשין עלי ארגלהם פי אלסוק וערף כל ואחד
מנ[א] מערפה צחיחה עאלמא בחקיקה מא יקאל לה ומא יקולה אומר
על הין הין ועל לאו לאו מתל גואב סאיר אלאצחא אלמתצרפין פי
סלאמה [מ]ן אדהאנהם וצחה מן עקולהם ואוצא בחצרתנא מחמת
מיתתיה וקאל לנא אשהדו עליי במא אנא מוציכם בהי מן כוני
מחלק נכסאי על פי עצמי //במתנה// לכל מי שארצה ומצוה לקיים דברי ואוציכם
]ה אלתסעה עשר דינאר אלמצריה אלדי אוצלתו לולדי אבו מנצור
הכהן תתנו ממנה לזוגתי סתהם כמס אלדנאניר מצריה מתנה וכמס אלדנאני/ר/
מוכר אלדי פי כתובתה ואבריתהא מן גמיע אלאימאות וגעלתהא נאמנת
............ פי ביתי וליס לאחד אולאדי אן יחלפהא והי נאמנת פי
גמיע מא ידעון בהי עליהא אולאדי במימר פומה ו... //ואלנשים די// אולאדי
תלאתהם [ ] תלאת אלדנאניר מצריה ואבו אלפצל
] וה איאהא פי
את]נין ועשרין
]מ[
T-S 13J3.17 1v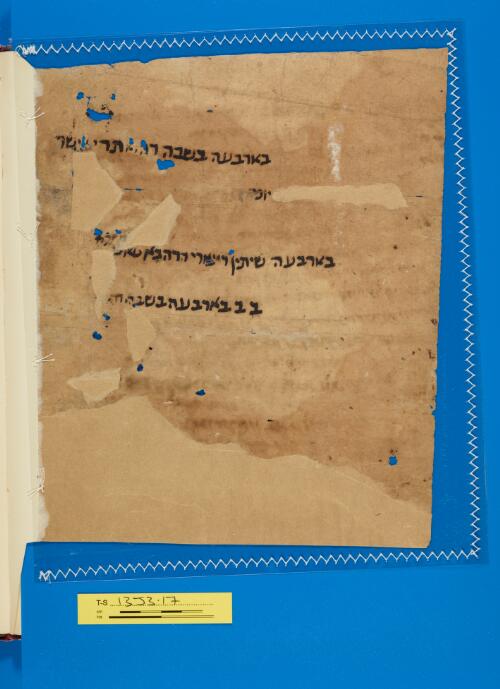 Image Permissions Statement

T-S 13J3.17: Provided by Cambridge University Library. Zooming image © Cambridge University Library, All rights reserved. This image may be used in accord with fair use and fair dealing provisions, including teaching and research. If you wish to reproduce it within publications or on the public web, please contact genizah@lib.cam.ac.uk.