ثيقة شرعيّة: T-S 10J4.8
ثيقة شرعيّة
T-S 10J4.8
تاريخ الإدخال
في PGP منذ 2004
الوصف
Legal deed, draft, regarding the estate of Avraham ha-Levi the teacher b. Yosef b. ʿAnan, which had been deposited by the Beit Din with ʿEli b. Efrayim b. ʿEli al-Tinnīsī. Mentions Yehuda b. Meshullam b. Zekharya the scribe b. ʿAnan and Jāliyya bt. Zekharya the scribe b. ʿAnan. The traces of writing between the lines and in the margins appear to be additions to the text and, perhaps, traces of an earlier text. On Yosef b. ʿAnan, a scribe whose copy of a codex of ketuvim still survives in Cairo, see Meital in JQR 2020. (Information from Goitein's index cards). Verso contains rhymed Hebrew verses.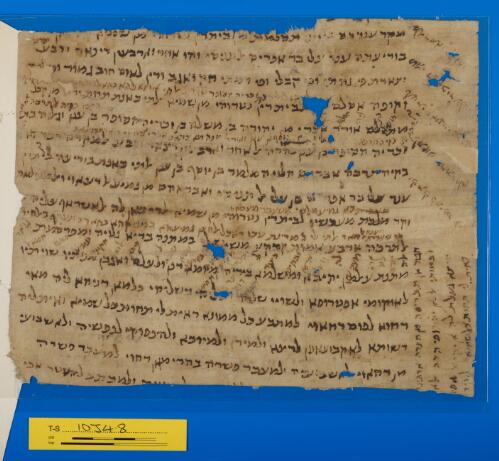 النصوص المفرّغة
S. D. Goitein, unpublished editions.
verso
מקר ענדכם באנני תסלמת מן בית דין נטרוהי מן שמיא [ . . . . . . . .
בודיעתה ענד עלי בר אפרים אלתניסי והו אחד וארבעין דינאר ורבע דנריס
וצארת פי גהתי ופי קבלי ופי דמתי חק ואגב ודין לאזם חוב גמור ומ[לוה
זקופה אסלם // לגאליה בת זכריה הסופר טו דינ אלתי אוצא להא בהא[ . . . . . . . . . . . . ]// [ . . . ] לבית דין נטרוהי מן שמיא אלתי כאנת תחת ידי מן קבל
מתסלם אורד אברי מן יהודה בן משלם בן זכריה הסופר בן ענן //בקיה אלתרכה// וגאליה בת
זכריה הסופר בן ענן אלי //יוסף בן ענן ואורד מנהמא כתאב אברי בחצרה . . . . . . . . // בהדה אלאחד וארבעין דינאר ורבע אלמקדם דכרהא
בקיה תרכה אברהם הלוי המלמד בן יוסף בן ענן אלתי כאנת בודיעה בית דין
ענד עלי בר אפרים בן עלי אלתניסי ואבראהם מן גמיע אלדעאוי ואלמטאלבאת
וקד //[[ . . . . . ]] כאן גמיע מלכי משעבד מעכשיו// [[מלכת]] מעכשיו לבית דין נטרוהי מן שמיא אלדי כאן לה אלאשראף עלי הד[ה קד שעבדתי //מעכשיו// אלדאר אלתי לי במדינת עכו דאכל אלחצן גמיעהא במגלקהא בחארה תערף באלחיך
אלתרכה ארבע אמות קרקע משיש לי במתנה בריא גלויה ומפרסמת
מתכת עאלמין יתיבא ומשלמא בידיה מיומא דנן ולעלם ואגבן מניתיו שויתיו
לאוקומי אפטרופא ולשריי שליחי ושליחי דשליחי כל מאן דניחא ליה מאי
דהזא לפום דחאזי למתבע כל ממונא דאית לי תחות כל שמיא ואית ליה
רשותא לאקבוע אנון לדינא ולמידן ולמיזכא ולהנפוקי לנפשיה ולאשבועי
מן דחאזי לאשבועיה ולמעבד פשרה בהדי מאן דחוי למעבד פשרה
. . . . . . . . . . . . . . . . . . . . . . . . . . . . . . . . . . . . . . ] ולמכתב ליה שטר אבי [זאריה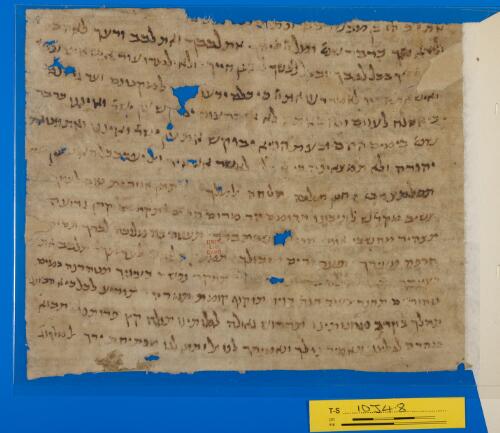 بيان أذونات الصورة

T-S 10J4.8: Provided by Cambridge University Library. Zooming image © Cambridge University Library, All rights reserved. This image may be used in accord with fair use and fair dealing provisions, including teaching and research. If you wish to reproduce it within publications or on the public web, please contact genizah@lib.cam.ac.uk.