ثيقة شرعيّة: T-S 13J2.17
ثيقة شرعيّة
T-S 13J2.17
تاريخ الإدخال
في PGP منذ 1990
الوصف
Legal testimony. Location: Sunbāṭ (Sambuṭya). Dated: Adar 1427 Seleucid = February/March 1116 CE. In which Hilāla bt. Natan (aka Hilāla bt. Hiba), a widow with three sons, releases her new husband Sason b. Yefet from from all obligations other than paying the delayed marriage gift and dowry and letting her live in his house for five years after his death as promised, and declares that her three sons would have no claims whatsoever against him and that her husband would not sue her sons. Same couple: T-S AS 147.170 + CUL Or.1080 J175 (PGPID 3992). Same cluster of documents from Sunbāṭ: T-S AS 151.156 (PGPID 16482), T-S 13J2.17 (PGPID 1003), T-S 13J3.8 (PGPID 1117).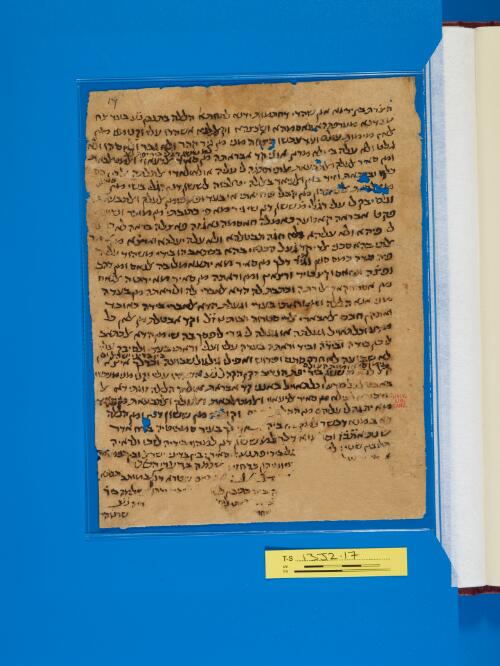 النصوص المفرّغة
S. D. Goitein, unpublished editions.
חצרת בין ידינא אנן שהדי דחתמות ידנא לתחתא הלאלה בת נתן נע בעד צח
ענדנא מערפתהא באסמהא ושכצהא וקאלת לנא אשהדו עליי וקנו מני מן
אלאן מימות עולם ועד עכשו בצחה מני מן גיר קהר ולא גבר ולא סהו ולא
גלט ולא עלה בי ולא מרץ אנני קד אבראתה מן סאיר אלדעאוי //למ ששון רגלי ביר יפת נע// ואלמטאלבאת
ומן סאיר אלעלק ואלתבעאת אלתי תתגה לי עליה או לאולאדי אלתלתה אלדין הם
כלף וברכאת וזיד באן ואלעיאד באללה יטאלבוה לששון דנן רגלי בשי //סאיר// מן אל
מטאלבאת אלתי תכון מן קבלי פי חיאתי או בעד ופאתי ומן אלעלק ואלתבעאת
ולם יבק לי עלי רגלי מ ששון דנן שי גיר מא פי כתובתי מן מוכר ונדוניא
פקט אבראה קאטעה כאמלה חאסמא נאגזה פאצלה בראה לא רגעה
לי פיהא ולא עליהא ולא חגה תבטלהא ולא עלה יעלהא ואיצא מן אלדאר
אלתי בהא סכני אלדי קד געל סכנאי בהא בכתאב הו בידי משהוד עליה
פיה מדה כמס סנין וגיר //מן// דלך מן סאיר מא יתעאמלו בה אלנאס ומן דהב
ופצה ונחאס וקצדיר ורצאץ ומן וראתה מן סאיר מא ירתוה אלנאס
מן אסתחקאק אלורתה וכתבת לה הדא אלאברי לה ולוראתה מן בעדה
מני אנא הלאלה ומן וראתי בעדי וגעלת הדא אלאברי בידה כאוכד
ואתקן חכם אלאבארי אלדי סטרוה רבותינו זל וקד אבטלת מן אלאן כל
מודע וכל תאויל געלתה או געלה לי גירי ליפסך בה שי מן הדא אלכתאב
ליכון בידה [[ובידה]] וביד וראתה בעדה עליי ועלי וראתי בעדי ולם יבק עליו
לא שבועה לא חרם סתם ופירוש ואפילו גילגול שבועה וכדלך איצא //בין בדיני ישראל ובין//
//בנימוסי אומות העולם// קאל לנא מ ששון ביר יפת הנדיב זקן הקהל נע אשהדו עליי וקנו מני מעכשו
באבטאל כל מודע וכל תאויל באנני קד אבראת אולאד הלאלה זוגתי דא אל
מדכורין לעילא מן סאיר אלדעאוי ואלמטאלבאת ואלעלק ואלתבעאת מן סאיר
מא יתגה לי עליהם מן קבל ואלדתהם וקנינא מן ששון דנן ומן הלאלה
דא במנא דכשר למקניא ביה וכאן דלך בעיר סמבוטיה בירח אדר
שנת אתכז וסלמנא דלך למ ששון דנן למהוי בידיה לזכו ולראיה
תלי בין שטי: ל[מ ששון ר]גלי ביר יפת נע: סאיר: בין בדיני ישראל ובין בנימוסי
א[ומות הע]ול[ם וקיים ודין ק]יומיהון כדחזי שלמה בר עדיה סט
]ד נע: אתקיים שטרא דנן במותב תלתא
]ה ביה כתיבין ל[עילא ] שלמה ביר
]תי לה[ול ע]דיה נע
א]שרנוהי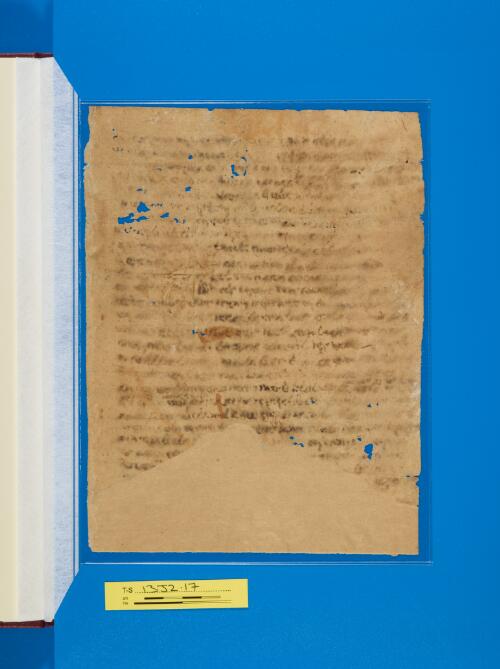 بيان أذونات الصورة

T-S 13J2.17: Provided by Cambridge University Library. Zooming image © Cambridge University Library, All rights reserved. This image may be used in accord with fair use and fair dealing provisions, including teaching and research. If you wish to reproduce it within publications or on the public web, please contact genizah@lib.cam.ac.uk.