Letter: T-S 13J19.27
Letter
T-S 13J19.27
Input date
In PGP since 1991
Description
Letter from Nahray b. Nissim, Egypt, to Abu al-Faraj Yeshu'a b. Isma'il.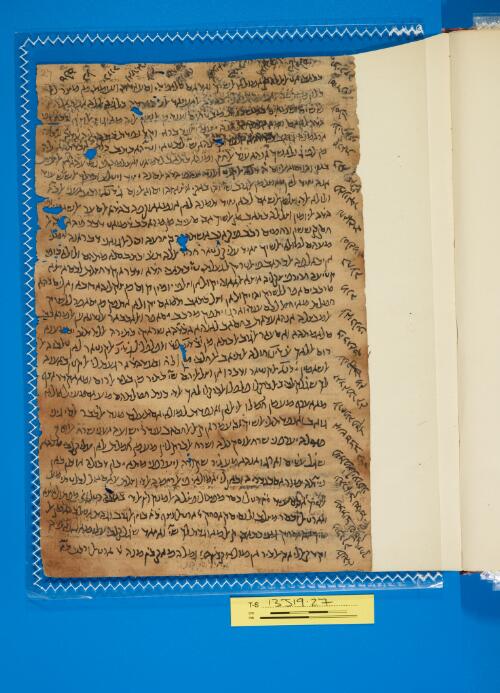 Transcription
A. L. Udovitch, [digital geniza document edition].
כתאבי אטאל אללה בקא מולאי אלשיך ואדאם סלאמתה וסעאדתה ונעמתה מן מצר לז'
כלון מן תשרי בהדה אל אעיאד אל מבארכה בלגנא אללה אמתאלהא
ששים ושמחים במשכנת מבטחים וענדי מן אל שוק אליה מא יגוז אל וצף ובכאץ פי
הדה אל איאם ומא אפתקדת אנה יצום ויעיד ברא וקד נפדת כתבי אליה עדה ולם
ארא מנה גואב וקד אנפדת מנהא שי לתטאי וטייהא כתב כנת אכדתהא לה
מן אל פיג' ולא שך אנהא ענד אל חזן ומנהא כתאב לדמיאט ואעלמתה פי גמיעהא אן אל זפת
באקי והו יסוא אל יום ח' דנא' אל קנט' וענדי אנה פי הדה אל סנה יזיד ויטלע וכדלך אל שש ענדי
אנה יזיד לאן מא וצל מן אל גרב שי והו באקי איצא והו יסוא אל יום ג' דנא' ורבע אעני אל כז
ולולא אלדי וצל מן אל שאם לכאן נזיד תמנה לאן אנמא אוקפה בהדא אל סער אל שאמי ופי
הדה אל יומין וצל לה כתאב מן אלשיך אבו סעיד מן מראכב דמיאט דכר פיהא [א]בו אל
חסן בן ששון ורחמים רכב פי קארב אשתר[א]ה בן זרעה וכיל אל גנאני דכר אנה חמל
מעהם למולאי אל שיך זאיד עלי קנטאר חריר אללה תע' יכתב סלאמתהם ולולא כופי
אן יכאלפה אל כתאב פי אל טריק לגעלתה טי כתאבי הדא ודכר אן קד חצלת לכם איצא
קטיעה חריר פי צקליה איצא אלא אנה יקול אן וצל פי יומין קום מן צקליה אחכאואן ליס בהא
מרכב יסאפר ללשרק והו יקול אן וצל כתאב תמאם יקול אן אתפק מן יסאפר ללשרק
חמלת מא יחצל לכם ענדי וארגו יתפק מרכב יסאפר ואל אכבאר ענדנא ען אל מראכב
אל מבצלה אנהא עדאת בחסאב לאנהא אכדהא שראקי כתירה אללה תע יס[מ]ענא
סלאמתהא ואסעאר אל גרב אל כתאן מן יב' דינ' ליד' ואלפלפל לג' דינ' אל קנטאר לאן טלבוה אל
רום אללאך ע דינ' וחולה אלתיאב אלחלבי מן לח ובעד הדא רגעת לי אל קטן באעוה
אל שאמין י' דנא' אלקנטאר ודכרו אן וצל אליהם שי כתיר מן בלד אלרום ומא אקדר אצף
לך שגל קלבי באלברקלו פלפל ואלברקלו לאך אלדי כנת חמלתהם מע אסמעיל אולא
מא אערף מע מן חמלו אלי אלאן ואנפדת למולאי אסתעלם מנה אל כבר לם יגיני
גואב ואנפדת אלי אלשיך אבו עמראן קאל אל חסאב ענד ר' ישועה אעני שרח אל וסק
פאסלה יערפני שרח אלוסק כלה ושרח אלברקלוין מע מן חמלת לאן עלי קלבי מנהא
שגל עטים וארגו אנהא מע גיר שקורה ויערפני מתא יכון דכולה או אן כאן
ניחה ימור אסכנדריה וכאן לי יא מולאי פי אלרזמה אלדי וצלת עאם אול לכלטתי מע
אלשיך אבו סעיד יז רטל וכסר מפתול ופצלה אלמנקוץ אלדי באעה רטל ו< מפתול איצא
וז ארטאל וכסר מצלב ולנסים בן אסחק ד' ארטאל ונצף כז בוזן אל גרב וגהת אטלבהא מן אל
שיך אבו אסחק גאני כתאב קאל מא וגדת לך שי ואזאד שגל קלבי עלי מא אנא פיה
וקד קאל לי אבו אל כיר אן מואלי קבץ פי גמלה מא קבץ מנה ד ארטאל ורבע כז
margin
עליהא / פיכרקה / נסים בן יצחק / ונהראי בן נסים / פיתפצל יערפני / איש
סבב הדה / אל רזמה פקד / זאד אמרהא / עלי [[קלבי]] מא / בי כתאבה / לא
יכליני / מנה / בחאלה / וסלאמתה / וחאגאתה / פאני אסר / בהא אן שא אללה
קראת / עליך אתם / אל סלם / וסידנא אל / רב רב יכצה /
the other side
באל סלם ויהנאה בהדה / אל אעיאד / ויצף תוחשה / אליה / ואצהארי / יכצוה
באל / סלם /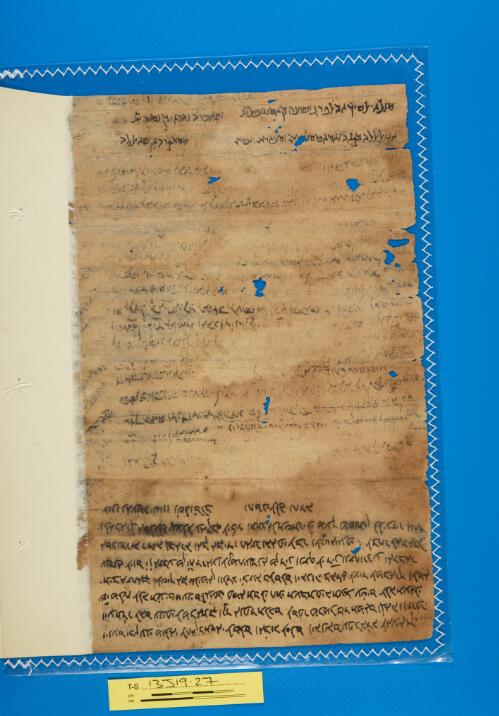 page b
וינעם יכץ עני מולאי אל חזן באתם אל סלם ואכוה אל סלם ויהניהם עני בהדה אל אעיאד
ויעתדר להם עני פי אל מכאתבה וקד אנפדת להם אל ספר מכמל ביד תמאם וגא הו וצרפה
שי מליח אללה תע' יסמעני סלאמתה פמא תם לה חתי תעבת פיה תעב עטים אללה תעאלי
יתיב אצחאבה ואלשיך אבו סלימאן וולדה יכוצה באל סלם ויהנוה בהדא אל עיד אל מבארך ואלמא
ענדנא אל יום יו' אצבע מן יח' דראע ואל קמח ענדנא מן דינ' ונצף אלי דינ' ונצף ורבע ואכבאר
אסכנדריה רדיה גבארה ואבן אבוידו חאצרוהא פי אל בר ואלקטאיע פי אל בחר לא דאכל
ולא כארג אסל אללה יגעל אל עאקבה אלי כיר ותתפצל תשתרי לי מעך משנתין גיאד ללעציר
יכונו נאעמה ינטוו ושלום רב וחסבי אללה וחדה מולאי אל שיך אבו אל פרג ישועה בן אסמעיל נע אטאל אללה בקאה ואדאם סלאמתה וסעאדתה ונעמתה
שאכרה נהראי בן נסים נע
מסתקרה אן שא אללה
Image Permissions Statement

T-S 13J19.27: Provided by Cambridge University Library. Zooming image © Cambridge University Library, All rights reserved. This image may be used in accord with fair use and fair dealing provisions, including teaching and research. If you wish to reproduce it within publications or on the public web, please contact genizah@lib.cam.ac.uk.