Legal document: T-S 13J1.23
Legal document
T-S 13J1.23
Input date
In PGP since 2017
Description
Legal document involving a man from Alexandria and signed by ʿAmram the banker son of Ezra, Head of the Congregation, the Alexandrian', issued in Fustat, Ab 1404/July 1093.
T-S 13J1.23 1r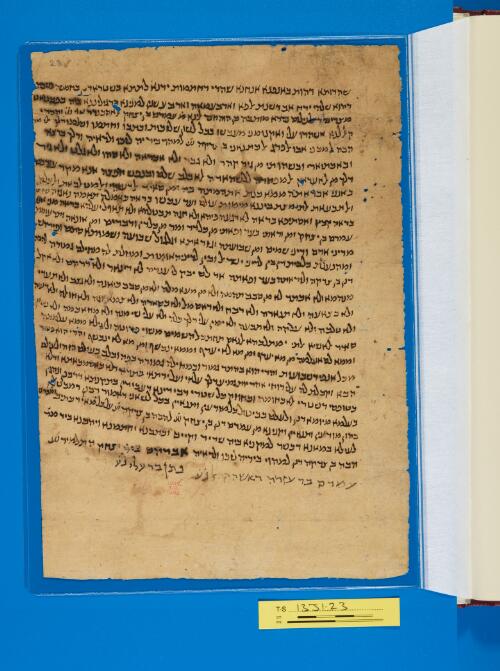 Transcription
S. D. Goitein, unpublished editions.
שהדותא דהות באנפנא אנחנא שהדי דחתמות ידנא לתתא בשטרא דנן בחמשה בשבה
דהוא שלהי ירח אב דשנת אלפא וארבע מאה וארבע שנין למנינא דרגיליננא ביה בפסטאט
מצרים דעל נילוס נהרא מותבה כן הוה חצר אלינא מ עמרם בן יצחק אלאסכנדראני נע והכדי
קאל לנא אשהדו עלי ואקנו מני מעכשו בכל לשון שלזכות וכתבו וחתמו וסלמו דלך אלי מר
הבה אלמכני אבו אלפרג אלכתנאני בר צדקה נע למהוי בידיה לזכו ולראיה ודלך ברצאי
ובאכתיארי ובשהותי מן גיר קהר ולא גבר ולא אכראה ולא סהו ולא גלט ולא גיר
דלך מן אלאעראץ אלמפסדה ללשהאדה אלא בלב שלם ובנפש חפצה אנא מקר ענדכם
באנני אבראתה ממא כנת אתהמתה בה ומן סאיר אלדעאוי ואלמטאלבאת ואלעלק
ואלתבעאת אלתי מצת ביננא מימות עולם ועד עכשו בראה כאמלה תאמה נאגזה פאצלה
בראה קבץ ואסתיפא בראה לא רגעה פיהא ולא חגה תבטלהא ולא תאויל יעלהא בראה מני אנא
עמרם בן יצחק ומן וראתי בעד ופאתי מן כל דר ומר מן כל דין ודברים ומן אונאה ותרעומת
מדיני אדם ודיני שמים ומן שבועתה וגזראתא וגלגול שבועה ושמותא סתם ופירוש
ומהנעלת כל בית דין בין לדיני ישראל ובין לדיני האומות ומחלת לה מחילה גמורה להבה
דנן בן צדקה ולוראתה בעד ופאתה אד לם יבק לי ענדה לא דינאר ולא דרהם ולא אקל
מנהמא ולא אכתר לא מן סבב תהמה ולא מן מעאמלה ולא מן סבב כיאנה ולא גצב ולא תעדי
ולא בצאעה ולא תגארה ולא רבת ולא ראס מאל ולא כסארה ולא צמאנה ולא חואלה ולא דעוה
ולא טלבה ולא עלקה ולא תבעה ולא ימין עלי דלך כלה ולא עלי שי מנה ולא מחאכמה ולא שי מן
סאיר אלאשיא אלתי ימתלכהא אלנאס תחת כל השמים משוי פרוטה ולעילא ממא עלמתה
וממא לם אעלמה מן מא יערף ומן מא לא יערף וממא ינכשף ומן מא לא ינכשף והרי הוא פטור
מכל אנפי דשבועות והרי הוא בהתר גמור ובמחילה גמורה בפה ובלב בעולם הזה ולעולם
הבא וקבלת לה עלי רוחי אחריות גמיע דלך עלאי ועל ירתאי בתראי דלא כאסמכתא ודלא
כטופסי דשטרי אלא כחומר וכחוזק כל שטרי דבי דינא דעבידין בתקנתא דרבנן ונהגין
בעלמא מיומא דנן ולעלם בביטול כל מודעין ותנאיין בכל לשאני דאמור רבנן דמבטלין
בהון מודעין ותנאיין וקנינא מן עמרם דנן בן יצחק נע להבה בן צדקה נע על כל מאי דכתיב ומפרש
לעילא במאנא דכשר למקניא ביה שריר וקיים וכתבנא וחתמנא ויהבנא ביד מר
הבה בן צדקה דנן למהוי בידיה לזכו ולראיה אברהם ביר יצחק התלמיד נע
עמרם בר עזרה ראש הקהל נע נתן בר עלי נע
T-S 13J1.23 1v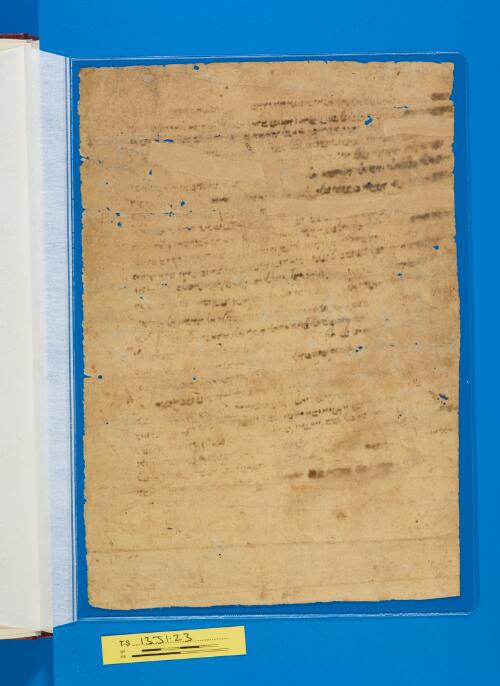 Image Permissions Statement

T-S 13J1.23: Provided by Cambridge University Library. Zooming image © Cambridge University Library, All rights reserved. This image may be used in accord with fair use and fair dealing provisions, including teaching and research. If you wish to reproduce it within publications or on the public web, please contact genizah@lib.cam.ac.uk.