Legal document: T-S 13J1.12
Legal document
T-S 13J1.12
Input date
In PGP since 1990
Description
Document of divorce settlement, signed by Eli b. Amram, head of the Jerusalemite congregation in Fustat, and Avraham b. David [b. Sighmar], and dated Kislev 1361/November 1049. Last witness signed Tevet (December 1049).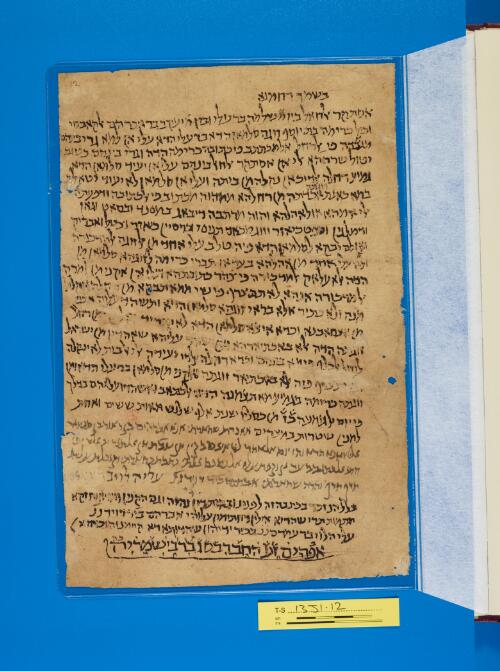 Transcription
S. D. Goitein, unpublished editions.
בשמך רחמנא
אסתקר אלחאל בין מ שלמה בר עלי ובין מ יעקב בר אברהם אלקאבסי
וכיל כרימה בת יוסף זוגה סלמאן הדא בר עלי הדא עלי אן למא גרי בינהם
מג/א/ברה פי אלרחל אלמכתתב פי כתובה כרימה הדה וגרי בינהם כטוב
יטול שרחהא אלי אן אסתקר אלרחל בינהם עלי אן יעיד סלמאן הדא
גמיע רחלה אלדי כאן נקלה מן ביתה ועלי אן סלמאן לא יעוד יטאלב
במא כנאת //זוגתה// אכדתה מן רחלהא מא הוה (!) מכתוב פי אלכתובה ודפעתה
אלי אמהא או לאהלהא והוה מרתבה דיבאג במסנד ובסאט וגאן
ודמלגין וספט כיאזר וזוג מכאד תניסי וכרסיין כיאזר וצטל ואבריק
ואן לם יבקא לסלמאן הדא פיה טלב עלי אחד מן אלזוגה אלמדכורה
ולא עלי אחד מן אהלהא בעד אן תברי כרימה לזוגהא סלמאן מן
הדה אלאעלאק אלמדכורה פי צהר כתובתהא ועלי אן אקני מן אלמרה
אלמדכורה אנהא לא תתצרף פי שי ממא תבקא מן רחלהא קליל
מנה ולא כתיר אלא בראי זוגהא סלמאן הדא ותשהד עליה אתני[ן
מן אצחאבנא וכדא איצא סלמאן הדא לא ימד יד אלי שי מן רחל
זוגתה הדה אלא באכתיארהא ואן ישהד עליהא שאהדין מן ישראל
ליזול אלכלף פימא בינהם וכדא רחלה אלדי יעידה אלי אלבית לא ינקלה
ולא יתצרף פיה אלא באכתיאר זוגתה וא/ו/קני מן סלמאן בר עלי הדא ומן
זוגתה כרימה בגמיע מא תצמנה הדא אלכתאב ואשהדו עליהם בדלך
פי יום אלגומעה כז מן כסליו שנת אלף שלוש מאות ששים ואחת
למנין שטרות במצרים תאכרת שהאדתי אנא אברהים בן דאוד בן סגמאר
אלי יומנא הדא והו יום אלאחד לט איאם בקין מן טבת מן אלתאריך אלדי פי
הדא אלכתאב בעד אן וקפת עלי אלנסכה אלתי כתבת בחצרתי וקאבלת עליהא
חרף חרף והדה שהאדתי אברהם ביר דויד ננ עלי הלוי בר עמרם ננ
כלל הנזכר בכתב זה לפנינו ובבית דין נהיה וגם הקנין ומדאוחזקא
חתמות תרי שהדיא אילין דחתימין עלוהי אברהם ביר דויד ננ
עלי הלוי בר עמרם ננ בכיר ידיהון שהדותא דא קיימנוהו כדחזי ב י י ע ש ת י יע י כה
אפרים זע החבר בסג ברבי שמריה ר ח ה י ו ח יד ז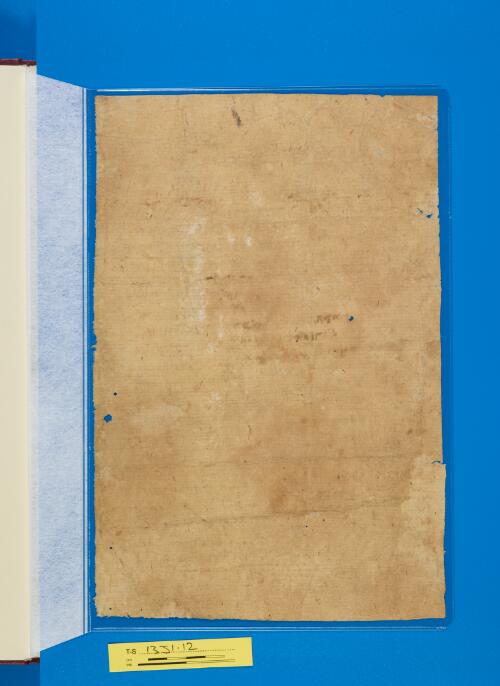 Image Permissions Statement

T-S 13J1.12: Provided by Cambridge University Library. Zooming image © Cambridge University Library, All rights reserved. This image may be used in accord with fair use and fair dealing provisions, including teaching and research. If you wish to reproduce it within publications or on the public web, please contact genizah@lib.cam.ac.uk.