Letter: Moss. II,195
Letter
Moss. II,195
Input date
In PGP since 1989
Description
Letter. A Maghribi Karaite asks his wife in the most humble terms to come back to him in Cairo. Otherwise, he would marry a girl in the Rif. Goitein's transcription, translation, and commentary are attached. Also discussed in Zinger, "Long Distance Marriages."
Moss. II,195 1r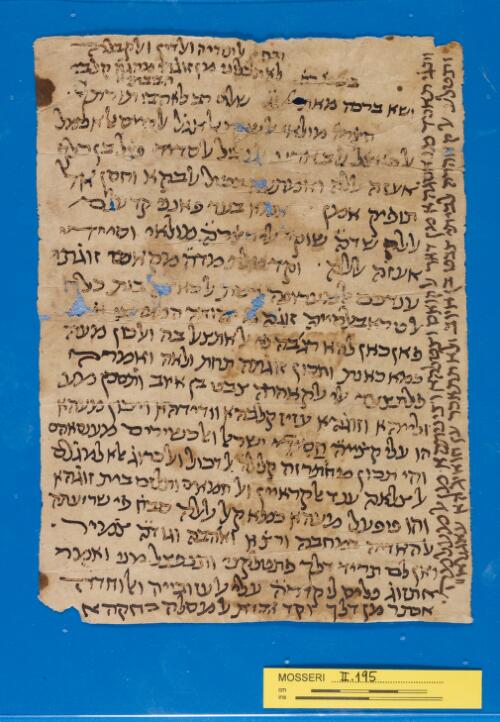 Transcription
S. D. Goitein, "A Maghrebi Living in Cairo Implores His Karaite Wife to Return to Him," The Jewish Quarterly Review 73, no. 2 (n.p.: University of Pennsylvania Press, 1982), 138-145.
Recto, main text:
בשמ' רחמ'
ישא ברכה מאת יי וג' שלום רב לאהבי תורתך
חצרה מולאי אלשיך אלאגל אלרייס אלאכמל
אלפאצל אלבארע אלנביל אלסדיד פצל בן כלף
אעזה אללה ואמתעה בטול אלבקא וחסן אל
תופיק אמן אמא בעד פאנני קד עלם
אללה שדה שוקי אלי חצרה מולאי וסיידי
אעזה אללה וקד טאלת מדה מקאם זוגתי
ענדכם אלמערופה בסת אלסאדה בנת כלף
אלטראבלסייה זוגה מ יהודה המערבי ..
פאן כאן להא רגבה פי אלאתצאל בה ואלכון מעה
כמא כאנת ותכון זוגתה תחת ולאה ואמרה
פלתצעד אלי אלקאהרה צבט בן איוב ותסכן מע
ולייהא וזוגהא עזיז קלבהא וודידהא ויכון מעהא
הו עלי קצייה חסידי ישראל ואלכשירים מע נסאהם
והי תכון מחתרזה קלילה אלדכול ואלכרוג אלא למגלס
אלצלאה ענד אלקראיין ואלחמאם ותלזם בית זוגהא
והו פיפעל מעהא כמא קאל אללה סבח' פי שריעתה
אלהאדיה במחבה ורצא ואהבה וגודה צמיר
ואן לם תריד דלך פתטלקני ותנפצל מני ואמר
אתזוג פליס לי קדרה עלי אלעזובייה ואלוחדה
אכתר מן דלך וקד אכדת אלמסלה בחקהא
Moss. II,195 1v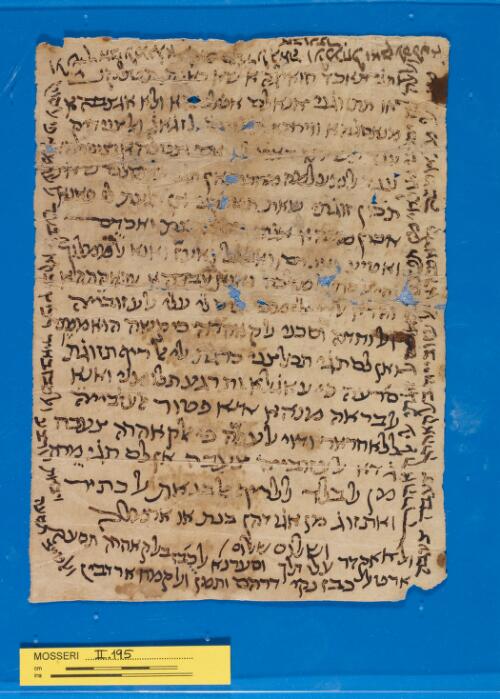 Recto, right margin:
ותגי תאכד מנאסגהא מן דאר אלקואס וצטלהא וציניתהא מן אלמעלמה
ותטלע אלקאהרה לביתי צבט בן איוב ולא תתאכר ען חואיגהא עאגלא
Verso, main text:
ותגי תאכד חואיגהא שא כאנת תטלקני
או תתזוגני אנא לם אטלמהא ולא אגצבהא
מנאסגהא וזירהא .... אלזגאג ואלצנידיק
ענד ..ה דאר אל[קו]אס וצטלהא וציניתהא
ענד אלמעלמה מחר. אן תגי תתסלם שאת
תכון זוגתי שאת תטלקני אן רגעת לי פאנא
אכון מעהא אגוד ממא כנת ואכדם
ואטיע ואכרם ואבגל ואעז ואנא אלממלוך
והי אלסת אלמלכה ואנא עבדהא עתאקהא
והדא אלדי ילזמני ליס לי עלי אלעזובייה
ואלוחדה וסכני אלקאהרה כי קשה הוא ממני
ואן לם תגי תכלצני כרגת אלי אלריף תזוגת
סרעה פי עאגלא ותרגע תלומני ואנא
אלבראה מנהא אנא פטור אלעז/ו/בייה
ללאחראר ודוי אלעפה פי אלקאהרה צעבה
גדא אלעזובייה צעבה אן לם תגי מרת
מן אלבלד ללריף אלבנאת אלכתיר
ואתזוג מן אגודהן בנת או ארמלה
ושלום שלום
Verso, margins:
ואללה לא יכליני מולאי מן תפצלה בארסאל זוגתי אלי אלקאהרה
מע אלמגארבה קראיבהא פאלעזובייה באלקאהרה צעבה צעבה
ולא אקדר עלי דלך וסערנא אלכ'בז באלקאהרה תסעה
ארטאל כבז נקי דרהם ותמן ואלקמח ארדבין ואלטייב
תסעה ויבאת ורבע ואלכבז באיר ובקא לי בעד אלעתמה פי אלסוק
ואלשיך אבי אלמנגא אליום כתיר אלגאה ואלמחל ואבן אלסלעא
אבו נצר
Recto, upper margin:
ובחק אלתוריה ואלדין ואלקבלה
לא תכליני מן זוגתי מהגה קלבי חביבתי
Image Permissions Statement

Moss. II,195: Provided by Cambridge University Library. Zooming image © Cambridge University Library, All rights reserved. This image may be used in accord with fair use and fair dealing provisions, including teaching and research. If you wish to reproduce it within publications or on the public web, please contact genizah@lib.cam.ac.uk.