Letter: T-S 13J24.10
Letter
T-S 13J24.10
Input date
In PGP since 2017
Description
Letter from Simḥa ha-Kohen (in Alexandria) to his parents-in-law Eliyyahu the Judge and Sitt Rayḥān (in Fustat). In Judaeo-Arabic. Simḥa describes in moving terms the illness and death of his female slave (jāriya). Goitein and Motzkin understood this to refer to his daughter, however it probably means slave here, because Simḥa cites as condolence the formula from Berakhot 16b, "המ ימלא חצרונכם" (noted by Eve Krakowski, 07/2022). The physician Abū l-Thanāʾ had been caring for her in his home, and ultimately told Simḥa to take her back when her illness became hopeless. Simḥa (briefly) rejoiced because no one had expected her to walk again. A porter carried her home in a basket. She then died at home despite their hopes for her recovery. Simḥa's wife–the daughter of Eliyyahu and Sitt Rayḥān—is now in a deep depression ("the world closed itself to her") and sees nobody except Sitt Rayḥān when she visits. Simha now begs her to visit again soon. See also T-S 18J4.10. Discussed in Goitein, Med Soc II, 251.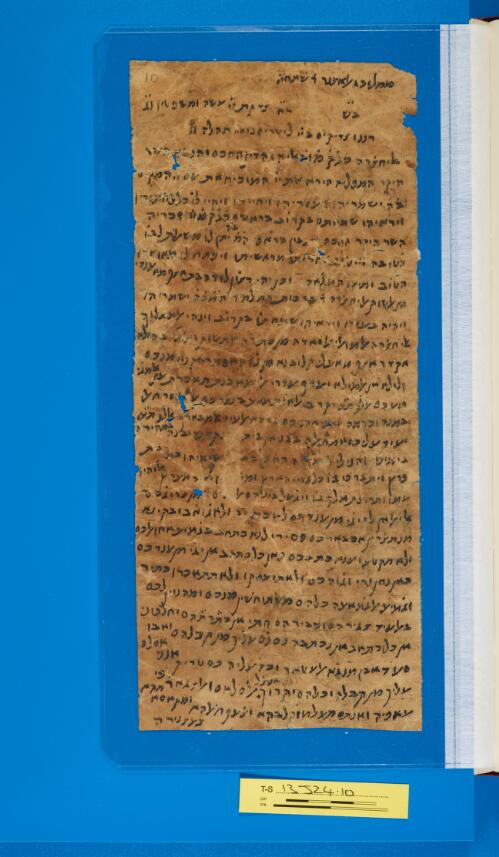 Transcription
Motzkin, "The Arabic Correspondence of Judge Elijah and his Family" (PhD diss., n.p., 1965), 2.
Recto:
ממלוכה אלאצגר ר שמחה
בש רח צדקת יי עשה ומשפטיו וג
רננו צדיקים ביי לישרים נואה(!) תהלה וג
אלי חצרה כגק מור אליהו הדין החכם והנבון השר
היקר המפלא הירא את יי המוכיח את עם [יי] המקום
בה ישמריהו ויעזריהו ויחייהו ויחיי לו כלל חמודיו
ויראיהו שמחתם בקרוב בראשם כגק מור זכריה
השר היקר החכם [וה]נבון הראס(!) המ //בה// יתן לו משאלת לבו
לטובה וייטיב אחריתו מראשיתו ויפתח לו מאוצרו
הטוב ומידו המלאה וכן יהי רצון לו דהבת אצף מא ענדי
מן אלשוק אלי חצרה ר ברכות התלמיד המבה ישמריהו
ויהיה בעזרו ויראיהו שמחתו בקרוב וינהי אלממלוך
אלי חצרה אלמולי אלסאדה מן כתרה אלתשוק ואלגרבה ולא
אקדר אצף מא עלי קלובנא מן גהה אפתראקנא מנכם
ולולא אן אלמולא יערף עדרי אלי מא כנת תאכרת ען אלמגי
מעכם אללה תע יקרב אלאגתמאע בנצרכם על[י א]סר חאל
במנה וכרמה ואני מהניכם בהדא אלעיד אלמבארך אללה תע
יעיד עליכם אמתאלה בבניאן בית [ה]מקדש יבנה במהירה
בימינו והני לי ר [עזרי]ה החתן המ[בה] ישימיהו כמו בית
פרץ ויתברכו בו כל גויי הארץ ומ[שפחותי]ו יהיה מערץ אלוהיו
עמו ותרועת מלך בו ויגעל ביניהם אל[של]ום מן כרוגכם
אלי אלאן לם יגי מן ענדכם לא כתאב ולא גואב ובקינא
מנתצרין אכבארכם פסירו לנא כתאב בגמיע אחואלכם
ולא תקטעו ענא כתבכם פאן כל כתאב אן יגי מן ענדכם
כאן נחן נרי וגוהכם ולא תנעאקו ולא תתאכרו כתיר
וגמיע אלגמאעה כלהם משׂתוחשׁין מנכם ומהניין לכם
באלעיד צגירהם וכבירהם חתי אן כתרתהם יחלפוני
אן כל כתאב אן נכתבה נסלם עליך מן קבלהם ואבו
סעד אבן מנגא אלעטאר וכד עליה כם טריק אנני אסלם
עליך מן קבלה וכלהם יקרוך //אפצל// אלסלאם ואלצגאר פי
עאפיה ואנתם תעלמו קלבהא וצעף חאלהא ומקאסא/תהא/
באלצגירה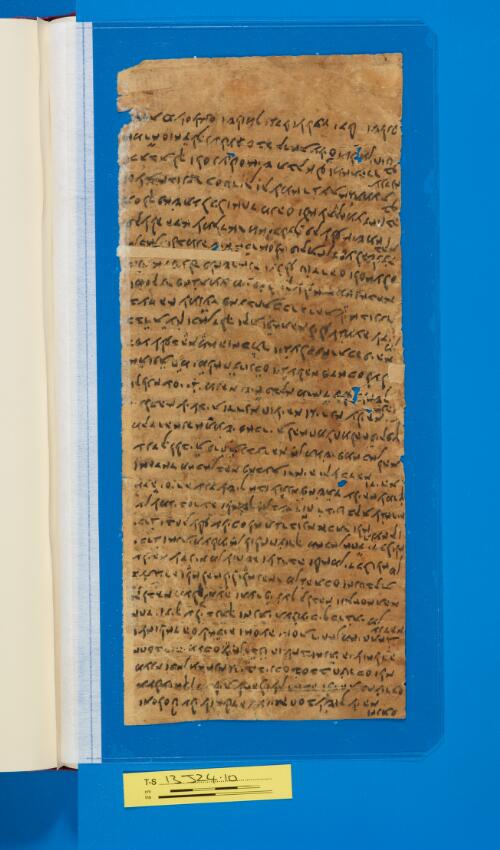 Verso:
ותסלם לי עלי אלואלדה אלעזיזזה חסב אלשוק אליהא ואנתם
תעלמו אני קד [צ]לית אלאהל ואלקראבה ופרחת בחצורכם
מענא וכאן מא אנא גריב בינכם בסבב חצורכם ולא
אחסב רוחי מעכם אלי אן רבנו הו אלאב ואנתי הי אלואלדה
ואלאולאד הם אלאכוה ואסעה יא סת ריחאן מא יחתאג
אחד יוציך עלי בנתך ואנתי תעלמי כיף כרגתי מן ענדהא
וקלבהא מעלק מעך ותערפי צעף קלבהא ומקאסאתהא
באלצגירה ולא להא ליל ולא נהאר מן גהתכם ואנטבקת
עליהא אלדניא מן אלוחשה ואלגרבה ולא מן ידכל ולא מן
יכרג ואנתי תעלמי אן לולא חצורך מא כאן אחד ידכל ולא
יכרג ובחק אללה עליכם לא תגרבונא אכתר ולא תנעאקו
ען אלמגי בסרעה ולא שך אן בעד רו/א/ח רבינו בקת אלגאריה
מדה יסירה ענד אלשיך אבו אלתנא פאשתד עליהא אלמרץ
ואזדאד מא כאן בהא פאבעת וראיה וקאל כדהא ודיהא
ענדך ללבית פרחת נבצרהא אן תמשי פמא כאן להא
מקדרה אנהא תמשי פאכרית להא חמאל חמלהא פי קפץ
[וו]צלתהא אלי אלבית ודרנא חואליהא וגירנא עליהא
וקלנא עסי יגי מנהא שיא פבקא מראד אללה [בלא] שך אנה[א]
אתופת המ ימלא חצרונכם ויגעלהא פדאכם לעל
דפע אללה בהא מא הו אכתר ויגעל כצארתכם פיהא
כברת(!) עון וכאן דלך וקת ופאתהא לילה אלגמעה אלדי מן
בעדהא אלמועד פאצבחת נכרג(?) רחת אלי אבו נצר
ומא קצר פאגתמע מע פצל וקאל לה א[יש] מא נא[ל]הא
אנא א[ד]פע לה פלא שך אנה וצל לה טו דרהם ולם אעלם
אן כאן יטלב מנה שיא אכר אם לא פוקת אן דפע לה אלפצה
פקאל לה הדא אלמקדאר מא יכלצך פקאל לה איש מא בקא
יתם לך פאשתגל כל ואחד מנהם ולא אלתקא מע צאחבה
וסאל [ ] אבו נצר כם טריק וקאל מא רגעת אגתמעת בה
[ו]כתבת לך ולם נעלם איש תבקא לה ומא תאדר(?) ענדנא
אמרא סוא דלך נעלמכם בה קראת עלי/כ/ם ועלי מן יחוט בה
[ע]נאיתכם אלסלאם ושלומך יגדל ואל לעד ידל ושלום
Image Permissions Statement

T-S 13J24.10: Provided by Cambridge University Library. Zooming image © Cambridge University Library, All rights reserved. This image may be used in accord with fair use and fair dealing provisions, including teaching and research. If you wish to reproduce it within publications or on the public web, please contact genizah@lib.cam.ac.uk.