Letter: T-S 8J7.23
Letter
T-S 8J7.23
Input date
In PGP since 2004
Description
This is not a formal letter, but a short memorandum written by Yosef b. Avraham in Aden to Avraham Yiju in Mangalore around 1134-1137. The document details various dealings of copper items.
Edition: Goitein, S. D.; Friedman, Mordechai Akiva
T-S 8J7.23 1r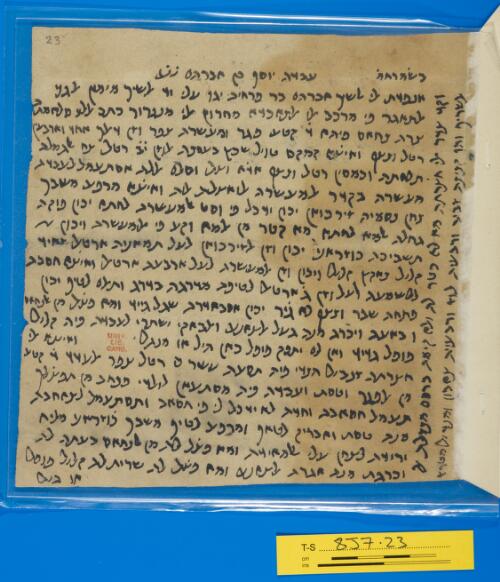 Transcription
S. D. Goitein and Mordechai Akiva Friedman, India traders of the middle ages : documents from the Cairo Geniza : India book (Leiden and Boston: Brill, 2008), vol. 3.
III, 2
בשמ רחמ עבדה יוסף בן אברהם נע
אנפדת אלי אלשיך אברהם בר פרחיה יגו עלי יד אלשיך מימון אלגוי
אלתאגר פי מרכב אלי (!) אלנאכדא מחרוז אלי מנגרור כתב אללה סלאמתה
צרה נחאס פיהא ד קטע פגר ומעשרה צפר וזן דאלך אחד וארבעין
רטל ונצף ואיצא קמקם טויל שכץ בעינה אלוזן יב רטל צח אלגמלה
לאתה וכמסין רטל ונצף אדא וצל וסלם אללה אסתעמל לעבדה
מעשרה בקדר אלמעשרה אלואצלה אליה ואיצא מרפע משבך
נחן נסמיה זירכואן יכון ידכל פי וסט אלמעשרה לחתא יכון פוקה
גחלה אלמא לחתא מא קטר מן אלמא וקע פי אלמעשרה ויכון
תשביכה כוזראני יכון וזן אלזירכואן לעל תמאניה ארטאל זאיד
קליל נאקץ קליל ויכון וזן אלמעשרה לעל ארבעה ארטאל ואיצא חסכה
ללשמעה לעל וזן ג ארטאל לטיפה מדרגה בדרג ותאלם לטיף יכון
פתחה שבר ונצף לא גיר יכון אסבאדרה שגל גייד ומא פצל מן אלנחאס
ו באעה ויכרג מנה געל אלצאנע ואלבאקי ישתרי לעבדה פיה קליל
פופל גדיד ואן לם יתפק פופל כאן היל או מנגל ואיצא אלי
חצרתה זנביל הנדי פיה תסעה עשר [[ט ]] רטל צפר אלעדד ד קטע
מן אלפגר וטסת ועבדה פיה מסתעאן לולדי פנחב מן תפצלך
תעמל חסאבה וחדה לא ידכל לי פי חסאב ותסתעמל לצאחבה
מנה טסת ואבריק לטאף ומרפע לטיף משבך כוזראני מליח
ירידה לצחן עלי אלמאידה ומא פצל לה מן אלנחאס בעתה לה
וכרגת מנה אגרה אלצאנע ומא פצל לה שרית לה קליל פופל או היל
Margins:
וקד צדר אלי חצרתה מא לא כטר לה ולא קימה ברסם מנזלה [[אל]]
אלשריף והו קנינה זביב ורבעיה לוז ורבעייה צאבון ומנדיל מטרז
T-S 8J7.23 1v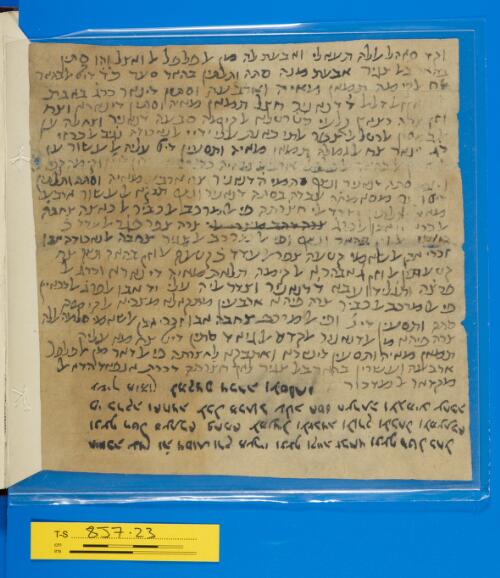 Verso:
חיאכה עדן וה דסות ורק מצרי ונצף וקייה זבאד ונצף רטל כחל
ונצף רטל מצתכא פאמא אלמנדיל ואלזבדה ואלורק ואלכחל ואלמצתכא
פי כרקה ואחדה אלכל מכתוב עליה אסם חצרתה ואלגמיע צחבה
אלשיך מימון אלמקדם דכרה ואלסלאם
Image Permissions Statement

T-S 8J7.23: Provided by Cambridge University Library. Zooming image © Cambridge University Library, All rights reserved. This image may be used in accord with fair use and fair dealing provisions, including teaching and research. If you wish to reproduce it within publications or on the public web, please contact genizah@lib.cam.ac.uk.