Legal document: T-S NS J242
Legal document
T-S NS J242
Input date
In PGP since 2017
Description
Quittance by the rabbinical court of Fustat for money sent to Madmun II. Fustat, probably 1214.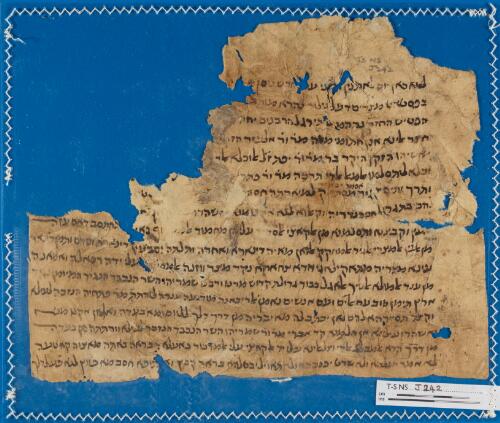 Transcription
S. D. Goitein, unpublished editions.
II, 73
למא כאן יום אלאתנין תאני ע[שר] חדש ניסן ש[נת ...]
בפסטאט מצרים דעל נילוס נהרא מותבה [רשותיה דאדוננו ... אברהם]
הפטיש החזק נר המערבי דגל הרבנים יחיד [הדור ...]
חצר אלינא אנן חתומי מטה מר ור אלעזר הזק[ן היקר בר ... ומר ור]
יאשיהו הזקן היקר בר מר ור יפת זל אלוכלא אלדי [וכלהם ... וגעלהם ...]
וכלא ליתסלמו אלמאל אלדי תרכה מר ור פתח[יה ...]
ותרך יתים צגיר //אסמה אבו אלחסן// מסתחק למיארתה חסב [...]
להם בתגר אלאסכנדריה וקאלוא לנא אקנו מנא ואשהדו [...]
בעץ וקבצנא ותסלמנא מן אלקאצי אלסדיד עלי בן מחמוד אלמע[ר]וף באבן אלמחתסב דאם עזה
מן אלעין אלמצרי אלגיד אלמחקק אלוזאן מאיה דינארא ואחדה ותלתה וסבעין דינארא וסדס ותמן
דינאר
עינא מצריה מתאקילא גיאדא צחאחא נקד מצר ווזנה אלמסיר[ין] עלי ידה רסאלה ואמאנה
מן ענד אלמולא אלשיך אלאגל כבוד גדולת קדוש מרנו ורבנו שמריהו השר הנכבד הנגיד המיומן נגיד
ארץ תימן טוב עם אל'ים ועם אנשים נאמן אלדי כאנת מודועה ענדה לורתה מר פתחיה הנזכר לעילא
וקצד תסיירהא להם ואן יכתב לה מא יבריה מן דרד דלך לליום ומא בעדה ואלאן אקנו מנא
ואשהדו עלינא אן כל מנא קד אברי מר ור שמריהו השר הנכבד הנזכר לעילא וורתתה מן בעדה
מן דרך הדא אלמבלג אלדי וצל אלינא עלי יד אלקאצי עלי אלמדכור באעלאה בראה באתה מאציה
קאטעה
לא אמר יעלהא ולא שרט יפסכהא ולא תאויל יבטלהא בראה קבץ וא[ס]תיפא חסב פווץ לנא פעל דלך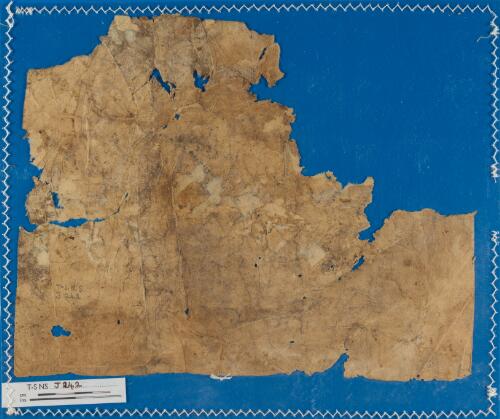 Image Permissions Statement

T-S NS J242: Provided by Cambridge University Library. Zooming image © Cambridge University Library, All rights reserved. This image may be used in accord with fair use and fair dealing provisions, including teaching and research. If you wish to reproduce it within publications or on the public web, please contact genizah@lib.cam.ac.uk.