Letter: T-S 8J15.24
Letter
T-S 8J15.24
Input date
In PGP since 2004
Description
Letter from Mukhtar b. Yaʿaqov to Sa'id b. Naja describing Ḥasan b. Bundar's assistance. Aden, ca. 1100.
Edition: Goitein, S. D.; Friedman, Mordechai Akiva
T-S 8J15.24 1r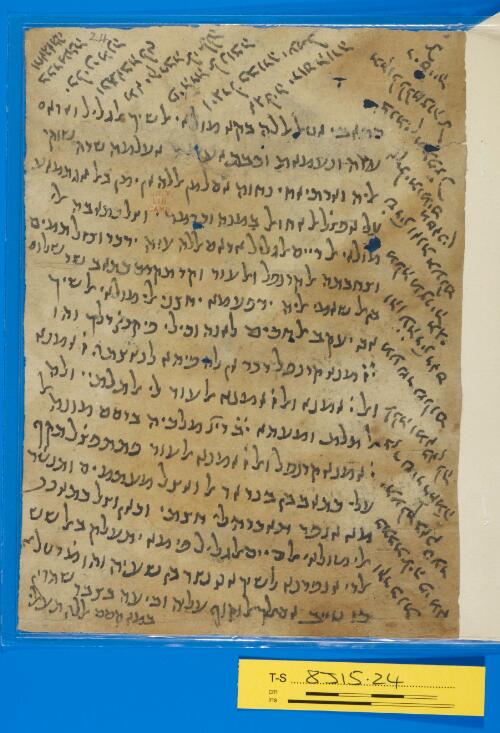 Transcription
S. D. Goitein and Mordechai Akiva Friedman, India traders of the middle ages : documents from the Cairo Geniza : India book (Leiden and Boston: Brill, 2008), vol. 2.
II, 1
כתאבי אטאל אללה בקא מולאי אלשיך אלגליל ואדאם
עזה ונעמאה וכבת אעדאה אעלמה שדה שוקי
אליה וארתיאחי נחוה אסל מן אללה אן ימן באלאגתמאע
עלי אפצל אלאחואל במנה וכרמה. וצל כתאבה אלי
מולאי אל רייס אלגליל אדאם אללה עזה ידכר וצול תמים
וצחבתה אלקרנפל ואלעוד וקד תקדם כתאב שר שלום
בן אל שאמי אליה ידפע מא יחצני אלי מולאי אלשיך
אבי יעקב אלחכים לאנה וכילי פי קבץ דלך והו
יז מנא קרנפל דכר אן לה פיהא לכאצתה ז אמנא
ואל י אמנא ואל ז אמנא אל עוד לי אלתלתיי ולה
אל תלת ומעהא יב דינ' מלכיה ברסם מונה אל
י אמנא קרנפל ואל ז אמנא אל עוד פתתפצל תקף
עלי כתאב בן בנדאר אל ואצל מע תמים ותנטר
מא אנפד תאכדה לי חצתי וכאן וצל כתאבך
אלי מולאי אלרייס אלגליל פי מא יתעלק באל שש
אלדי אנפדנא לשיך אבו נצר בן שעיה והו מ רטלא
כז טייב אסאלך אל וקוף עליה וביעה בצבר שהרין
במא קסם אללה תעאלי
Margins:
(1) וקד כנת (2) כתבת אליה פי מא (3) יתעלק באבי סעד (4) בן רשיד רחמה (5) אללה ומא כאן לה (6) מע שר שלום (7) והו עה דינ' ראס (8) מאלה מצריה תגי (9) ש דינ' ואנת תעלם (10) אן אליתומים מסאכין (11) בנתין תתפצל (12) תקול ללחצרה אל (13) ריסייה (14) אל
Top of Page:
(1) אגליה ירום הודה (2) ויגדל כבודה יעמל (3) פי הדה אלנובה (4) מא יקרבה אלי אללה (5) וכתאבה
לא (6) יכליני מנה (7) בכדמתה (8) וחאגאתה
T-S 8J15.24 1v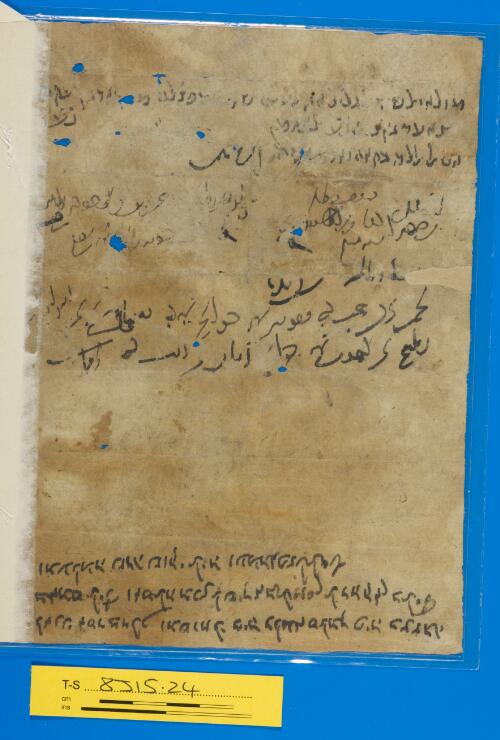 Verso:
לאנני אסר בדלך ותשרח לי פיה כלמא סאלתך פיה כצצתה
באתם אלסל' ואסאלה תכץ אלשיך אבו אלחסן אלדהקאן באלסל'
ותעלמה שדה שוקי אליה ועמה אפצל אלסל'
Address:
מולאי אלשיך אלגליל אבו אלעלא ש[אכר] תפצלה מ[כ]תאר בן [י]עקב נע
צאעד בן נ[ג[א] נע אלנאמן
אטאל אללה בקאה וא[דאם] עזה
Image Permissions Statement

T-S 8J15.24: Provided by Cambridge University Library. Zooming image © Cambridge University Library, All rights reserved. This image may be used in accord with fair use and fair dealing provisions, including teaching and research. If you wish to reproduce it within publications or on the public web, please contact genizah@lib.cam.ac.uk.