Letter: T-S 10J16.15
Letter
T-S 10J16.15
Input date
In PGP since 2017
Description
Letter. Memorandum from Abu Zikri Kohen to Mahruz. Alexandria, ca. 1136-1149.
T-S 10J16.15 1r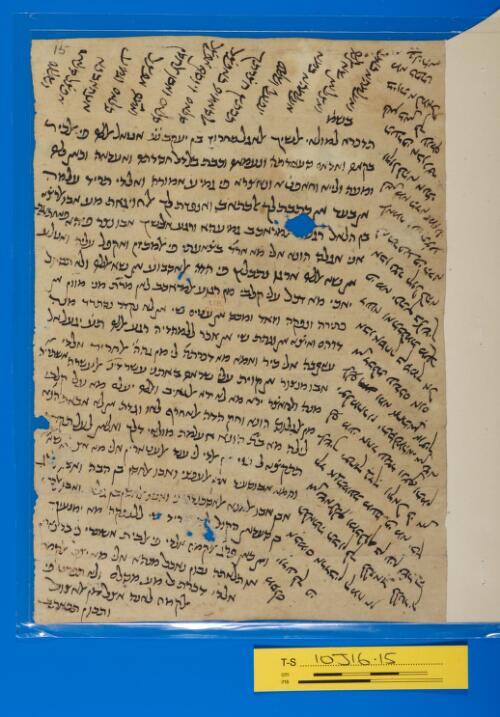 Transcription
S. D. Goitein, unpublished editions.
II, 58
בשמ
תדכרא (!) למולאי אלשיך אלאגל מחרוז בן יעקב נע אטאל אללה פי אלכיר
בקאה ואדאם סעאדתה ונעמאה וכבת באלדל חסדתה ואעדאה וכאן לה
ומעה ולייא וחאפטא ונאצרא פי גמיע אמורה ואלדי תריד עלמה
אן בעד אן כתבת לך אלכתאב ואנפדת לך אלחויגאת מע אבו אלרצא
בן הלאל רגע[ת] א[ל]מראכב גמיעהא ורגע אלשיך אבו נצר פיהא פאחת[[א]]גת
אני אגלס הונא אלי מא ארד בצאעתי פי אלמכזן ואקפל עליה ואטלע
אן שא אללה ארגו נתכלץ פי הדה אלאסבוע אן שא אללה ולא תסאל
יאכי מא דכל עלי קלבי מן רגוע אלמראכב לאן מרת מני מוון אן
כתירה ונפקה וזאד ומכס אן עטים שי אן לא נקדר נסתרד מנה
דרהם ואיצא אן וגהת שי אן אכר ללמהדיה רגע אללה תע יגעל אל
עאקבה אלי כיר ואמא מא דכרתה לי מן גהה אלחריר אלדי
אבו מנצור אן קוית עלי שראה באתני עשר דינ' אלעשרה אשתריה
מנה ואלחאצר ירא מא לא ירא אלגאיב ואללה יעלם מא עלי קלבי
מן אלגלוס הונא וחק הדה אלאחרף לאו וגדת אן לא אבאת הנא
לילה מא בת הונא אעלמת מולאי דלך ואלאן לעל תקדר
תתקצא ל[י] שי אן אלדי לי ענד אלעטארין אלי מא אצ[ל אן] שא אלל[ה]
והמא אבו סעיד אבן אלעפצי ואבו אלחסן בן הבה ואבו אלפרג
אבן אבו אלמנא אלאסכנדראני ואבו אלחסן בן גליב ואבו אלכרם
בן סעדאן תקול לה[ם א]ריד שי ללנפקה מא ימנעוך
ואן כאן פרג אלקמח אלדי פי אלבית אשתרי לי בדינארין
או תלאתה נכון נאכל מנהא אלי מא יצל אלקמח
אלדי דכרת לי מע מסלם ולא תפרט פי
אלקמח לאנה אצל מן אלאצול
ותכון תכאתב
Margins:
(1) מסלם (2) יודע לך פי (3) אכמים ארדבין קמח או (4) תלאתה תכון לך ללזאד ללטריק (5) אן שא אללה ומכלוף בן עין שרה (6) קד אגתמעת מעה פי מא יכץ (7) אלשיך יצחק גדך וקאל לי אן (8) לה מעי אחד עשר ונצף ותמן (9) יצל מחרוז יתסלמהא אן שא (10) אללה [[ומע]] ומא אחתאג אוציך (11) אן דכלת ענדכם אום (12) אבו אסחק בן סמך אל (13) דעוא ואתכלמת מעך (14) פי מא יכתץ באלשיך (15) אבו נצר קול להא (16) לא תרפע פי הדא (17) אלאמר ולא תצע (18) לאן מא הדא זמאנה (19) וקול להא אנתי (20) תערפי אבו נצר (21) לאן כאן לך ענדה (22) ביות אלמאל (23) מא כפתי (24) עליהא
Top of page:
(1) ואעלמהא באני (2) ואצל אן שא אללה (3) אעלמהא במא (4) ינפעל ושלום (5) תכתץ חצרתך (6) אלסאמיה באפצל (7) סלאם ויוסף אפצל (8) סלאם ואבו אלחסן (9) ואמה אפצל (10) סלאם וגמיע (11) אצחאבנא (12) אפצל סלאם (13) ושלום
T-S 10J16.15 1v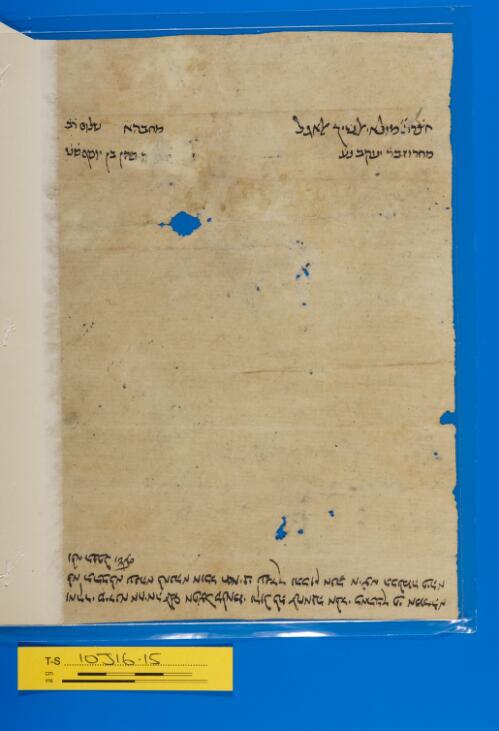 Verso:
ואקרי סידנא אחיאה אללה אפצל סלאמי וקול לה אלחאגה אלדי כאתבך פי אמרהא
לא תתכלא ענהא לאנהא אוכד חואיגי ענדך ותכון אנת איצא תכלמה פיהא
ולא תגפל ושלום
Address:
חצרה מולאי אלשיך אלאגל מחבהא שלום רב
מחרוז בר יעקב נע [יהוד]ה כהן בן יוסף סט
Image Permissions Statement

T-S 10J16.15: Provided by Cambridge University Library. Zooming image © Cambridge University Library, All rights reserved. This image may be used in accord with fair use and fair dealing provisions, including teaching and research. If you wish to reproduce it within publications or on the public web, please contact genizah@lib.cam.ac.uk.