Legal document: CUL Add.3420.1
Legal document
CUL Add.3420.1
Input date
In PGP since 2004
Description
India Book I, 3: Court proceedings dealing with the dispute between Yosef ha-Lebdi the India trader, and Yequtiʾel b. Moshe, 'the representative of merchants' in Fustat. The document deals with Lebdi's debt of 40 dinars to Yequtiʾel for a sale of indigo. The document is written in the hand of Nethanel b. Yefet (though the title was written probably by Hillel b. Eli) and is dated February 22, 1098.
Edition: Goitein, S. D.; Friedman, Mordechai Akiva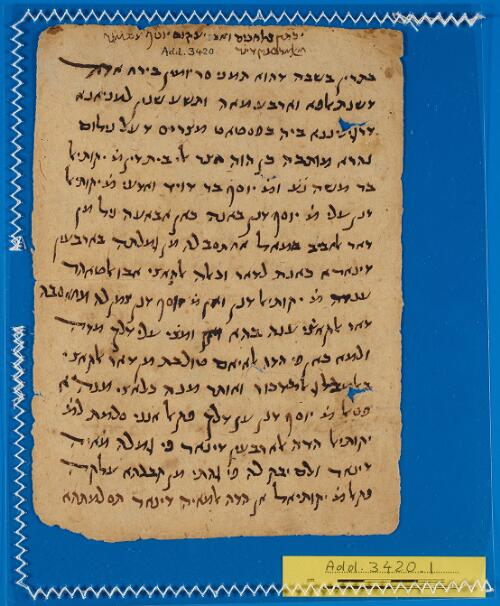 Transcription
S. D. Goitein and Mordechai Akiva Friedman, India traders of the middle ages : documents from the Cairo Geniza : India book (Leiden and Boston: Brill, 2008), vol. 1.
I, 3
יכתץ בלאחכים ואבו יעקוב יוסף אלתאגר
פי אלארבעין דינר
בתרין בשבה דהוא תמני סר יומין בירח אדר
דשנת אלפא וארבע מאה ותשע שנין למניאנא
דרגיליננא ביה בפסטאט מצרים דעל נילוס
נהרא מותבה כן הוה חצר אלי בית דין מ יקותיאל
בר משה נע ומ יוסף בר דויד ואדעי מ יקותיאל
דנן עלי מ יוסף דנן באנה כאן אבאעה ניל מן
דאר אלזביב במאל אחתסב לה מן גמלתה בארבעין
דינארא כאנת לדאר וכאלה אלקאצי אבו אלטאהר
ענד[[ה]] מ יקותיאל דנן ואן מ יוסף דנן צמן לה מחאסבה
דאר אלקאצי ענה בהא [[ויזן]] ומצי עלי דלך מדה
ולמא כאן פי הדה אליאם טולבת מן דאר אלקאצי
באלמבלג אלמדכור ואותר מנה כלאצי מנהא
פסאל מ יוסף דנן ען דלך פקאל אנני סלמת למ
יקותיאל הדה אלארבעין דינאר פי גמלה מאיה
דינאר ולם יבק לה פי גהתי מן קבלהא עלקה
פקאל מ יקותיאל אן הדה אלמאיה דינאר תסלמתהא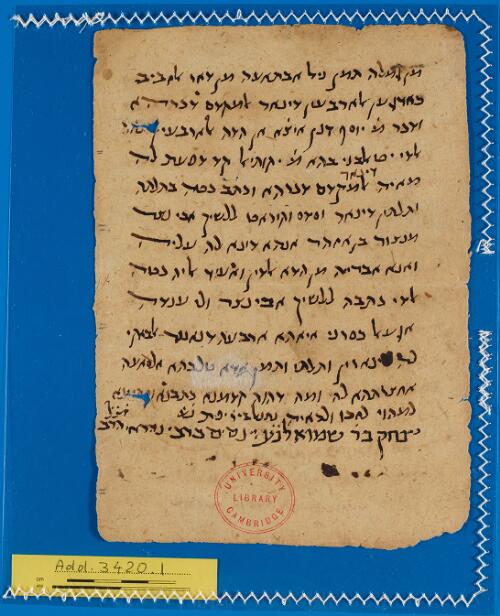 Verso:
מן גמלה תמן ניל אבתאעה מן דאר אלזביב
2 כארג ען אלארבעין דינאר אלמקדם דכרהא
3 ודכר מ יוסף דנן איצא אן הדה אלארבעין [די]נאר
אלדי יטאלבני בהא מ יקותיאל קד דפעת לה
מאיה //דינאר// אלמקדם דכרהא וכתב כטה בתלתה
ותלתין דינאר וסדס וקיראט ללשיך אבי נצר
מנצור בן אזהר אנהא דינא לה עליה
ואנא אבריה מן הדא אלדין ואעיד אליה כטה
אלדי כתבה ללשיך אבי נצר ולי ענדה
אגעאל כסרני איאהא ארבעה דנאניר אלבאקי
לה דינארין ותלתי ותמן אדא טלבהא אלסאעה
אחצרתהא לה ומה דהוה קדמנא כתבנא וחתמנא
למהוי לזכו ולראיה נתנאל ביר יפת נע
יצחק בר שמואל נע נסים ברבי נהראי הרב זצל
Image Permissions Statement

CUL Add.3420.1: Provided by Cambridge University Library. Zooming image © Cambridge University Library, All rights reserved. This image may be used in accord with fair use and fair dealing provisions, including teaching and research. If you wish to reproduce it within publications or on the public web, please contact genizah@lib.cam.ac.uk.