Legal document: T-S 13J6.32
Legal document
T-S 13J6.32
Input date
In PGP since 2017
Description
Draft of an oath to be taken by Yosef Lebdi in which he enumerates his assets. Due to the litigation between Yosef Lebdi and his nephew, David b. Shelomo, following Shelomo's death, Yosef Lebdi was to make a formal oath stating that he had cheated neither his brother nor nephew. The draft is incomplete, probably because the elders of the community intervened and prevented such a respectable merchant as he from the shame of making such an oath. There is reason to believe that the detailing of Yosef's assets and dealings is complete.
T-S 13J6.32 1r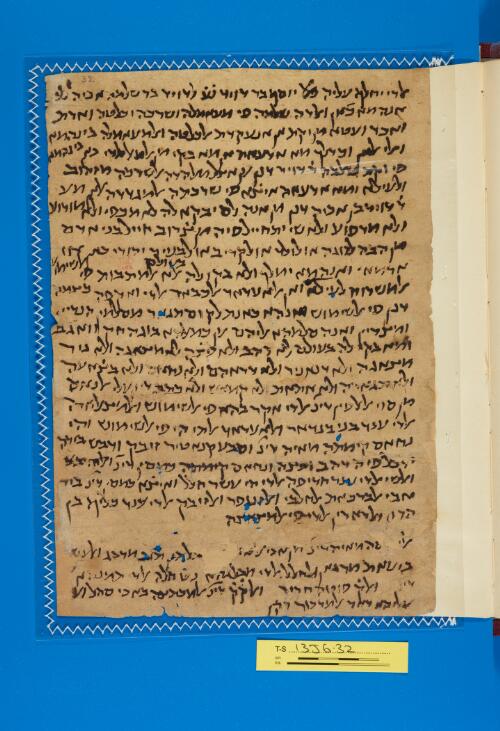 Transcription
S. D. Goitein, unpublished editions.
I, 22
אלדי יחלף עליה [[פלֹ]] יוסף בר דויד נע לדויד בר שלמה אכיה נע
אנה מא כאן ואלדה שלמה פי מעאמלה ושרכה וכלטה וארת
ואכד ועטא מן וקת אן אנעקדת אלכלטה ואלמעאמלה בינהמא
ואלי אלאן וכדלך מא אדעאה אן מא בקי מן אלמאל אלדי כאן בינהמא
פי וקת טאלבה ר דויד דנן ען אצל מאל הדה אלשרכה מזהוב
ולעילא ומא אדעאה איצא פי שרכתה אלמגדדה אלאן מע
ר דויד בן אכיה דנן מן אנה לם יבקא לה לא מכפי ולא מודוע
ולא מדפוע ולא שי יתחייל פיה מן צרוב חייל בני אדם
מן הבה לזוגה או לולד או לקריב או לבעיד יהודי כאן או
ארמאי ואנה מא ימלך ולא בקו לה //בעולם// אלא אלמתבות פי אלשימוש
אלמשרוח לעילא ואן אלאעדאד אלכבאר אלדי ואקפה כצמה
דנן פי אלשימוש אנהא כאנת לקום תגאר מסלמין הנדיין
ומצריין ואנה סלמהא אליהם ען כמאלהא בוגה חק וואגב
ומא בקי לה בעולם לא דהב ולא פצה לא מצאגה ולא גיר
מצאגה ולא דנאניר ולא דראהם ולא נחאס ולא בצאעה
ולא תגארה ולא אתאת ולא קמאש ולא כתב דיון עלי אלנאס
מן סוי אלאלפין דינ אלדי אקר בהא פי אלשימוש ואלמצאלחה
אלדי ענד בני בנדאר ואלאעדאד אלתי הי פי אלשימוש והי
נחאס קימתה מאיה דינ וסבע קנאטיר זיבק ודבש בידה
ידכל פיה דהב ופצה (!) ונחאס [[קימתה]] כמסין דינ [[ואל...ב.]]
ואלשי אלדי ענד חדיפה אלדי הי עשר חלל ואיצא כמסין דינ ביד
אבי אלברכאת אלחלבי ואלזנגפר ואלזיבק אלדי ענד כליף בן
הרון ואלדארין אלדי פי אלמצאצה
An empty line and then follows an addition meant for line 11:
אל[כמ]סה מאיה דינ מן אבי אלטא[הר ען] תלתין תוב מדבג ואלעש[ר]
ביעאת מרגאן ואלחלל אלדי מבלגהא נט חלה אלדי תמנהא ע[ליה]
דין ואלק פוטה חריר ואלקק דינ אלמכתצה באבי סהל וע[רער]
עליהא דאד אלמדכור רהן
T-S 13J6.32 1v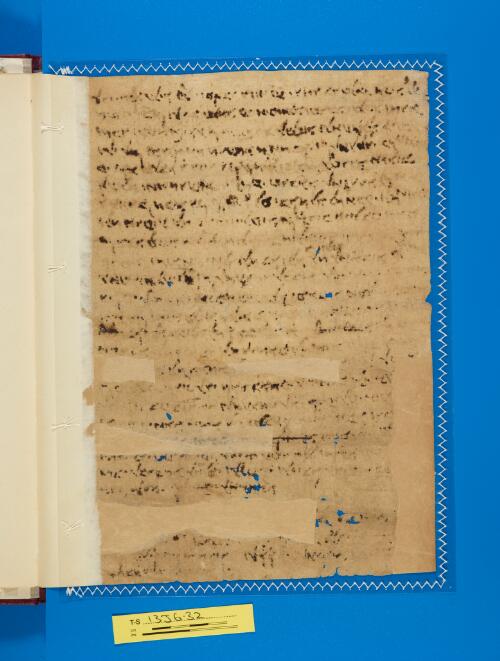 Image Permissions Statement

T-S 13J6.32: Provided by Cambridge University Library. Zooming image © Cambridge University Library, All rights reserved. This image may be used in accord with fair use and fair dealing provisions, including teaching and research. If you wish to reproduce it within publications or on the public web, please contact genizah@lib.cam.ac.uk.