Letter: T-S 13J7.27
Letter
T-S 13J7.27
Input date
In PGP since 2004
Description
Short letter from Yosef b. Avraham to Ibn Yiju, India, Aden, ca. 1147 or 1148.
Edition: Goitein, S. D.; Friedman, Mordechai Akiva
T-S 13J7.27 1r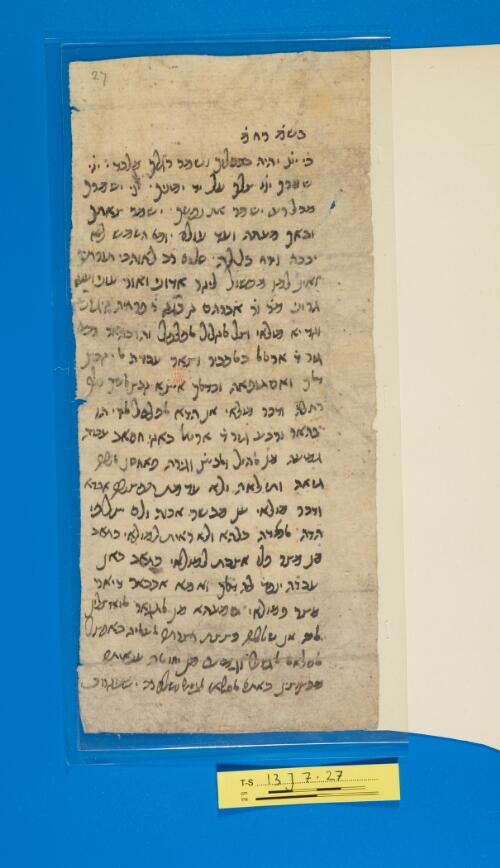 Transcription
S. D. Goitein and Mordechai Akiva Friedman, India traders of the middle ages : documents from the Cairo Geniza : India book (Leiden and Boston: Brill, 2008), vol. 3.
בשמֹ רחמֹ
כי ייֹו יהיה בכסליך ושמר רגלך מלכד. יוֹי
שמרך יוֹי צלך על יד ימיניך. יוֹי ישמרך
מכל רע ישמר את נפשך. ישמר צאתך
ובאך מעתה ועד עולם. יומם השמש לא
יככה וירח בלילה. שלום רב לאוהבי תורתיך
ואין למו מכשול ליקר אדוני ואור עיני וענק
גרוני מרֹ ורֹ אברהם בן כֹגֹקֹ רֹ פרחיה בן יגו נֹעֹ
וקד יא מולאי וצל אלקליל אלפלפל והו בהאר ורבע
גיר דֹ ארטאל באלכביר וצאר עבדה אלי קבץ
דאלך ואסתופאה וכדאלך איצֹא קבץ אלשיך כלף
רחלה ודכר מולאי אן הדא אלפלפל אלדי הו
בהאר ורבע גיר דֹ ארטאל באקי חסאב עבדה
גמיעה מן אלהיל ואלביץֹ וגירה פאחסן אללה
גזאה ותולאה ולא עדמת תפצלה אבדא
ודכר מולאי ען מבשר אכוה ולם יצל פי
הדה אלמُדה כלהא ולא ראית למולאי כתאב
מן מצר פלו אצבת למולאי כתאב כאן
עבדה ינפד לה דאלך ואמא אכבאר דיאר
מצר פמולאי סמעהא מן אלתגאר אלואצלין
אליה אן שאללה כצצת חצרתה אלעאליה באפצל
אלסלאם אלגזיל וגמיע מן יחוטה ענאיתה
מכצוצין באתם אלסלאם אלגזיל ושלום רב ישע קרוב
T-S 13J7.27 1v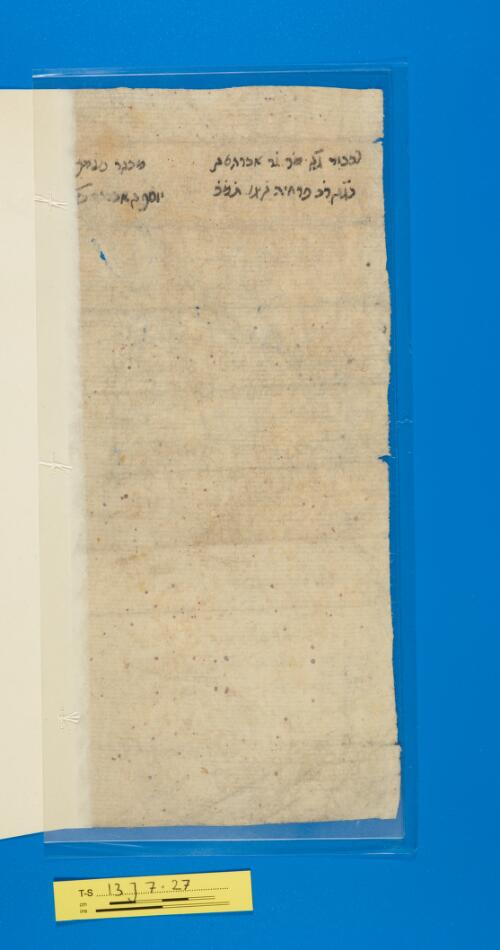 Verso
לכבוד גק מר ור אברהם בן מבקר נעמך
כֹגֹקֹ רבֹ פרחיה בן יגו תֹמֹכֹ יוספ בן אבהרהם נֹעֹ
Image Permissions Statement

T-S 13J7.27: Provided by Cambridge University Library. Zooming image © Cambridge University Library, All rights reserved. This image may be used in accord with fair use and fair dealing provisions, including teaching and research. If you wish to reproduce it within publications or on the public web, please contact genizah@lib.cam.ac.uk.