List or table: T-S J1.4
List or table
T-S J1.4
Input date
In PGP since 2004
Description
Two lists similar to T-S K15, fols. 5, 15, 39, 50, written by the same scribe and having mostly same names; one of the lists dated Friday Marheshvan 14. Has a special section for the Rum (Europeans) (42 persons). The second total at the bottom of col. II represents the addition of 4 loaves resulting from changes in three allocations in the list. Ca. 1107. (Information from Mediterranean Society, II, p. 443, App. B 23)
T-S J1.4 1r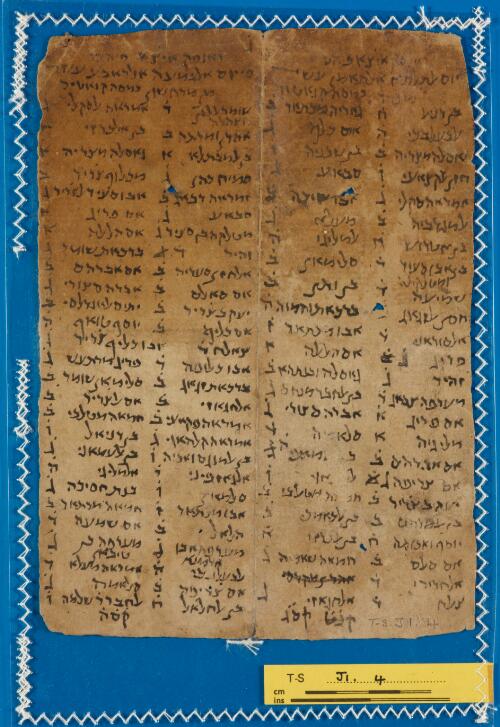 Transcription
S. D. Goitein, unpublished editions.
recto right side II
וא[נ]פק איצא פיהם
יום אלתלתא אלתאמן עשׁר
מנה כמסה קנאטיר
בן דניאל ח גאריה מכתאר ב
אלבעלבכי ה אום כלף ג
גאסלה מצריה ב בן שׁכניה ו
חזן אלקצאעי ו סבאע ג
אמראה סקלי ג אבו שׁיכה ב
אלמגרביה ב מעלא ג
בן אטרושׁ ח אלמליגי ה
בן אבו סעיד ד סלימאן ב
ומטלקתה
שׁמיעה ד בן נתן ב
חסן אלזגאג ג ברכאת וחמוה ה
אלסוראני ד אבו מכתאר ז
פריג ג [[ב]] אם הלאלה א
זהיר ג גאסלה ובנתהא ב
מערפה צבאג ד בן אלחבר מנחם ג
אם פריג א אברהם צורי ג
מליגיה א סלאמה ג
אם אברהם ב ב[ן אלע]מאני [[ג]] ה
אם צריפה ג [[ב]] אל[עכ]אוי ו
יעקב צריר ב ח[מא]ה מטאלבי ב
בן אלמרהט ב בן אלכאמכי ב
יוסף ואכותה ח בן אלכרזי א
אם סאלם ב חמאה שׁאמיה ג
אלחרירי ד [[אהרן מקדסי]]
צאלח ד אלחגאזי ג
[[קנט]] קסג
T-S J1.4 1v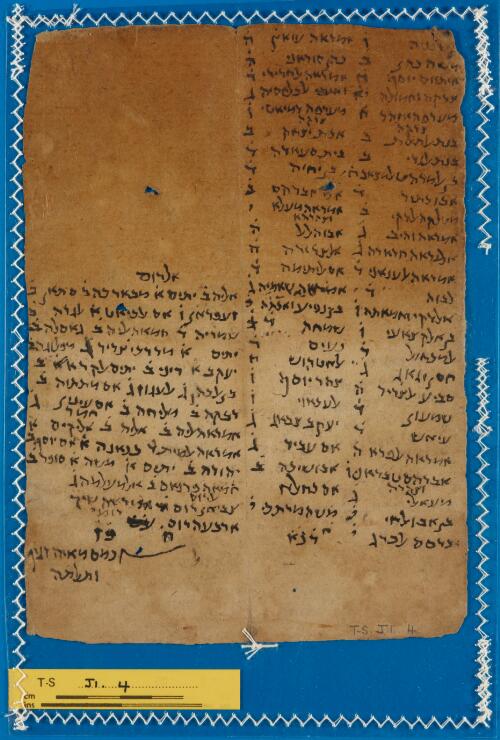 recto left side I
ואנפק איצא פיהם
פי יום אלגמעה אלראבע עשׁר
מן מרחשׁון כמסה קנאטיר
שׁומר אללבן ד אמראה אלסקלי ג
וצהרה
אהרן ומרתה ב בן אלכרזי א
בן אלמבתלא א גאסלה מצריה א
סמיח כהן ג מכלוף צריר ב
אמראה דבאג ב אבו סעיד אלצריר ג
סבאע ג אם פריג א
מטלקה בו סעיד ג אם הלאלה א
זהיר ד [[ג]] ברכאת שׁומר ג
אלחזן סעדיה ב אם אברהם ב
אם סאלם ב אברהם צורי ג
יעקב צריר ב יתים אלאנדלסי ב
אם כליף ב יוסף טואף ה
צאלח ד אבו כליף צריר ג
אבו כליפה ד פריג מרתעשׁ ג
ברכאת זגאג ב סלימאן שׁומר ב
אלחגאזי ב אם אלצריר ב
אמראה פקאעי ב חמאה מטאלבי ב
אמראה קלהאוי ג בן דניאל ו
בן אלמנגם ואכיה ו בן אלעמאני ג
אלגאזפיני י אלמליגי ה
סלמאן ו בנת חסיכה ג
אבו מכתאר ז חמאה מכתאר ב
הלאל ב אם שׁמעה ד
מערפה אבו ג מערפה בן ג
אלמנא טיבאן
אלבעלבכי ה אמראה מעלא ד
אם צריפה ב סלאמה ג
בן אלחלאל ח אלחבר ר' שׁלמה ו
קסה
verso right side IV
ב]ן [שׁ]כניה ו אמראה עואץ ה
משׁה כהן ב כהן סודאני ה
איתאם יוסף ח אמראה אלחרירי ד
צדקה וחמולה יא [[והיב]] אלכלאסיה ג
מערפה אזהר ח מערפה דמיאטי ו
צדקה צדקה
בנת אלתלית ב אכת יצחק ב
בנת אלגדי ב בית סעאדה ד
בן אלמרהט אלמצאב ח בן יחיה ד
אבו כתיר ד אם אברהם ב
מטלקה אלדקי ב אמראה מעלא י
וצהרהא
אמראה והיב ג אבו הלאל ה
אמראה חרארה ג אלצרירה ח
אמראה אלענאני ד אם אליתימה ד
לבוה ד אמראה שׁאמיה ג
אלדקי וחמאתה ו בן נפיע ואכתה י
בן אלקצאעי ו שׂמחה ד [[ג]]
אלמכחול ד נעים ד
חסן זגאג ג אלאטרושׁ ח
סביע אלצריר ה צהר יוסף ו
שׁמעון ד אלעכאוי ו
עיאשׁ ד יעקב צבאג ג
אמראה אלפרא ה אם עביד ג
אברהם טבראני ו אבו שׁיכה ב
וצהרה
מעאלי ג אם כחלא
בן אבו אלחי י משׁה מרתכי י
ברסם אלכרג י ח
רנא
left side, begins opposite l. 17 of facing column
III
אלרום
אליה ב יתים א מבארכה ב סתאן ב
זעפראן ו אם אלכיאט א אלגרה ב
שׁמריה ד חמאה אליה ב גאסלה ב
יתים א מרדכי צריר ג מפלוגה ב
יעקב א דיני ב יתים אלקרא [[א]] ב
בן אלכהן ג אלעגוז ג אם מתתיה ב
רבקה ב מליחה ב אם עינין ג
חמד
אמראה אליה ב אליה ב אליקים א
אמראה אלמית ד כנאנה א אם יוסף ב
יהודה ב יתים א משׁה א סופר ב
חמאה פרנאס ב אלמעלמה ג
אלרום
צביאן רום ד אמראה שׁיך
רומי [[עט]]
ארבעה רום
ח פז
אלגמלה כמס מאיה רגיף
ותלתה
Image Permissions Statement

T-S J1.4: Provided by Cambridge University Library. Zooming image © Cambridge University Library, All rights reserved. This image may be used in accord with fair use and fair dealing provisions, including teaching and research. If you wish to reproduce it within publications or on the public web, please contact genizah@lib.cam.ac.uk.