List or table: T-S NS 320.7
List or table
T-S NS 320.7
Input date
In PGP since 2017
Description
List of deaths in Fustat from the last day of Tevet to the 29th of Nisan 1437 (27 December 1125 - 23 April 1126). By Goitein's count: 41 adults, 18 children, and 6 infants. Includes several female slaves and poor people. Information from Med Soc V, p. 115; Goitein index cards.
T-S NS 320.7 1v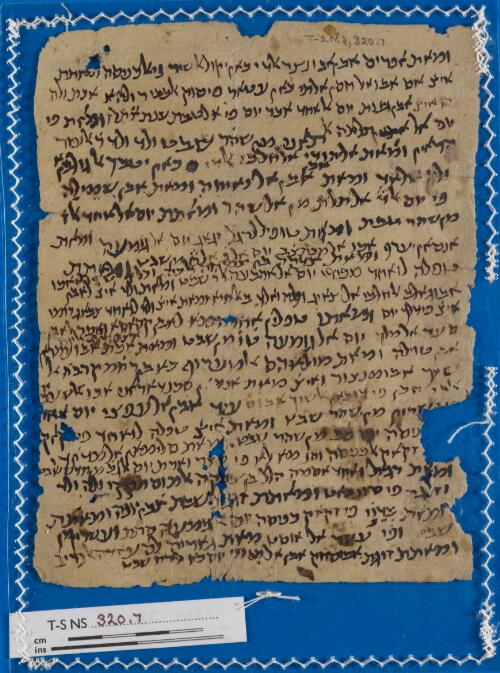 Transcription
S. D. Goitein, unpublished editions.
ומאת אפרים אבן אבו נצר אלדי כאן יקול אלשיך פי אלכניסה ומאתת
איצ אם אבו אלחסן אלתי(!) כאן עטאר פי סוק אלכביר ולהא אכת ולה
הו איצ אבן ובנת יום אלאחד אכר יום פי אלטבת שנת אתלז ומאת פי
יום אל[[אתנין]] תלתה אלתאני מן שהר שבט ולד ולד ר אלעזר
הדאין(!) ומאת אליהודי אלחלבי אלדי כאן יטבך אלגולבאן
ולה אולאד ומאת //אבן// אבן אלנאיחה ומאת אבן שמילה
פי יום אלד אלתלת מן אלשהר ומאתת יום אלאחד אלז
מן שהר טבת ומאת טופיל לרגל זגאג יום אלגומעה ומאת
אנסאן יערף אבן אלמכתצב יום אלב אלח מן שבט ומאתת
טפלה לואחד מכירי יום אלארבעה אלי שבט ומאת ולד איצ לאבן אכו //ומאת צדקה בן צמחה אלכהן וכלף טפלה//
אבו(!) גאלב אלחלבי אלצאיג ולה ואלד באלחיא ומאת איצ ולד לואחד צבאג רומי
איצ פי דלך יום ומאתו טפלין אחדהמא לאבן קסאסה ואכר לאבן
סעד אלמלך יום אלגומעה טו מן שבט ומאת //איצ פי דלך אליום// אכת אבו עמראן
אבן טוילה ומאת מולאהם אלמערוף באבן רחמ קרבה אל
שיך אבו מנצור ואיצ מאת אנסאן סכנדאראני(!) אבו אלשע/י/ילי
אלדי סכן פי דוכאן אלשיך אבו סעיד אבן אלעפצי יום אחד
ועשרין מן שהר שבט ומאת איצ טפלה לואחד פי [ז]קאק
אלכ]ניסה יום כב מן שהר שבט ומאת סלימאן אלמדאדי
. . ] זקאק אלכניסה והו מא לא פי מצר וארת יום אלגכ מן חדש שבט
ומאת רגאל ואחד אסמה הלל בן צדקה אלמוסתרקי ולה ולד
וזוגה פי סונבאט ומאתת זוגה שבת אבן יונה ומאתת
חמאת בדוי פי זקאק כניסה יום אלגמעה סתת ועשרין מן
שבט ופי עשר אלאוסט מאת(!) גאריה לסעאדה אלנדיב
ומאתת זוגת אביסחק אבן אלתווזי יום כז לירח שבט
T-S NS 320.7 1r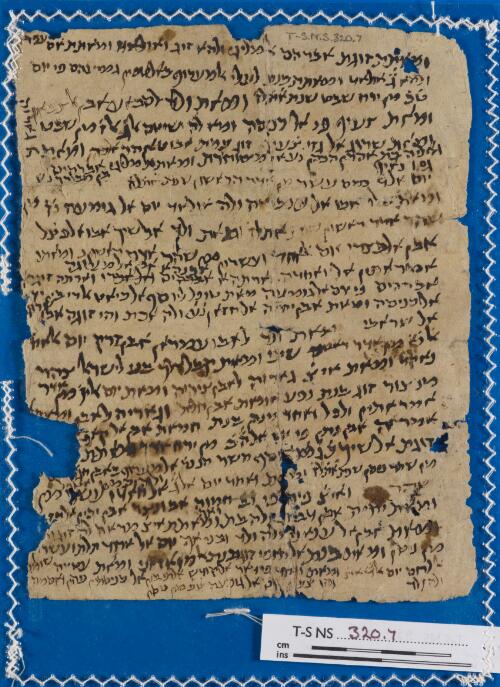 verso
ומאתת זוגת אברהם אלמליגי ולהא זוג ואולאד ומאתת אם עפראן
ולהא ג אולאד ומאתת בנת לעלי אלמערוף באלטסיון גמיעהם פי יום
טכ מן ירח שבט שנת אתלז ומאת ולד לסבאע אבן אלצבאג
ומאת צעיף פי אלכניסה ומא לה שי יום אלג אלז מן שבט
ומאת שרוג אלגזי צעיף זוג עמת אבו טאהר אלכהן ומאתת //גאריה//
גאליה בת אהרן הכהן נע אלמשוחר/ר/ת ומאת אלמליגי אברהים בן מבורך נע
יום אלד כמס עשר מן אדר הראשון שנת אתלז //וצאין//
ומאת עלי אכו אלענבריה ולה אולאד יום אלגומעה יז מן
שהר אדר ראשון שנת אתלז ומאת ולד אלשיך אבו אלפצל
אבן אלבצרי יום אלאחד ועשרין מן שהר אדר ראשון ומאתו
אמראתין אלואחדה וארתהא [[אברהים]] //אבנהא אבן אלמעוגה// [[ואלאכרי]] וארתה זוגהא
אברהים פי יום אלגומעה מאת טופל ליוסף אלכיאט אלדי בין ידי
אלכניסה ומאת אבן יחיה אלחזאן נע ולה אכת והי זוגה אבן שר
אלשראבי מאת ולד לאבו עמראן אבן זרק יום אלאח
אלכא מן אדר [[ראשון]] שיני ומאת קבל דלך בני לישראל צהר
נאקד ומאת איצ גאריה לאבן ציריה ומאת יום אליז מן אדר
מנצור זוג בנת נפע חמאת אבן חלאל וגאריה לאבן(!) ומאתת
אמראתין ולכל ואחד מנהן בנת חמאת אבן אלקא[ . . . . .
אמראה אבן נתן פי יום אלהכ מן ירח אדר ומאתת [ . . . . .
זוגת אלשיך כגק מ יוסף השר הנ נר אלמערוף באבן חגאג
מן שהר ניסן שנת אתלז ומאת ואחד //ולה כמסה אטפל// יום אלג אלחאדי עשר מן
שהר [ניסן] ואיצ פיה פי יב חמוה אבו נצר אבן יכין אלחז[אן
ומאת יחיה אבן דבאג ולה בת(!) //ואך// ומאתת איצ מראה לה(!) זוג וא[
ומאת אבן אלענאני ולה ולד ובני אך יום אלאחד תלת ועשרין
מן ניסן ומאת בנת אלחאנט זוג בנת אלמואזאני (!) ומאת עטייה שומר
אללחם יום אלד איצ ומאת ואחד פי דאר אלקודש אלתי בין אלכניסתין פהין ואסמה
ולה ולד והו צע[יף] יום אלגומעה טכ מן ניסן
Image Permissions Statement

T-S NS 320.7: Provided by Cambridge University Library. Zooming image © Cambridge University Library, All rights reserved. This image may be used in accord with fair use and fair dealing provisions, including teaching and research. If you wish to reproduce it within publications or on the public web, please contact genizah@lib.cam.ac.uk.