Legal document: T-S AS 147.38
Legal document
T-S AS 147.38
Input date
In PGP since 2004
Description
Report about the inspection of a house in Minyat Zifta to assess the rent from a pious foundation. Dated: first decade of Tammuz 1489 Seleucid = first decade of Muḥarram 574 AH = June 1178 CE. (Information from Mediterranean Society, IV, p. 373, and from Goitein's index cards.) There is undeciphered text in Arabic script on verso, maybe a filing note.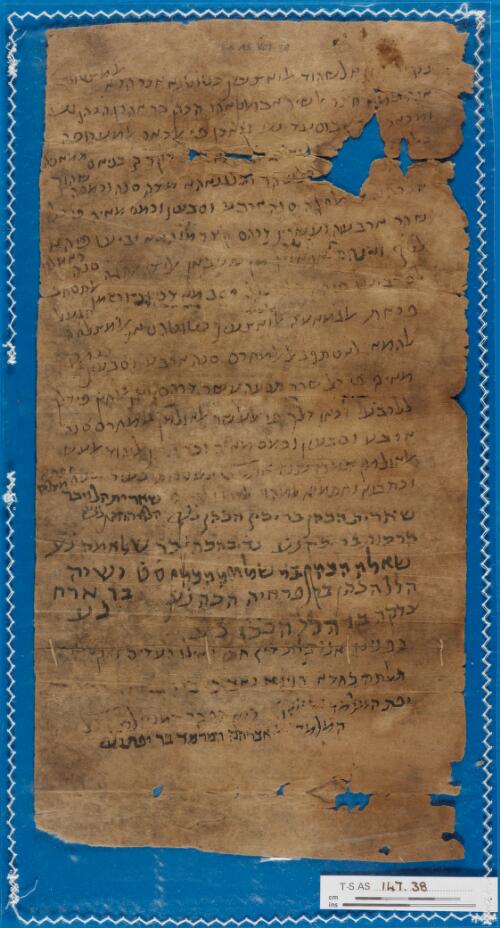 Transcription
S. D. Goitein, unpublished editions.
נקול נחן אלשהוד אלואצעין כטוטנא אכר הדא אלמצטור
אנה למא חצר אלשיך אבו אלטאהר הכהן בר אהרן הכהן נע
ומכאר[ם בר] אבו סעד נע ודארו פי אלדאר אלמערופה
באל[ . ]ה [ . . . . . . . ] מבלג [ . . . . . ]א[ . . . ] דקר(?) בן בניאם תמאניה
. . . . . . . . . . ] כל שהר ובלגנאהא מדה סנה וכמסה שהור
אכרהא דו אלחגה סנה ארבע וסבעין וכמס מאיה פי כל
שהר ארבעה ועשרין דרהם קצד מנהמא יביעו פיהא
לטף ואנה . . . .א. . מן שעבאן אלי די אלחגה סנה כאמלה
. . . ביעו פיהא באלמבלג חסב מא דכרו . . . . מן אלחסאב
פראח אלגמאעה אלואצעין כטוטהם אן אלמצלחה תגעל
להמא לאסתקבאל אלמחרם סנה ארבע וסבעין וכמס
מאיה פי כל שהר תסעה עשר דרהם ואן אלחץ פי דלך
ללרבע וכאן דלך פי אלעשר אלאול מן אלמחרם סנה
ארבע וסבעין וכמס מאיה ובתאריך אליהוד אלעש[ר
אלאול מן תמוז שנת אתפט לשטרות בעיר מניה זפתא
וכתבנא וחתמנא למהוי לזכו ולראיה
שארית הלוי בר מצלח הלוי החזן ננ
שארית הכהן בר יכין הכהן נע
ברכות בר יכין נע
נדיב הכהן בר שלאמה נע
שאלה הכהן בר שלמה הכהן סט
ישיה בר ארח נע
הלל הכהן בר פרחיה הכהן נע
צדקה בר הלל הכהן נע
בפנינו אנו בית דין חתמו אילו העדים ואנן במותב
תלתה כחדא הוינא שבת בירבי [ . . . . . . .
יפת המלמד בר יוסף דיין החבר המעולה זצל
המלמד נע אברהם המלמד בר יפת נע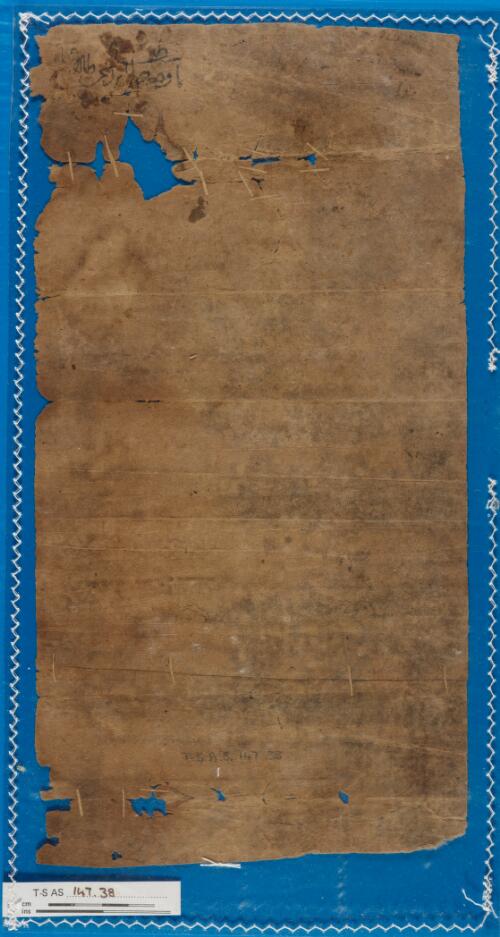 Image Permissions Statement

T-S AS 147.38: Provided by Cambridge University Library. Zooming image © Cambridge University Library, All rights reserved. This image may be used in accord with fair use and fair dealing provisions, including teaching and research. If you wish to reproduce it within publications or on the public web, please contact genizah@lib.cam.ac.uk.