Letter: CUL Or.1080 J71
Letter
CUL Or.1080 J71
Input date
In PGP since 2020
Description
Letter from the wife of Yehuda b. Moshe b. Sughmār, in Fustat, to her husband Yehuda b. Moshe b. Sughmār, in Alexandria. The letter was dictated to Abū l-Faraj, who gives his name toward the end of the letter (v9-10); Gil suggests that he is their son. The writer conveys her concern for what she heard of her husband's illness (wajaʿ). She describes her father's and her own misfortunes, and discusses the famine in Fustat. The sugar and the rose preserves that Yehuda said he sent never arrived. Dated September 26 (18 Tishrei), 1070 CE (Gil's suggestion based on the similarity between events described in the letter and those known to have transpired in 462H). ASE.
CUL Or.1080 J71 1r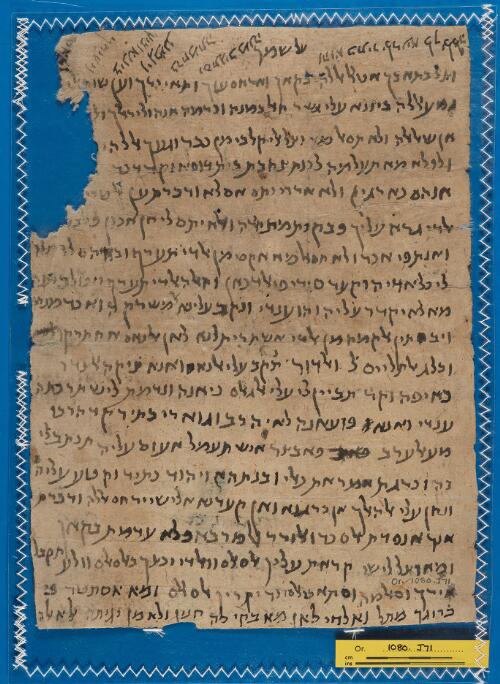 Transcription
S. D. Goitein, unpublished editions.
על שמך
וצל כתאבך אטאל אללה בקאך ואדאם עזך ותאיידך וען שו[ק אליך
גמע אללה ביננא עלי אשר חאל(!) במנה וכרמה אנה ולי דלך ואל[קאדר עליה
אן שאללה ולא תסאל מא וצל אלי קלבי מן כבר וגעך אללה [. . . . . .
ולולא מא תעלמה לכנת צחבת בית דוסא וקד דכר [. . . . . .
אנהם כארגין ולא אדרי יתם אם לא ודכרת ען אלש[. . . . .
אלדי גרא עליך פבקית מתח /י/רה ולא יתם לי אן אכון פי ב[לד
ואנת פי אכר ולא תסאל מא אקסי מן אלדי תערף ובקיהם ל. .
לי כל אדיה וקעד סידי פי אלדכאן וחאלה אלדי תערף ויטלב. .
מא לא יקדר עליה והו ענדי ונקב עלינא //אל// משרקה ואכד מנא
ויבסתין אלקמח מן אלדי אשתרית לנא לאן אלנאס אחתרקו [[ל. .]]
ובלג אלתלייס ל ואלדור ת/נ/קב עלי אלנאס ואנא ציקה אלצדר
כאיפה וקד תביין לי עלי אלגאלם כיאנה ונדמת ליש תרכתה
ענדי ואנא [[ו]] פזעאנה לא יהרב וגוארי כתיר קד הרבו
מע אלערב [[פא.]] פאבצו איש תעמל אעזם עליה תכתב לי
בה וכרגת אמראת כאלי ובנתהא ויהוד כתיר וקטע עליהם
ונחן עלי אלהאלך אן כרגנא ואן קעדנא אלי שי ירחם אללה ודכרת
אנך אנפדת אלסכר ואלורד אלמרבא פלא עדמת בקאך
ומא וצל לי שי קראת עליך אלסאלם וואלדי יכצך באלסאלם וולע תקבל
אידך וסאלמה וסת אבו אלסרור יקריך(!) אלסאלם ומא אסתטר פי
כרוגך מתל ואלדי לאן מא בקי לה חנין ולא מן יגיתה אלא אל[לה
top margin, diagonal lines at 180 degrees to main text
והוא כתיר אלדעא לך אללה | יסתגיב מנה | ברחמתה | ויגמע | ביננא ובינך | ויעידך
CUL Or.1080 J71 1v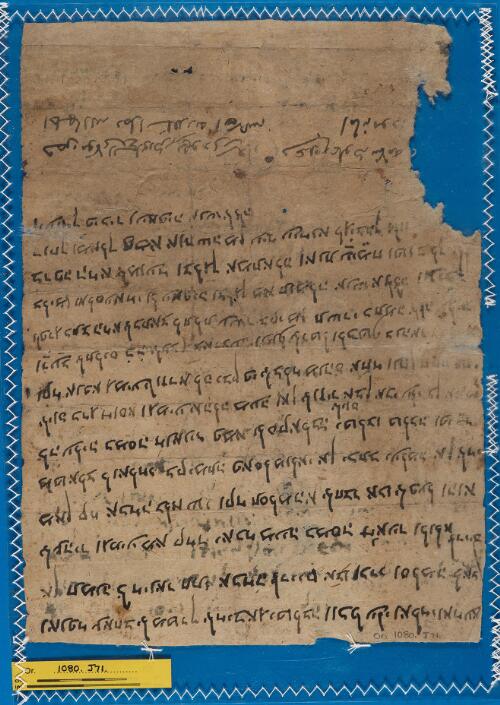 verso
ואנפד צאחב אלמשרך אלדיבאג יטלבה ווכל עלי ואדעא
אן תמנה ל דינאר חתי אכדה אלרייס אבו זכרי וסלמה לאבן
אל.היר וגמיע מא קדר יאכד מעה כמסה ד/נ/אניר ולולא אלרייס
מאן קד אכדה בלא שי וקד תסלמהא אלחבר אבו אלפצל והוא
מטאלב לואלדי בקימתה פאסל מולאי אן יכתב יעלמה אן אלדי
לה עליה כמסה דנאניר פמא ולם קאל בה יטלבו טלבה ופי . . .
אליום כרג דוסא וגמיע אהלה מעה ואן אלוזיר //אליום// אבן אכי עלי בן אעש[י
וקד אנפא גמיע אלוזרא לם יבק פי אלבלד מנהם אחד ונחן תחת חמס
ורעב אלתליס כה אלכבז בארבעה ונצף אלרטל ואלכטף בנהאר . . . .
לפרג כתב הדא אלכתאב לתלת עשר בקי (!) מן תשרי כתמה אללה עליך
באלימן ואלסעאדי(!) ואלעאפיה ובלגך מא תומלה אנשאללה ו. . .
ברכה הדא אלמועד ובלגך אמתאלה ואנת שמח וטוב לך
רוחך ומאלך פמא אוחשה מן עיד עידנא לגיבתך ול[לה יסלמך
ויעידך פי כיר ועאפיה אנשאללה
bottom margin Arabic:
חצרה מולאי אלשיך אבו זכרי יהודי בן סגמאר מן עבדה וממלוכה סלאמה [. . . .
אחלהא לל. יצל אסכנדריה אן שאללה אמאנה מוד.[. . . .
Image Permissions Statement

CUL Or.1080 J71: Provided by Cambridge University Library. Zooming image © Cambridge University Library, All rights reserved. This image may be used in accord with fair use and fair dealing provisions, including teaching and research. If you wish to reproduce it within publications or on the public web, please contact genizah@lib.cam.ac.uk.