Letter: T-S Ar.54.91
Letter
T-S Ar.54.91
Input date
In PGP since 2020
Description
Family letter written by Abū l-Faraj to Abu ʿImran in Fustat at the time of R. Ḥananel (early 13th century). The writer reports that he inquired about Muhadhdhab from two Jews who arrived from Minyat Zifta and learned that he has recovered from his illness. He is now well (fī ʿāfiya) & left his house (kharaj al-ṭarīq) & returned to work (taṣarraf). The writer also inquires four times after al-ṣaghīra, 'the little one,' referring to the recipient's wife. This urgent request for information can be explained by the fact that the plague was then raging in Cairo in 1216. Hananel will forward an answer together with his letter to Abu al-Tahir. (Information from Mediterranean Society, V, p. 113.) Note that this dating is tentative; Goitein writes that this document is dated Kislev 1528 = November/December 1216 (Med Soc V, p. 538, n. 375). But he almost certainly meant to cite T-S 6J6.20. By contrast, T-S Ar.54.91 is not dated and does not refer to a 'great plague' but rather to 'the wakham.' ASE.
Transcription
S. D. Goitein, unpublished editions.
בינו עמי עשו ממלוכה אבו אלפרג
אלממלוך יקבל אלארץ בין ידי אלמולא אלאגל אלמופק
אלסעיד אלסיד אלפאצל אלדין אלורע אלשיך אבו עמראן
ופקה אללה תעאלי ואנגח מקאצדה וכפאני פיה
כל מחדור וינהי אן וצל אלי ענדנא מן מניה זפתא
אתנין יהוד אבו אלעז אלביטאר (או: אלעטאר) אלדי יכרג ספר
תורה ויצלי במניה זפתה ואכר יסמא מפצל
אללוי פתקצינא מנהם ען אלמהדב פאכברונא
אנה פי עאפיה וקד כרג אלטריק ותצרף פלא
תשגלו קלובכם וקד וקעת לי קעבה ימני ללצגירה
חתי אגד רסול יגיבהא לכם ואשתהי אן תכתב
לי כתאב במא אנתם פיה פאן קלבי ענד אלצגירה
מן גהת אלוכם ואדא כתבתו כתאב אדפעוה
לאבן מקדונסה או למנצור אבן בקא יסירה לי
ואנא אן שא אללה פי המה אן אסיר לכם נפקה
ערפתך דלך בעד אכצאצך באתם סלאם
Right margin, straight lines written perpendicular.
ותסלמו לי עלי אלצגאר ואלכבאר וערפו אבו אסחאק אן
אלעצור פרג ומא לחקת מנה שי ומא אחתאג אוציכם תערפוני
כבר אלצגירה ושלום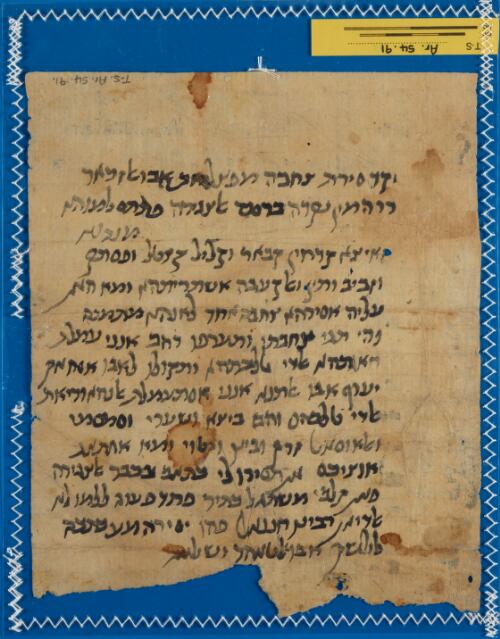 Verso.
וקד סירת צחבה מפצל אבן אבו אלזכאר
דרהמין נקרה ברסם אלצגירה פתתסלמוהא //מנה . . //
ואיצא קדחין קבאר וקליל קצטל ופסתק
וזביב ותין ואלקעבה אשתריתהא ומא האן
עליה אסירהא צחבה אחד לאנהא מתמנה
פהי תגי צחבתי ותערפו דהב אנני עמלת
חאגתהא אלדי טלבתהא ותקולו לאבו אסחאק
יערף אבו אלתנא אנני אסתעמלת אלנהאוריאת
אלדי טלבהם והם ביצא ושערי וסמסמי
ואלאוסאט זרק וביץ וקטוי ומא אחתאג
אוציכם אן תסירו לי כתאב בכבר אלצגירה
פאן קלבי משתגל כתיר פתדפעוה ללמולא
אלדיאן רבינו חננאל פהו יסירה מע כתבה
ללשיך אבו אלטאהר ושלום
Image Permissions Statement

T-S Ar.54.91: Provided by Cambridge University Library. Zooming image © Cambridge University Library, All rights reserved. This image may be used in accord with fair use and fair dealing provisions, including teaching and research. If you wish to reproduce it within publications or on the public web, please contact genizah@lib.cam.ac.uk.