Letter: T-S 8J25.3
Letter
T-S 8J25.3
Input date
In PGP since 2017
Description
Letter sent from al-Mahdiyya (Gil)/ al-Maghrib (Ben-Sasson) to Fustat (Gil)/Sicily (Ben-Sasson), by Ishaq b. Ali al-Majjani to Abu al-Fadl, dealing with a debt of Banu al-Majjani to one named al-Shiraji (Gil) and mentioning legal opinion of Rabbi Hananel b. Hushiel and Masliah b. Eliyyahu. Dated ca. 1039 (Gil). (Information from M. Gil, Kingdom, Vol. IV, p. 109 and from M. Ben-Sasson, Yehudei sitziliya, p.116)
T-S 8J25.3 1r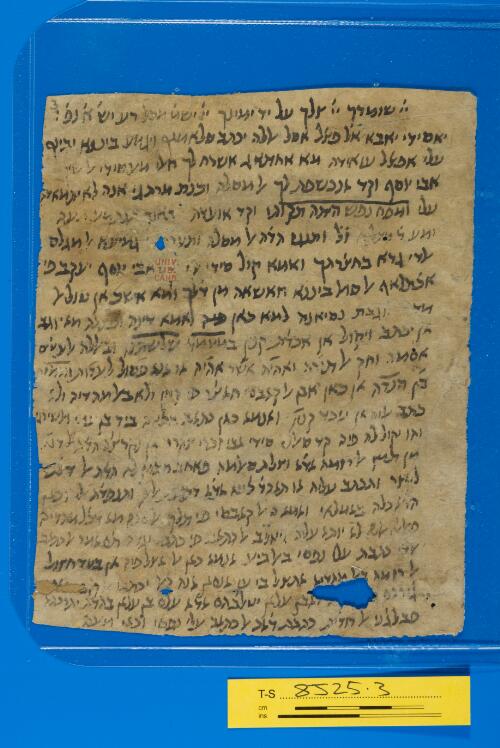 Transcription
S. D. Goitein, unpublished editions.
ייי שומרך ייי צלך על יד ימינך ייי ישמ מכל רע יש א נפ:
יא סידי יאבא אלפצל אסל אללה יכתב סלאמתך ויגמע ביננא ובינך
עלי אפצל עואידה מא אחתאג אשרח לך חאלי מע סידי אלשיך
אבי יוסף וקד אנכשפת לך אלמסלה וכנת מרתגי אנה לא יתמאדא
עלי ומפח נפש היתה תקותי וקד אועדת[ני] באנך תגתמע מעה
ומע ר מצליח זל ותנגז הדה אלמסלה ותער[פני] גמיעא אלמגלס
אלדי גרא בחצרתך ואמא קול סידי אלש[י]ך אבי יוסף יעקב פי
אכתלאף אלסואל ביננא חאשאה מן דלך ומא אשכ(!) אן טול אל
מד[ה] אוגבת נסיאנה למא כאן [[פיה]] ואמא דינה ופצלה מא יוגב
אן יכתב ויקול אן אכדת קנין במעמד שלשתנו ובאללה אלעטים
אסמה וחק אלתורה ואהיה אשר אהיה או אנא פסול לעדות וממזר
בן הנדה אן כאן אבן אלקאבסי חאצר פי קנין ולא באלמהדיה ולא
כתב אליה אן עבד קטן ואנמא כאן כתאב בכטה ביד בן עמי ואלשירגי
והו יקול לה פיה קד סאלני סידי אבו זכרי צהרי אן נקרצה הדה אלדנא
מן תמן אלרזמה אדא וצלת סאלמה פאחב תצמן לה הדה אלדנא
למצר ותכתב עליה או תאכד כטה אדא דפע אליך ותנפדה אלי וכאן
הדא כלה באמלאי ואמא בן אלקאבסי פי תלך אלסנה מא דכל מהדיה
פאללה אללה לא יותא עליה ויטלב אלכתאב פי כתבי יגדה תם אמר אלכתאב
אלדי כתבת עלי נפסי באלביע אנמא כאן אלאצל פי'ה אן בעד חצול
אלרזמה באלמהדיה אתצל בי ען אנסאן אנה קאל יכתבו אלק. . . . .
גיר הם [. . . . . . .] ואבן עלאן יטלבהם אדא עלם בן עלאן בהדה יתרכהא
פבלגני אלחדית כתבת דאך אלכתאב עלי נפסי וכאן מעה
T-S 8J25.3 1v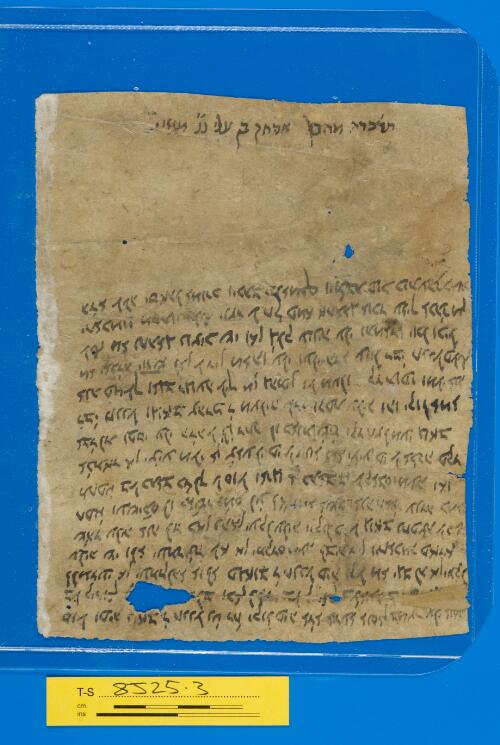 verso
סואל ופיה גואב ר חננאל נט רח יקול פיה אדא אדעא אנסאן במצר עלי אנסאן
באלקירואן אן [לה עליה ט]לב וכאן ללדי באלקירואן בצאעה ב[מצר הל יגב]
ללמדעי אן יעתקלהא או לא פגאוב ר חננאל פיה קאל מא יגב לה אן יעקל
עליה שי ולא יעתרצה אלא אן יתקדם מעה לבית דין ויחאכמה פאדא
שהד עליה אנה לה כאן לה אן יעקל עליה ויקול פי אלגואב נחפצה(!) אלכל
חפט ועשיתם לו כאשר זמם לע לא ומא אשך אנה חאצר ענדה כמא
תחפט באלכתאב כדלך אלסואל וארגו אן כתאב בן אלקאבסי מעה ואן
אכתאר אן יציע מאלי אן צאע לי פי אלדניא מא יציע פי אלאכרה פקד
אבדלת נפסי עלי הדה אל לו דינר לו כאנת שס וקד חצל מעי גואב
רבי חננאל וגואב צהרכ(!) ר מצליח אלדי וקפת עליה והו יקול אמא
אנת פמאלך ואגב רגועה אליך מן גהתין ואלמטלוב קד תופי ומאלי אנא
מא יאכדה יורש לאן אלדין מא הו עלי ועלי הדא עוול רבי חננאל פאללה
אללה מא נחתאג נוציר(!) שי ואן גלק עיניה עלי ותמאדא יוכל וכיל
יחאכמני מסתוי ואללה ינצר אלחק פמא אחתאג אוכד עליך אכתר מן
הדא אללה יסאהל אמורכ(!) ויכתב סלאמתך ויתבת פיך כי תעבר במים
bottom of the page, straight line, at 180' to main text
תדכרה מחבך אסחק בן עלי נג מגאני
Image Permissions Statement

T-S 8J25.3: Provided by Cambridge University Library. Zooming image © Cambridge University Library, All rights reserved. This image may be used in accord with fair use and fair dealing provisions, including teaching and research. If you wish to reproduce it within publications or on the public web, please contact genizah@lib.cam.ac.uk.