Letter: T-S 8J24.21
Letter
T-S 8J24.21
Input date
In PGP since 2017
Description
Letter written and sent probably from Alexandria by Yaʿaqov b. Salman al-Hariri perhaps to Nahray b. Nissim in Fustat. Ca. 1052 (Gil). Discusses business matters, announces that merchandise transported in Ibn al-Baʿbāʿ's ship arrived safely in al-Mahdiyya, and describes an attack by warships on the commercial ships in port.
T-S 8J24.21 1r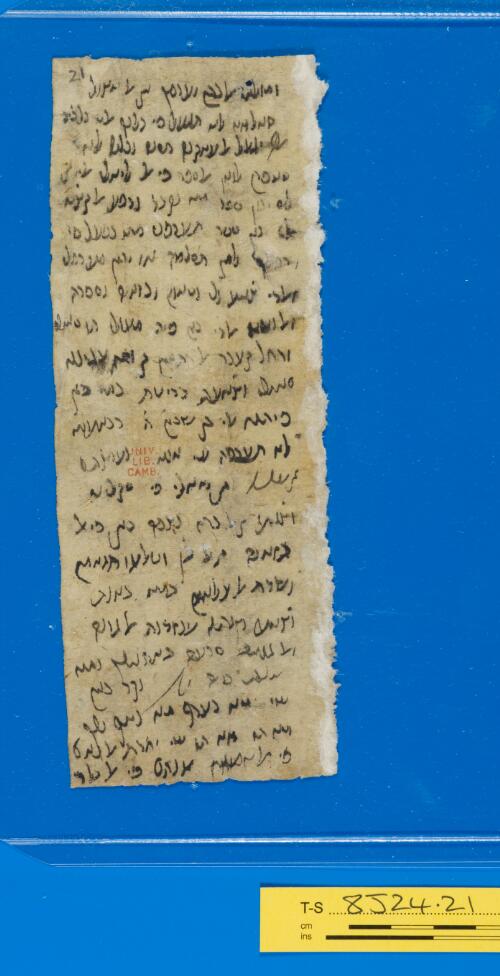 Transcription
S. D. Goitein, unpublished editions.
ומולאי אל. . . יערפך אן אלאצול
פלא. לא תגעל פי קלבך אלא .ל.ה
אללה יגעל אלעאקבה מנה ו.ל.ל ל. .
.א. . לואן טלספר פי אל לואלי אלא א.
ולם יכון ספר מא נקבל אלקצט
אלא באן . . . תערפני מא נפעל פי
. . . . . למן תסלמה או יכון מע רחלי
ואלדי צאע ולי . .או. וכואנה וספרה
ואלו. . . אלדי כאן פיהי .עולי . סאלם
ורחל קע.ר אל. . . .ן בן . . . . .ינא
סא.לי וצאעה כריטת כמא כאן
פיהא אלי בן שכץ ה רבאעי.
לא תערפה . . אנא מוצת.
אן על. בן .אלי פי סקליא
וצוע בן אלכר. נצפה כאן פי אל
.זאנה בן אל.ן וטלעו חזא.ן
ושרח אלעלא.ן כמא כאות
וצאע . . . . ענזרות אלגונה
ואלגו. . סרעה כא. . . . ו.א
.ל. . פיה . . וקד כאן
שי מא נערף .א נצף ולך
מא . . מא ת. . . יחרת אלנאס
פי אלאמ. . . אנהם פי אלבלד
T-S 8J24.21 1v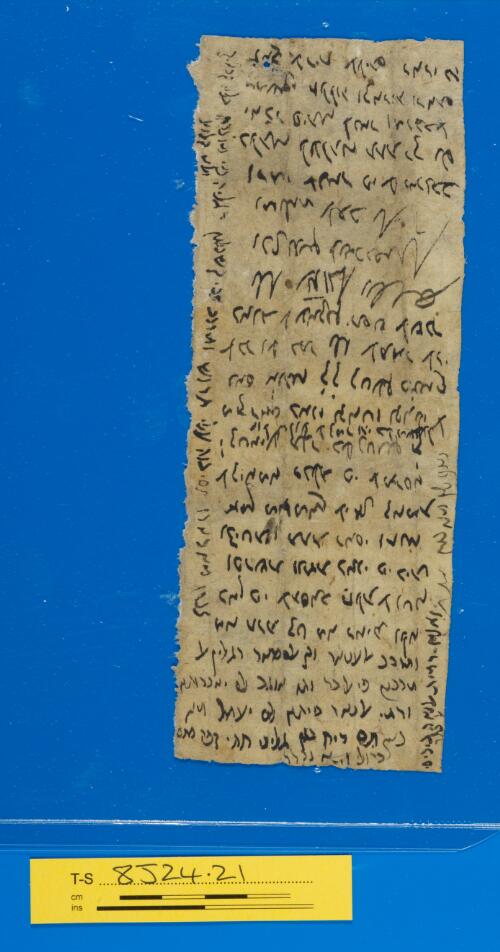 verso
מא חדת קט מא ראית ולא
כאן פי אלחסאב חלת אלוטא
ופרשת ונמת כאני פי ביתי
וכ/ר/יטתי תחת ראסי ואנא
אמן מטמאן אלי אן קאמת
אלקיאמה דכלת פי אלמרסא
י קטאיע תגד כל קטעה ק
מקדאם //אול טלוע אלקמר// בארץ וקאטן //והי באלתשמל// וקאלו אל
נאס אנהא קק קטעה פצאק
אלבר ואלבחר ללה אלחמד אלדי
כאנת אלעאקבה חסנה אלשכר
ללה עז וגל ושלום
וכץ נפסך אלשריפה אלסלאם
ומולאי אלרב אלסלאם
ורמי אלנאר פי אלמראכב
כלהא לעלהא תחתרק ולם
יאכד פיהא אלנאר ומרכב אל
דמשקי חללוה וקאדוה וראהם
צאר אלריח עליהם דארו בה
right margin, straight lines, at 90' to main text
אכדו מא ראדו וסיבוה עלי חרוש ומרכב צבי בן שבלון
רגליה פי מוכרה בלא קראיה
ולא קלאע
top margin, straight lines, at 180' to main text
ומרכב אלעטאר ובן אלכמאר רגלין אל
מרכבין פי אלבר והו אוגב לם יאכדוהא
ורמי אלנאר פיהא לם יעמל מא
כאן תם ריח כאן גליט חתי קפה נאס
בדול ומא נקדר
left margin, straight line, at 90' to main text, upside down
נצף לך מא כאן ושלום ואנא רמית אלנאר בידי פי
אלבחר
Image Permissions Statement

T-S 8J24.21: Provided by Cambridge University Library. Zooming image © Cambridge University Library, All rights reserved. This image may be used in accord with fair use and fair dealing provisions, including teaching and research. If you wish to reproduce it within publications or on the public web, please contact genizah@lib.cam.ac.uk.