Legal document: T-S 18J1.33
Legal document
T-S 18J1.33
Input date
In PGP since 2017
Description
Legal document dealing with a debt of Hiba/Natan the dyer b.'Ulla to al-Sheikh Abu 'Ali Yefet b. David for two qintar of indigo he bought from him for 1000 dirhams and which he agrees to repay by the month of Nisan of the same year. Dated 7 Tevet 1541 Seleucid which is 1229-1230.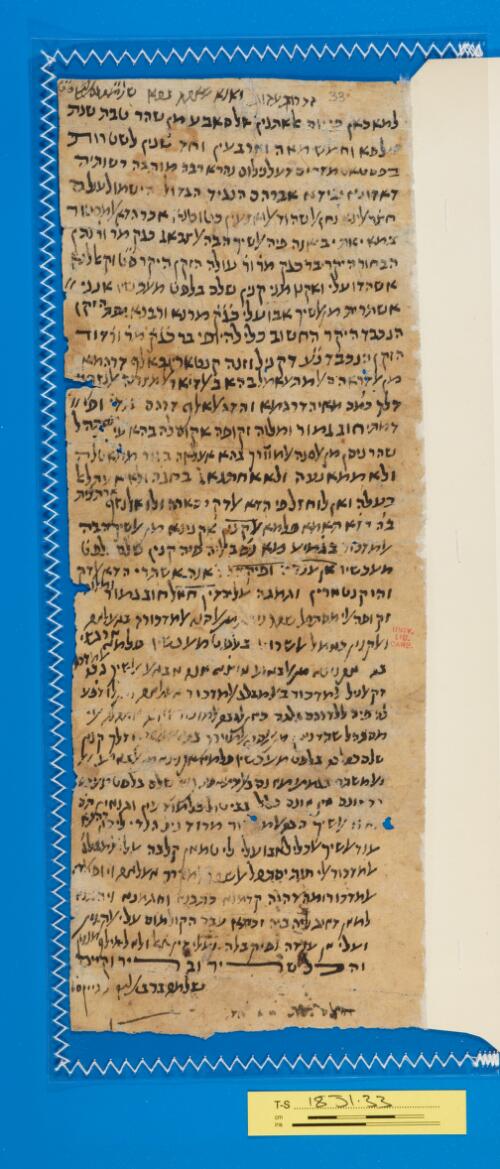 Transcription
S. D. Goitein, unpublished editions.
למא כאן פי יום אלאתנין אלסאבע מן שהר טבת שנת
אלפא וחמש מאה וארבעין וחד שנין לשטרות
בפסטאט מצרים דעל נילוס נהרא רבה מותבה רשותיה
דאדוננו נגידנו אברהם הנגיד הגדול יהי שמו לעולם
חצר אלינא נחן אלשהוד אלואצעין כטוטנא אכר הדא אלמסטור
במא יאתי ביאנה פיה אלשיך הבה אלצבאג כגק מר ור נתן
הבחור היקר בר כגק מר ור עולה הזקן היקר סט וקאל לנא
אשהדו עלי ואקנו מני קנין שלם בלפט מעכשיו אנני
אשתרית מן אלשיך אבו עלי כגק מרנא ורבנא יפת הזקן
הנכבד היקר החשוב כליל היופי בר כגק מר ור דוד
הזקן הנכבד נע דק ניל וזנה קנטארין באלף דרהמא
מן אלדראהם אלמתעאמל בהא באלדיאר אלמצריה אלנצף מן
דלך כמס מאיה דרהמא והדה אלאלף דרהם ענדי ופי
דמתי חוב גמור ומלוה זקופה אקום לה בהא אלי מסתהל
שהר ניסן מן אלסנה אלמוורך בהא אעלאה בגיר ממאטלה
ולא ממאנעה ולא אחתגאג בחגה ולא אעתלאל
בעלה ואן לו חצל פי הדא אלדק יסארה ולו אלנצף ארתצית
בה רצא תאמא פלמא אלקנין אקנינא מן אלשיך הבה
אלמדכור בגמיע מא נסב אליה פיה קנין שלם בלפט
מעכשיו אן ענדה ופי קבלה אנה אשתרי הדא אלדק
והו קנטארין ותמנה עליה דין חאל חוב גמור ומלוה
זקופה אלי מסתהל שהר ניסן מן אלסנה אלמדכורה באעלאה
ואלקנין כאמל אלשרוט בלפט מעכשיו פלמא ארתצי
בה אקנינא מן אלבאיע איצא אנה אבאע אלשיך הבה אלמדכור
רק אלניל אלמדכור באלמבלג אלמדכור אעלאה ו אלו דפע
לה פיה ללדרהם תלתה כאן להבה אלמדכור . . . . . . . . אלי
מסתהל שהר ניסן מן אלסנה אלמוורך בה אעלאה ודלך קנין
שלם כחלבה בלפט מעכשיו פלמא אקנינא מן אלבאיע ואל
ואלמשתרי בגמיע מא נסב אל.מא פיה קנין שלם בלפט מעכשיו
. . .ונס אין אונס כלל בביטול כל מודעין ותנאין תם
אחצר אלשיך הבה אלמדכור מר ור ניל הנדי ליכון רהנא
ענד אלשיך אלכליל אבו עלי ליטמאן קלבה עלי אלמבלג
אלמדכור אלי חית יסתהל אלשהר אלמוורך אעלאה ויופי אלדין
אלמדכור ומה דהוה קדמנא כתבנא וחתמנא ויהבנא
למאן דאית ליה ביה זכותא עבר הקולמוס עלי אלקנין
ועלי אן ענדה ופי קבלה ועלי דין חאל ולא למילף מנהון
והכל שריר ובריר וקיים
שלמה ברבי אליה[ו] דיין סט
. .אל. . . .ת. . . . . . . .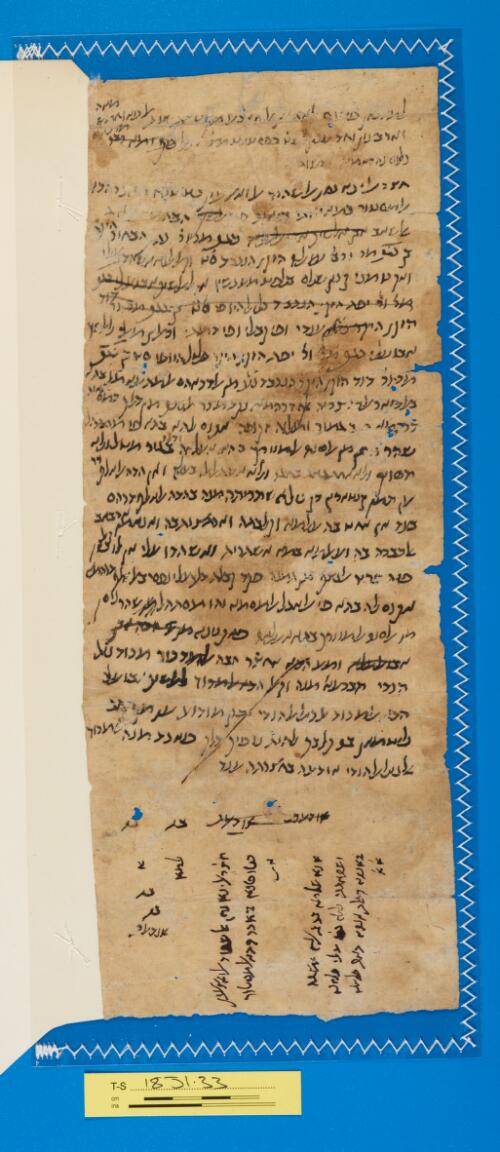 Image Permissions Statement

T-S 18J1.33: Provided by Cambridge University Library. Zooming image © Cambridge University Library, All rights reserved. This image may be used in accord with fair use and fair dealing provisions, including teaching and research. If you wish to reproduce it within publications or on the public web, please contact genizah@lib.cam.ac.uk.