Letter: T-S 16.294
Letter
T-S 16.294
Input date
In PGP since 2004
Description
Letter from Moshe b. Peraḥya, the muqaddam of Minyat Ghamr, to a prominent scholar in the capital. In Judaeo-Arabic. Dating: Likely 1230s–40s (the last years of Avraham Maimonides or the first years of his son David). Identification of the sender (and dating) was made by Amir Ashur, based on handwriting. The sender explains that his rival in a nearby place was stirring up much publicity for himself and asking the recipient intervene for him with the head of the Jewish community as he requests that Minyat Zifta be restored to him in full and that he likes to retain also Malij , for which he has held letters of appointment for years. (Information from Mediterranean Society, II, 49 and V, 188, 192.) Compare T-S AS 157.86.
T-S 16.294 1r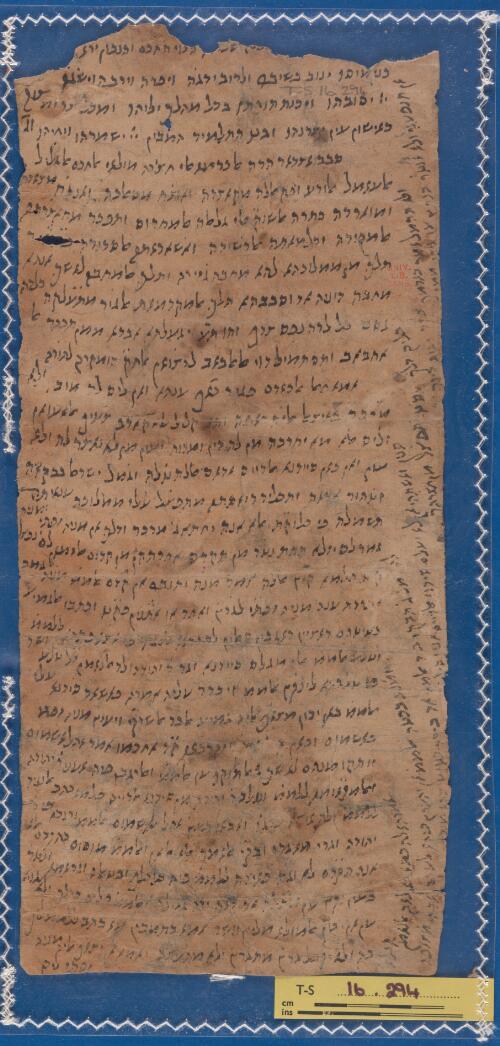 Transcription
S. D. Goitein, unpublished editions.
מ[ולאי . . . . . מרנא ורב]נא שמ[עו]ן הלוי החכם והנבון ירא [שמים
בנימוסו ינוב בשיבה ולרוב ידגה ויפרה וירבה וישגה
ייי יסובהו וזכות תורתו בכל מהלך ילוהו ומכל צר ומציק
כאישון עין יצרנהו ובנו התלמיד המבין ייי ישמרהו ויחיהו וג
סבב אצדאר הדה אלכדמה אלי חצרה מולאי אלחכם אלגליל
אלעאמל אלורע ופק אללה מקאצדה ואוצח מסאלכה ואנגח מצאדרה
ומוארדה כתרה אלשוק אלי גלאלה אלמחרוס ותפכר מחאצרתה
אלמפידה וכלמאתה אלרשידה ואשאראתה אלסדידה [[פ[. . .]ר]]
תלך מן ממלוכהא להא מחבה גזירה ותלך אלמחבה לא שך אנהא
מחבה דיניה אד וסבבהא תלך אלמקדמאת אלגיר מתעלקה בלדה
גסם בל לדה נפס צרף והו תע יגעלהא אבדא ממן תכתר אל
אחבאב ותסתמיל דוי אלאלבאב לרצואן אלחק ומקרבן לתורה
אמא חאל אלכאדם פגיר כאף ענהא ואן ליס לה מובה ולא
מדכר באיצאל אליה .איאה והו קליל אלאקארב צעיף אלאעואן
וליס אלא מא יחרכה מן לה דין ומרוה יעין מן לא נאצר לה ולא
עון ואן כאן סיידנא אלרייס אדאם אללה טלה וגמל ישראל בבקאה
וטהור אראה ותכליד ריאסתה מתפצל עלי ממלוכה ענאיתה
תשמלה פי כל וקת אלא אנה יחתאג מדכר ודלך או מניה זפתי ומניה
גמר לם יזלא תחת נטר מן תקדם אחדתהן מן קדים אלזמאן לם ינפצל[ו
קט פלמא קיץ אללה אמר מנה ותנבה אן קדם אלממ מניה גמר
אכידת ענה מניה זפתי לגרץ ואחד או אתנין פקט וכתבו אלגמיע
כטוטהם ראציין ראגבין סאלין לסידנא אלנגיד פי אצאפתהא ללממ
וטלע אלממ אלי מגלס סיידנא וגד ר יהודה ולד אלנאמן זל טלע
פי טלבהא לינקץ אלממ ויכדר עליה אמרה פאשאר סידנא(!) עלי
אלממ באן יכון מצאף אליה גמיע אלבר אלשרקי ויעוץ מניה זפתי
באשמום וכאן [ר יהודה] ואקרבאה קד אחכמו אמר אהל אשמום
וותקו מנהם לא שך באלתוקף ען אלממ ואלרגבה פיה אעני ר יהודה
ואלמקאומה ללממ וטלב ר יהודה מן סידנא אלרייס פלמא כתב אלנגיד
ללממ ולה איצא ערגו ואבאו בעץ אהל אשמום אלממ ורגבו פי ר
יהודה וגרי מא גרי ובקי אלאמר אלי אלאן ואלממ מוסום בתקדם אלא
אנה תקדם לא וגה פאידה ללממ פיה בל כלף ובטאלה וגראמה ונטר
בעין נקץ ען מתלה אד דאך ידה גאילה ואלממ פליס כדלך ולא גניה
ען אן יכון אלמולא מליץ יושר אמא בתמכין מא כתב ללממלוך
בה ולא יקבל גרץ מתגרץ ולא מתעצב ואמא יצאף אליה מניה
זפתי ויכן
right margin, diagonal, at 45' to main text
אמרהא לה כמא כאן לאבן אלנאמן קבלה | ומנע בכטה אלממ אן יתערץ פיהא לעבדה אד הי מצאפה |
לה ומליג תבקי ביד אלממ אד בידה כטוט בהא מנד | סנין ואשתהי אן לא יעלם סידנא אלרייס אנני סאלתה |
בל יכן דלך בסט ותפצל מן חצרתך | ולא תהמל אמר כאדמך פקד רגות דינך |
אן תנפעני ולא אנטר בנקץ ען גירי ממן
T-S 16.294 1v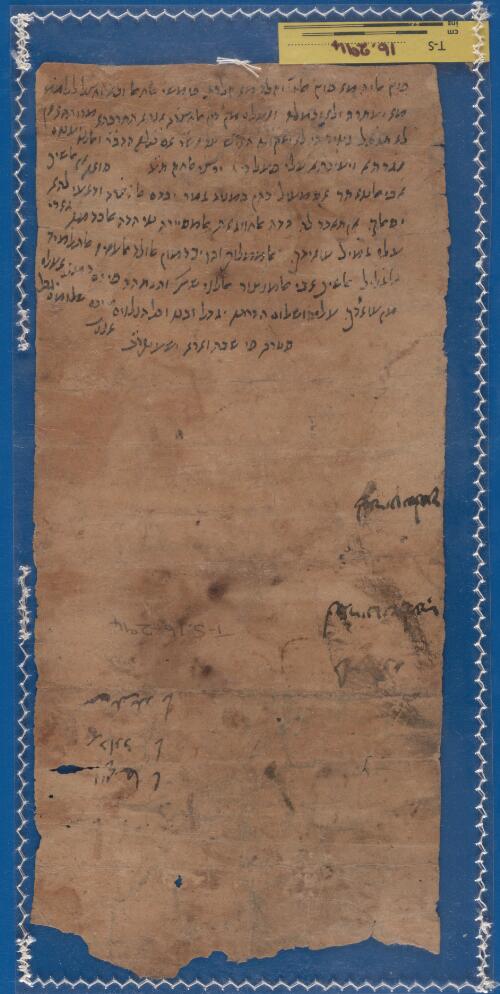 verso
פוץ אליה מא פוץ אלי וקלד מא קלדת פימשי אלחאל ולא יחצל ללממ
מא יעתרה ולא יכמלה ואעלם מן דין אלחצרה אנהא תחרכהא מרותא אן
לא תגפל נטיר כי לא ישקוט האיש עד אשר אם כלה הדבר ואללה יעטם
אגרהא ויעינהא עלי פעל כיר ירצי אלחק תע סואה אן אלשיך
אבי אלטאהר אסמעיל כהן במניה גמר יכדם אלחצרה ודאעי להא
יסאלך אן תשכר לה הדה אלחויגאת אלמסיירה טי הדה אלכדמה גארי
עלי גמיל עואידך אלממלוך והו יכדמון אלולד אלעזיז אלתלמיד
אלגליל אלשיך אבי אלמנצור אללוי שצ ותגתהד פיהם כמא אעלם
מן עואדך עליה ושלום הדרתה יגדל ובנו וכל הנלוים עליכם שלומם יגדל
סטרת פי שבת וארא ישע יקרב אנס
Image Permissions Statement

T-S 16.294: Provided by Cambridge University Library. Zooming image © Cambridge University Library, All rights reserved. This image may be used in accord with fair use and fair dealing provisions, including teaching and research. If you wish to reproduce it within publications or on the public web, please contact genizah@lib.cam.ac.uk.