Letter: T-S 16.179
Letter
T-S 16.179
Input date
In PGP since 2017
Description
Letter from Labrāṭ b. Moshe b. Sughmār, in al-Mahdiyya, to his brother Yehuda, in Fustat. In Judaeo-Arabic. Dating: January 9 (12 Shevat), 1058 CE (Gil) or 1061 CE (Ben-Sasson). Labrāṭ congratulates Yehuda on the birth of his firstborn son. There may be a prayer for God to protect the infant from the evil eye (r11–12; the first letter of the word is smudged; Gil reads al-ḍaw' rather than al-sū'; neither one is strictly grammatical). Labrāṭ heard from Zakkār that the infant was a girl and was only reassured when Yehuda's letter arrived with the news that it was a boy. Labrāṭ keeps the blessed letter with him and kisses it and puts it before his eyes; he gave it to his sister this week but made her promise to return it (r4–18). Labrāṭ continues with business affairs. There is an elaborate response to what Yehuda said about the pain Labrāṭ caused him by rebuking him about a business decision taken by Yehuda. Labrāṭ only wrote anything because it concerned somebody else's merchandise. As for what is owed to him by Yehuda, what are 20 dinars next to their relationship, which is worth the whole world? If Yehuda was agitated by Labrāṭ's rebuke, Labrāṭ is now agitated by Yehuda's response. Furthermore, this sum is nothing compared to what they already lost in Qayrawān. As the proverb goes, "If nothing is left of your provisions except a single cake, you might as well throw it into the sea" (r18–32). The letter continues with matters of trade between Ifrīqiyya, Sicily, and Egypt. Numerous people are mentioned: the Nagid, Nissim, Abū Hārūn, Ḥayyim b. ʿAmmār, the boy of Ḥassūn, Ḥassūn b. Mūsā, Yehuda b. Mūsā, Abū ʿAbd Allāh, the notables of Qayrawān and al-Mahdiyya, Isḥāq b. Bar[hūn?], and Yosef b. Eli al-Kohen. People who came from Palermo said that Zakkār was sick but then recovered (r33–57). Labrāṭ is delighted to hear that Yehuda has been studying Torah, Mishna, and Talmud with 'the Rav' (r58 and margin). Verso consists mainly of greetings. Labrāṭ is surprised at Yehuda's rebuke for Nissim's failure to send him letters. (Gil identifies this man with Nissim b. Moshe ha-Shelishi.) Nissim hasn't even written to Labrāṭ, who is two hours away from him. "He is dying, and he should write you a letter?" (v11–13). Nissim redeemed a Bible codex which belongs to Labrāṭ and Yehuda, and which had been plundered in one of the wars of Ifrīqiyya. Labrāṭ now wishes to make arrangements to reimburse Nissim and get it back (v13–17, 23–24). Labrāṭ concludes with the bad news of Ifrīqiyya, Sicily, and al-Andalus (v35–40). The price of wheat has skyrocketed this summer; Qayrawān is a ruin; the Bedouins are waging war on each other; people are worried about Sicily this year, for the Franks have attacked with a great army; they ('Franks') have also invaded al-Andalus this year and destroyed many of its villages, killed many people, and imposed taxes on all the areas they conquered. (Information in part from Gil, vol. 4, p. 36; Ben-Sasson, p. 36.) ASE.
T-S 16.179 1r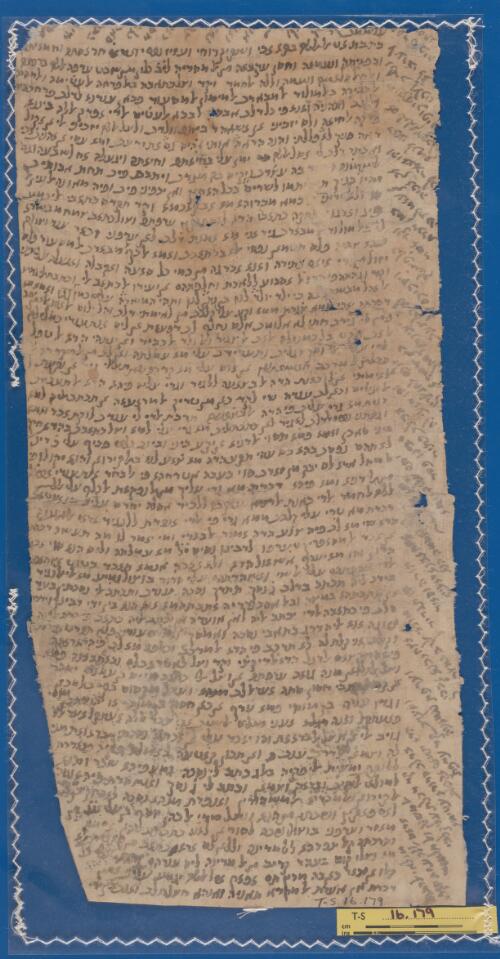 Transcription
S. D. Goitein, unpublished editions.
על שמך
כתבת אטאל אללה בקא אכי ושקיק רוחי ועזיז נפסי ואדאם חראסתה וחמאיתה
וכפאיתה ונעמאה וחסן עקבאה מן אלמהדיה ליב כלון מן שבט ערפה אללה ברכתה
ואלחאל סלאמה ונעמה וללה אלחמד וקד וצל כתאבה באלפרחה אלעטימה ואלמסרה
אלכבירה באלמולוד אלמבארך אלמימון אלמסעוד פכאן ענדנא לדלך פרח כביר
ולעב ותהניה ואנא פי כל דלך אבכי אלבכא אלעטים אלדי אפרק אללה ביננא
פרקה אלחיאה ולם יזכיני אן אשאהד ביתך וולדך ולעל אללה יזכיני אן אקול
ראה פניך לא פללתי והנה הראה אותי אלהים גם את זרעך ומא עסי אן אהניך יאכי
ואכתר דלך לי אסאל אללה [[אן]] ימן עלי בחיאתך וחיאתה ויגעלה אח לשבעה וגם
לשמונה וישד בה עצדך ויקים בה מגדך ויתבת פיך תחת אבותיך
י'היו בניך תשיתמו לשרים בכל הארץ ואן יכפיני פיך ופי'ה מאונה אלעין אל
סו ולא יריני מנכמא מכרוהא מא אבקאכמא וקד תקדם כתאבי אליך מע אל
פיג וארגו ילחקה כתאבי הדא לאספאקץ ערפתך וצול כתאב צמח מבשרא
לנא באלמולוד אלמבארך בגיר אני מא אמנת דלך לאן ערפני זכאי ענד וצולה
אנהא צביה פלם תטמאן נפסי אלא בכתאבך ואמא אלכף //אל//מבארך אלמסעוד פלם
יזול מן ידי איאם כתירה ואנא אכרגה מן כמי כל סאעה ואקבלה וגעלה עלי עיני
וקד וגהתה פי הדא אלאסבוע ללאכת וחלפתהם אן יעידו אלכתאב אלי וכתבת אלי גמיע
אלאהל מבשרא בה כי ילד יולד לנא בן נתן לנו ותהי המשרה על שכמו וגו ואמא מא
דכרתה יאכי ממא צגרת ממא וקע עלי קלבך מן לאימתי דלך והל ילום אלאים(!) אלא מן יחב
פמן לי גירך חתי לא אלומך אלם נחלף לך דפעאת אן ליס אנת ענדי במנזלה
אללאך פקט בל כמנזלה אלאך אלצגיר ואלולד אלכביר ואן ינתהי הדא אלטפל
אלדי ענתך אלי וסך רגליך ותעדירך עלי מא עמלתה ואן לך מן אלמקדרה אן
תכלץ אלמרכב חאשא אללה אן אלום עלי מא קדרה אללה תעאלי גיר אן וקעת לך
לאימתי אן לו כאנת הדה אלבצאעה ללגיר וגרי עליה פיהא הדא אל תעבית
אלעטים וכאן לך ענדה שי לקד כאן מן טריק אלמראעאה אן תכתב אליה למא
ראית מא גרי עליך פי הדה אלבצאעה תרכת אלדי לי ענדך לוקת אכר ואמא
וגעתני נפסי לדלך לא גיר לאן כתבת אליך מא גרי עלי למא וצל כתאבך בהדא חרך
מני סאכן ואמא פמא תסוי אלדניא אן יקע ביני ובינך כלאם פכיף עלי כ דינאר
לא תהם נפסך בהא כם עסי תקע הדה מא צאע לנא באלקירואן והנא יקולו פי
אלמתל אדא לם יבק מן זאדך סוי כעבה אטרחהא פי אלבחר אנת ענדי אפצל
מן אלדניא ומא פיהא דכרת מא גרי עליך מן אלנפקאת אלכלף עלי אללה
ללה אלחמד אלדי כאנת אלדניא עאקבה ללכיר אסאלה יחרס עליך מא אעטאך
דכרת מא טרי עלי קלבך ממא גרי פי אלדי אנפדת ללנגיד אדאם אללה עזה
הדא שי מא לך פיה צנע הדא אמור אלבארי ומי יאמר לו מה תעשה דכרת
אן אכתת אלמסאפרין ויערפו לריבנו נסים זל מא עמלתה וליס הנא סוי אבו
הרון והו מא יערף אש אול הדה ולא אכרה אנמא תאכד כטוט אצחאבנא
אלדי אוקפתהם עלי אלשי ואשהדתהם עלי סרור בוצול גמיע מא אלי אלנגיד
בידך אליה תכתב בדלך ג נסך תתרך נסכה ענדך ותכתב אלי נסכתין בעד
אן כתבתהא במצר ובאלאסכנדריה אתבתהמא אנא הנא בין ידי רבינו וידכר
דלך פי כתאבה אלדי יכתב אליה לאן אועדה אן יכתב אלי'ה כתאב פי הדה אלסנה
ואוגה אנא אליה דרג כתאבי נסכה ואמסך אלאכרה ענדי פלא תפרט פי דלך
וקלת אני קלת לה לא תרכב פי הדא אלמרכב וכאלפך מא לך פי הדא ראחה
פשהד כצאם אלרגל הדא אלדי קצי וקד וצל לאטראבלס וכאתבנאה פמא
וצל אלי אלאן מנה גואב ערפתך אן וצל אלי כתאב חיים בן עמאר ידכר
אן קבץ אלצבי חסון סתה אעדאל לך [[מנהא]] ועדל מקסום בקי באלמכזן
וגדו עליה בן מוסי פמא ערף אן כאן חסון בן מוסי פמא או יהודה בן מוסי
פאעתקאלי ואנה [[רגלי]] אעני מולאי אלשיך אבו עבדאללה אעתקל אעדאל
גויב אלי אן תצל אלבראאת והו יאכד עלי אן אכתב נסכתין בראואת מני
לה וצמאן אלדרך ענך ואן תכון קאטעה כאמלה באיה פבאדרת
ללוקת ומצית אלי פקיה באלג כתב לי נסכה גמע פיהא שכר ותנא
למולאי אלשיך ובראה וצמאן וכתב לי ג נסך ואנא חדתת פיהא וגוה
אלקירואן ואלמהדיה אלמשהורין ונפדת מנהא נסכה לאסחק בן . . . .
לאספאקץ ונסכתין . .הנא ווצל סידי אלכהן יוסף בן עלי נע מן
מאזר וערפני בוצול נסכה לסודאן נאע כת. . . . . . . . . . .
ותרכתה קאל ינפדהא ללמדינה וללאן לם ארא כתאב . . . . . .לא
מא וצלו קום בעהד קריב מן אלמדינה ליס ענדהם . . . . . . .ל
קאלו אן יכאד כאן בה מרץ תם אפאק אסל אללה יגמע עלי . . . . .
דכרת אן אעדת אלמקרא תאניה ואנהא חצלת לך ואנך בין ידי
Right margin, diagonal lines written upside down.
מולאי אלרב | אדאם אללה עזה תקרא | אלמשנה ואלתלמוד | קד דכלת עלי קלבי | בדלך
סרורא עטימא | הדא תמאם אקבאלך | וסעדך קד ערפת | וערפת לגמאעה | אצחאבנא אן בכון | מולאי אלרב במצר | הו תגדיד אל | תורה וסאיר אצחאבנא דאיין | לה באסמה הנא
מא . . . . . | יתם עליכם קראה | רבינו פסר | בדלך כתיר והו דאעי לה | ולכם אלחאצרן | בין ידיה מא | יעינכם ויסהל | לכם כל צעב | ויזכיכם אללה | כל פצילה | וקד אסר | במא דכרת | מא עאמלת בה | אבן אכיה | והו שאכר לך | דאעי לכמא | אסאל אללה יתקבל | מנה פיך ופי | ולדך ואלכט | אלערבי לא יפרט פיה | לאן] יסתג[אד
Top margin, diagonal lines written upside down.
א[ | ל[ | ול[ | . [ | או[ | וא[ | . . . [ | צ. [ | . . [ | אס[ | כל[ | סא[ | . . [ | הי[ | . . [
T-S 16.179 1v
Verso.
כתאבך אן כאן יכרג ענדכם וגהתה אליך ועסי תערפני סער אלמרתך
אלוגוה כיף יסוא . . .ומ. . . . . כצצת ולדי וסידי אגל אלסלאם ולדי
אלצגיר וקרה עיני אבי אלברכאת אסאל אללה יבארך פיה ויחרסה עלי ועליך
אלסלם ואחב תבלג מולאי אלשיך אלגליל צהרך אגל אלסלם ותהניה עני
באלמולוד אלמבארך אשהדה אללה אפראח פתיאנה אן שא אללה וסאדאתי
אצהארך אלסלם אלגזיל וכאלי יכץ באלסלם והו מהניא לך באלמולוד
אלמבארך //יחיה// והו בסוסה אחב תאכד לה מן מבשר דיך אלדנא ותוגה לה בהא
מ. . . וציבך אבו עמראן יקבל אלארץ בין ידיך והו יבלג מולאה
ומולאתה אלסלם ויבלג אבן עמה אלסלם אלצביה תבלגך ותבלג . . . . . . . . . . . . . . . . . . . . . . . . . . . . . . . . . . . . . . . .
אלסלם והי תהניכמא גמיעא חרס אללה עליכמא . . . . . אעלאכמא
אללה עז.ת . . .מתכל . . .פ. . . . . . . . . . . . .אואביני
ובינה סאעתין וקאל נהאר לם יצל אלס כ. . . .ן י. .ני . . ע. .סקד
וקד אנתהי ללמות יכתב אליך אלמקרא אלדי כאן ביד כאלנא נהבת
וקד אפתכת בגמלה דרא בעד אן צאע[ת אלכתובים וכרארס מן
מן(!) אלנביאים והי ענד נסים לאנה אפתכהא . . . . . . . . ואנא במצר
ולי אלנצף פי'הא ולכם אלנצף פלעל תכתב רקעה . . . . . . . . כל .בעי
. . . לך לעל נפתכהא ויקרא פיה אבו אלברכאת . . . . . כאן אלדי אפתכה
בה הו באזא תמנהא לאן ליס הנא אחד יקראהא . . . ית.הא אל.עאר
אלתי וגהת מן סקליה מע . . . . . . ואמרה אן יסלמהם ללואלדה נע
לם תצל אלא והי מאתת נסלמהם לנסים פקלת . . .אל. . . [[פקלת לה]]
. . . . . תעטיהם או תשאור אלדי אעטאהם לך פקאל לי מא עטית
באשהאד אן טולבת בהם רדהם אלי אעלמתך דלך לתעמל מא ילהמך
אללה] ואן אכתרת אלנביאים נפתכה ו[תמה ונוגהה אלי אבי אלברכאת חרסה אללה
. . . . [מ]א ענדי מא אכתב אכתר מן אלשוק אלי רויתך גמע אללה ביננא פי אכץ אלמואצע וירושלים
. . אללה עז וגל אלכהן סידי אבי יעקב יוסף בן עלי פאסי יכצך באתם אלסלם והו יקול לך
לית שערי באי שי אסתחקת מן צדיקך אלתוכיל עלי האנא ראגע אלי מצר נכאצמה
תבלג מולאי אלשיך אלגליל סידי אברהם אלסלם סידי אבי אלסרור ולדה אגל אלסלם תבלג
מולאי אלרב אדאם אללה עזה [[אדאם אללה]] אפצל אלסלם ומולאי נהראי אגל אלסלם
ואנא פי חאגתה אסאל אללה יעין עלי רצאה ומולאי אלטביב ומולאי אכיה אגל אלסלם
ובני עמי ובנגהם בכיר בסוסה גיר אן אבן עמי יוסף זרם אלאנתקאל ללמהדיה
ובלדנא פיה אמאן לם ירא מתלה קט ואסעארנא אלקמח בדינרין ונצף עין אלקפיז אלזית
יב בדינ עין עגבת מן ציקה [אל]סער דינרין אלקפיז ואלייום(!) לנא ח סנין ארכץ מא
אשתרינא אלטעאם בדינרין ונצף וקתנא הדא ואלדי רפע עלי פי גיבתי מן אלנפקה
כל שהר י אתמאן קמח בי דנא עין וד אקפזה זית בה דנא //עין// בניף ול דינ אלקפיז
מתלנא יגב אן יצרך פלא אוקפכם אללה ולא אכר מן אלקהלות עלי מא וקפנא עליה ופי
הדה אלציפה בלג אלקמח ענדנא סתה דנא אלקפיז ואמא אלקירואן כאליה תאלפה מא פיהא
סוי דלת עם הארץ ואלערב בינהם תשתית עטים וכוף אלנאס פי הדה אלסנה עלי
סקליה //מן// אלכרוג לאנהם אעתדו עלי'הם בעדה עטימה אסאל אללה חסן אלעאקבה
ואד.| נצרו [[עאמא]] פי הדה אלסנה פי גזירה אלאנדלס ואפנאן מן ציאעהא עט[ים
. . .ל. .ל. וודאו גמיע אלבלדאן אלמס להם נטר אללה אלינא ולכל ישראל
יאכי וסידי אבי זכריא בן קיומא יבלגכם אלסלם ויסלך אן תערף מולאי אלטביב אן אלוכאלה אלתי וגה
לה יתבת מן שהד . . סוי רנהר. ולא גיר
Bottom margin, straight lines written upside down. Address. }
אכי וסידי ועדתי אבי זכריא יהודה בן אכיה אלמשתאק אליה לבראט בן משה
משה נע בן סגמאר
אטאל אללה בקאה ואתם נעמאה מסתקרה אלפצטאט אן שא אללה לל. . . . . . . .
יתפצל סידי אבי יעקב יעטיה ללפיג אלסאיר
משרק
Image Permissions Statement

T-S 16.179: Provided by Cambridge University Library. Zooming image © Cambridge University Library, All rights reserved. This image may be used in accord with fair use and fair dealing provisions, including teaching and research. If you wish to reproduce it within publications or on the public web, please contact genizah@lib.cam.ac.uk.