Letter: T-S 13J27.22
Letter
T-S 13J27.22
Input date
In PGP since 2017
Description
Letter from Toviyya ha-Kohen b. Eli ha-Meulle, a traveling scholar, to his wife, asking her to take good care of their youngest son, Eli, especially concerning his food, clothing and study. Toviyya writes that Eli should spend nights at his uncle's home so that the latter may teach him more than he will learn from his elementary school teacher. (Information from Mediterranean Society, II, pp. 183, 558)
Transcription
S. D. Goitein, unpublished editions.
] אדאם אללה עזה ואנמאה
] ומא הדא צואב פלא
] מנה ויוצא אלמעלם
]ר וקד אבעתנא לכם
] או //לעד// כתאן פי מכדה
ה]דה יתעמם בהא
] אללה יצלה תיאב
] עליכם וכלו אכי אל
] תתואנו ויכון גייד וקד
] אחאל ר ברכות אלחבר
יכ]תץ באכי ואנא כטפת רוחי
] ואן סהל לי ספר פהו יכון
] מן ענדה ואנא כמא אנא
] לי עיש לפראקכם והקבה
] ולו כנתו ענדי קד כאן הדא עישי
ת]ערפוני באכבאר עלי ובמא הו עליה
]אן לכם כתאב אדפעוה למולאי אל
]רסלה אלי ענד ולדה והו יצלני ועמה
] אליה ואנא והם נכצה באגל סלאם ואופא
]בה ואכתה איצא תכצהם באתם סלאם
Top margin, perpendicular lines.
]י ואסתני פ]י | מכאני צהרי אלי | חין עודתו פטיבו | עישכם ואשרחו | צדרכם והמו | בעלי באכלה וכסותה | ועלמה וכונו ביתוה | ענד עמה יקריה | פי אלליל זיאדה עלי | עלם
אלמעלם ולא | תרבוה תרביה | רדייה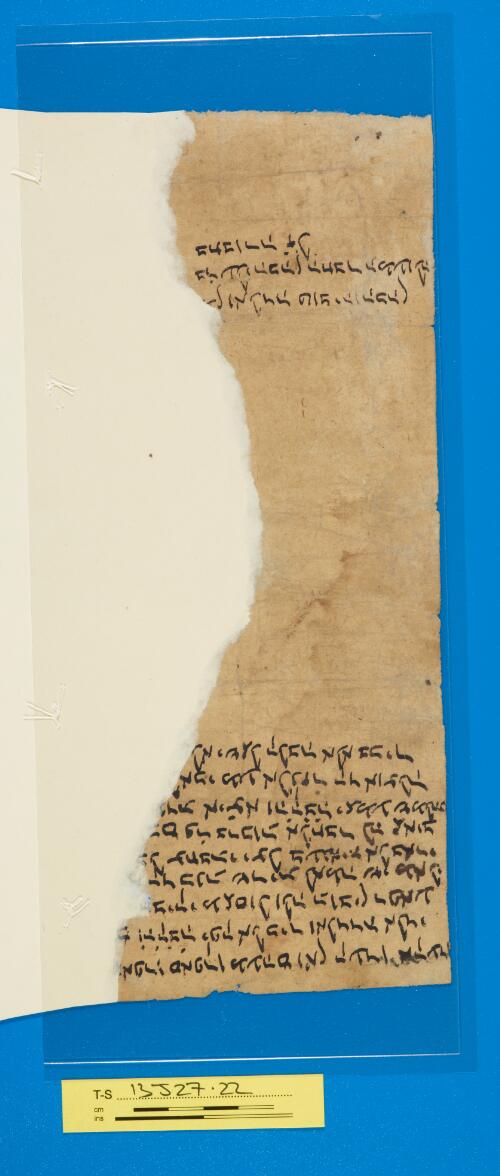 Verso.
]אפדו סאפרו מעהם ואן קעדו אקעדו
] והקבה יפ/ו/ק אלכיר ואלדרה אלדי
] דביקי מסגול ולה תובין רפאע
] קד כנת שרית לאמה שי מא לי
]כל צחבתי יצל בענאיה אלבארי
]כם פר ברכות אלחבר לה גאיב
]דת איצא והקבה יגמע שמלהם
]אכי מע אלנזר קד אוצלה
] לא ישגל קלבה אלא בכיר
Bottom margin. Address.
מן ואלדה טוביהו הכהן
בר עלי הכהן החבר מעולה
בחבורה זל
Image Permissions Statement

T-S 13J27.22: Provided by Cambridge University Library. Zooming image © Cambridge University Library, All rights reserved. This image may be used in accord with fair use and fair dealing provisions, including teaching and research. If you wish to reproduce it within publications or on the public web, please contact genizah@lib.cam.ac.uk.