Letter: T-S 13J21.8
Letter
T-S 13J21.8
Input date
In PGP since 2017
Description
Fragments of letters of the Nasi Shelomo b. Yishay. The recto is a fragment of a letter sent to the Nasi Shelomo b. Yishay (originally from Mosul, but then living in Egypt). The sender describes how he saved the property of the orphaned children of a certain Farah. The verso is a letter from the Nasi Shelomo b. Yishay, offering his services to the people of Fustat and especially to the Nagid David, grandson of Maimonides. Dated to ca. 1237. (Information from Mediterranean Society, II,19; also Gil)
T-S 13J21.8 1r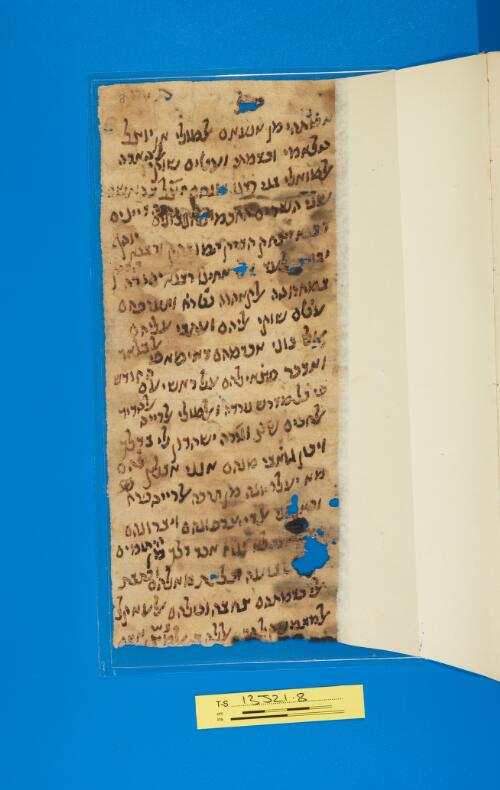 Transcription
S. D. Goitein, unpublished editions.
פצל
אשתהי מן אנעאם אלמולי אן יוצל
סלאמי וכדמתי ועטים שוקי אלי האדה
אלמואלי בני רבנו מנחם זצל בראשם
שני השרים החכמים ונבונים הדיינים
רבנא יצחק הדיין המובהק ורבנא יוסף
יבורכו לעד ואלי אחינו רבנא יהודה הדיין
במחרוסה אלקאהרה נט רח ותערפהם
עטם שוקי אליהם ועתבי עליהם
עלי כוני אכדמהם דאימא פי אלבלאד
ואדכר פצאילהם על ראשי עם הקודש
פי כל מדרש נורדה ואלמולי אלרייס אלסדיד
אלחכים שצ וגירה ישהדון לי בדלך
ויכון גואבי מנהם אנני אכלץ להם
מא יעלמונה מן תרכה אלרייס פרח נע
וסאלוני אלדי יערפונהם ויברונהם
. . אנה לא יגוז אכד דלך מן היתומים
[אלא] בשבועה וכלצת מאלהם וכתבת
אלי כדמתהם צחבה וכילהם אלעאקל
אלמאמ . . מן ל . . אללה . . . . . .
T-S 13J21.8 1v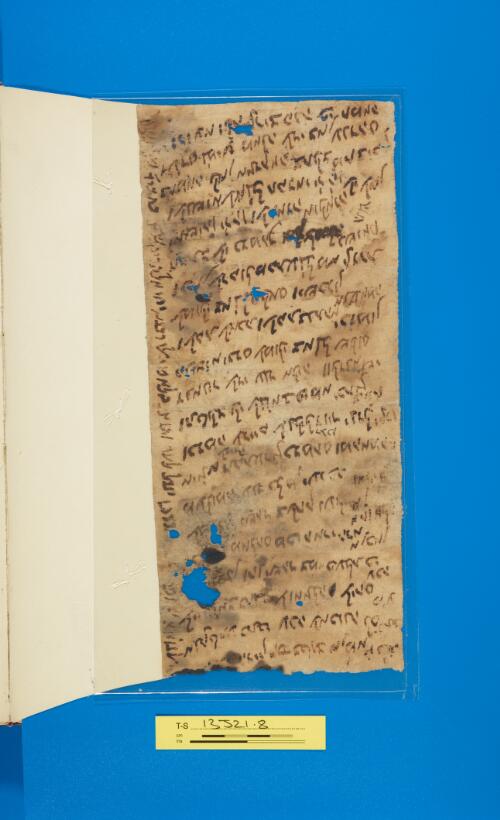 Verso.
. . . . . . הדיין יזכר בטוב אן מא סבב
אנקטאע כתבי ענה אלא כונה לם יכתב
אליי גואב כתבי אלואצלה אליהם מע
[ ]… והו ישהד במא פעלת פי עכה
[פי] מאלהם מפי האדי הדא אן כאן
אלמדכור ישהד באלחק ועלי אן אחואלה
מעלומה ענד כל מן יערפה
איצא תסתערץ כדמהם ומהאמהם
וכדמה //אלמולי// אלרייס אלגליל //רבנו// דויד יגדל יקרו
ותטלב לי אלגואב פימא יכתץ באלח
דנאניר אלדי ענד אליה וולדנא ישי
הנשיא יכדם אלמולי באגל שלום
ואלסת אלאכת ואלסת בנתהא יכדמון
אלמולי באגל סלאם וישכרון אנעאמה
וכאן אלרסול מסתעגל מא קדרת
אכתב אלי כדמתך נשיאנו הנגיד
יאשיהו יר הו ואלסאדה אולאדה
ואלנשיא אלאגל חסדאי יר הו אלי אלאן
בחמאה לאן אצדקאה בחלב מחבוסין
ועדם גמיע מאלה אלדי כאן ענדהם
ודועא ולה קריב סנה פי חמאה
Right margin, perpendicular lines.
אלגואב . . . פי . . . . . . . . יגדל לעד ותוצל
סלאמי אלי רבנא יחיאל הדיין שצ כתב יד שבט שנ[ת
Image Permissions Statement

T-S 13J21.8: Provided by Cambridge University Library. Zooming image © Cambridge University Library, All rights reserved. This image may be used in accord with fair use and fair dealing provisions, including teaching and research. If you wish to reproduce it within publications or on the public web, please contact genizah@lib.cam.ac.uk.