Letter: T-S 13J19.6
Letter
T-S 13J19.6
Input date
In PGP since 2017
Description
Letter from the Jerusalemite Yosef b. Moshe ha-Levi to Yefet ha-Neʾeman b. Elʿazar, the representative of the community of al-Maḥalla. Dating: Late 11th or early 12th century, as the same Yefet b. Elʿazar appears in T-S 6J2.25 (a legal document in the hand of Hillel b. ʿEli). Yosef reports that he stopped in (New) Cairo, planning to continue to Jerusalem via Alexandria. He was sick (wajiʿ) when he entered Cairo. The Nasi in Cairo honored him by letting him lead the congregation in prayer—"may God answer my prayers in my illness (ḍuʿfī) for the whole congregation, small and great." See e.g. ENA NS 6.24 for the notion that it is good for a sick man to lead prayers. Yosef sends greetings to a very large number of people by name, then apologizes, "As I write this, I am in a different world (?). Please forgive me for not being able to name everyone." (Information in part from Goitein's index cards.) ASE.
T-S 13J19.6 1r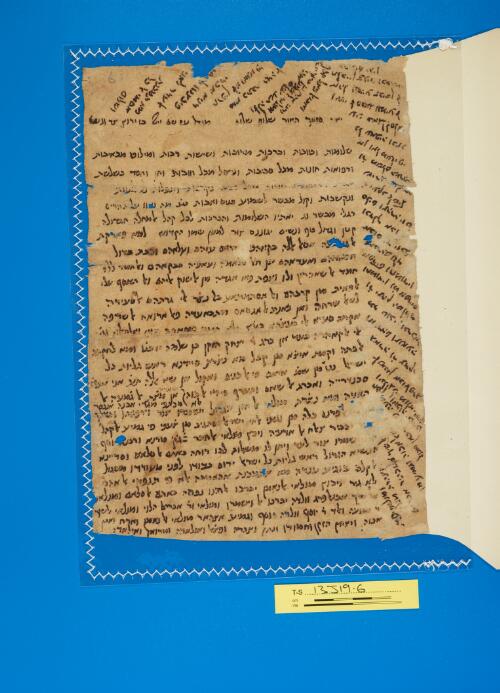 Transcription
S. D. Goitein, unpublished editions.
יצר סמוך תצור שלום שלום מגדל עז שם ייי בו ירוץ צד ונשג
שלומות וטובות וברכות מרובות ושישות רבות ומילוט מכאיבות
ורפואות חונות מכל סביבות וניצול מכל חובות וחן וחסד כשלשת
אבות ושמועות טובות מכל בית נקרבות ותפלות נשמעות
ונקשבות וקול מבשר לשמוע בנים ואבות כע מה נאוו על ההרים
רגלי מבשר וג יאתיו השלומות והברכות לכל קהל אלמחלה הגדולה
קטן וגדול טף ונשים יגוננם צור למען שמו הקדוש למא פארקת
אלגמ[א]עה אטאל אללה בקאהם ואדאם עזהם ועלאהם וכבת בדול
חסאדהם ואעדאהם ען חאל סלאמה ועאפיה בבקאהם ואלחמד ללה
חמד אלשאכרין ולו וצפת מא אגדה מן אלשוק אליהם ואלתאסף עלי
אלפאית מן קרבהם ואלאסתמתאע באלנצר אלי גרתהם אלסעידה
לטאל שרחה ואן כאנת אלאגסאם מתבאעדה פאלארואח אלשריפה
אקרב סעיא אלי בעצהא בעץ פלא תמד(?) מסאפה(?) ומא וצלת אלא וגע
אלי אלקאהרה בעד אן כרג ר יצחק הזקן בן שלמה יז בט ומא לחקתה
אלבתה וקמת איצא מן קבל מא נצרת סיידנא ראש גליות כל
ישראל נט מן שמ איאם פי אלכניס ואקול אן שא אללה תע אני אמצי
סכנדרייה(!) ואכרג אלשאם ותערף סידי אלכוהן //ר שמריה// אן מצת אלגמעה אל
תאניה ומא נצרת מולאי אלחזן הגדול //אלא מכתפי מגרי אבנה אנכסר// ישמרו צור ויפאהו וכדלך
מ. . . אלפרנס כלה מן וגעי אלהי ישראל יסתגיב מן צעפי פי גמיע אלקהל
צגיר וכביר צאלח אלאדעיה ויכץ מולאי אלחבר כגק מרנא ורבנא יוסף
. . . ישמרו צור לעד ויתן לו משאלות לבו רוחה באתם אלסלאם וסדיינא(!)
הנשיא הגדול ראש גליות כל ישראל ירום כבודו לפני מעודדו משגול
אלקלב בוגיע ענדה מא אתמכנת אכאטבה אלא פי תנפדי אלאהלי
לא גיר ויכוץ מולאי אלנאמן יברכו אלהינו נפסה באתם אלסלאם ומולאי
אלשיך אבו אלפרג וולדה יברכו אל וישמרו ומולאי ור אברהם הלוי ומולאי אלשיך
ר ישועה ואלד ר יוסף וולדה יוסף וגמיע אצהאר מולאי אלנאמן וארח ואבן
אכוה ויצחק הזקן וחמודו ונתן וצהרה ופצל ואולאדה ומרואן ואולאדה
Right margin, diagonal lines written upside down.
ומולאי יפת | וצהרה מולאי | אלשיך אבו כתיר אפרים | וש]מואל אכוה וגמיע מן | מעה . . . . כאן ואבו אל | חסין
ואכוה יבורכו | ויבליג לי מולאי הזקן | אלנאמן אבו אלפרג | גארה ור צדקה | ואברהם וצנאעה | מר טוביה וברכאג | ור יצחק המלמד | וחמודיו ומ אפרים | [[אפרים]] וחמודיו | ואברהם ואלד | אבו ס[ע]ד יז בט | וכדלך אבו | סלים וצהרה יז בט | ר יעקב אל[[שיג]] | שירגי ואולאדה | ור משלם תערפה | אן וצל מעאלי פי | כל עאפיה וכצה | עני באגל אלסלאם | ויחיי אלסבאג וגמיע אל | אהל וגמיע צביאן אל | חלביין צגיר וכביר | ברוכים יהיו
Top margin, diagonal lines written upside down.
ואבו אלפצל יוסף | ורבי אהרן בן ברוך יז בט | ומולאי אלשופט | ואללה תע עאלם אני | מא כתבת הדה אל | חרפין אלא ואנא פי | דניא אכרי | פיבצטו ל[. . . | אלעדר לאני | מא תמכנת | אסמי אלכל | ושלום
T-S 13J19.6 1v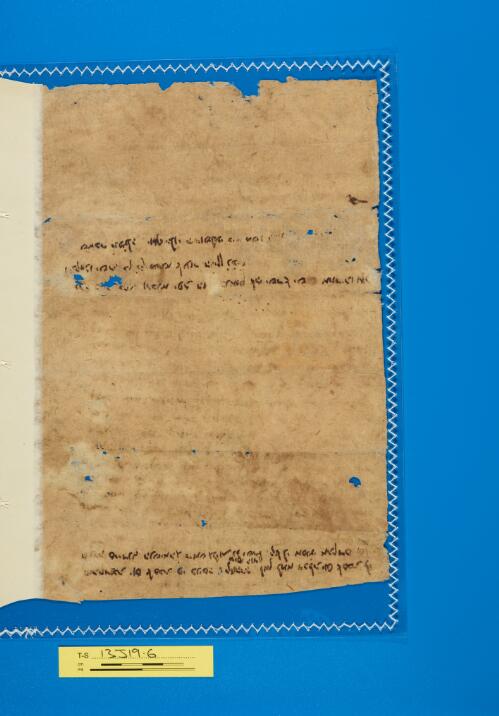 Verso.
ואתקדמת יום אלסבת פי כניסה אלקאהרה לאן למא דכלת יום אלסבת אלי
חצרה סיידנא הנשיא הג ראש גליות כל ישראל //ירום הודו// קאל לי אמצי אתקדם ושלום
Bottom margin, parallel lines written in same direction. Address.
אלי כגק מרנא ורבנא יפת הז[קן] הנאמן אלהי ישראל ישים אחריתו טוב[ה
ו. . . . . ישרה בן כק מרנא אלעזר הזקן נבע
שאכר תפצלה יוסף הלוי הירושלמי ביר משה . . . .
Image Permissions Statement

T-S 13J19.6: Provided by Cambridge University Library. Zooming image © Cambridge University Library, All rights reserved. This image may be used in accord with fair use and fair dealing provisions, including teaching and research. If you wish to reproduce it within publications or on the public web, please contact genizah@lib.cam.ac.uk.