Letter: T-S 13J19.21
Letter
T-S 13J19.21
Input date
In PGP since 2017
Description
Letter from Yiṣḥaq b. Nissim Farsī to Abū Zikrī Yaḥyā b. Mevorakh. Recto consists entirely of a panegyric and flattering rhymed prose in Hebrew. The addressee had previously sent a letter containing a poem either by Shelomo Ibn Gabirol or based on a model by Shelomo ibn Gabirol. Greetings are sent to the addressee's father and mother, and he is encouraged to continue in his own poetic endeavors, said to be superior to those of the writer. On verso, the letter continues in Judaeo-Arabic. (Information from CUDL, Decter, and Mediterranean Society, V, pp. 197, 286–87, 562.) Recto was also edited by Ratzhaby, "שני שירים ספרדיים מאוצר הגניזה," Moznaim 6 (1992), 10–13.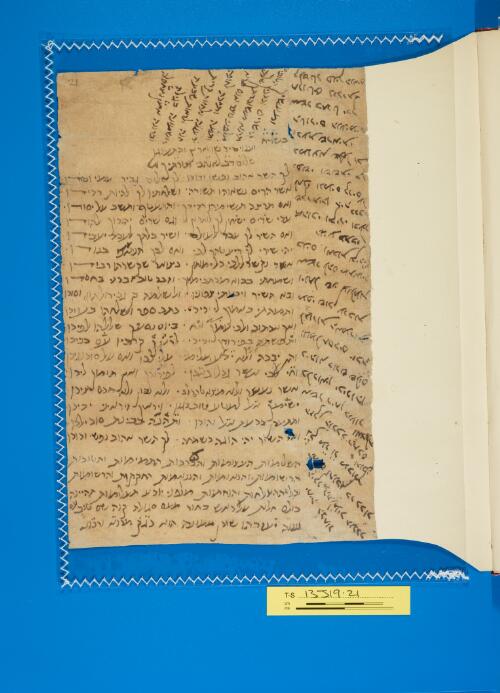 Transcription
S. D. Goitein, unpublished editions.
Recto
בש רח
וענוים ירשו ארץ והתענגו
שלום רב לאוהבי תורתיך וג
לך השר אהוב נפשי ודודו לך שלום גביר עמי וסודו
אשר הרים נשאוהו תשורה ושלחתיו לך להיות רדידו
ואם תרצה תשימהו רדידך ותתעטף ותשב על יסודו
עדי שרים ישיחון לך לארץ וגם שרים יהודוך להודו
ואם השיר לך עבד לעולם ושיר בלתך לעבד יעבידו
יהי שירי לך ריע טהר לב ואם לבך הניאני בנודו
אשר נקשר ללבי כל ימותיך כצואר שקשרהו רבידו
ושמחתי בבוא מכתבי ממך וזכר טוב זכרני בחסדו
ובא השיר וידעתי צפוניו ולשלמה בן גבירול הוא וסודו
ותמהתי באמרך לי ידידי כתב ספר ושלחהו בעודו
ואך אכתוב ולבי עמך אח ביום נסעך שללהו לפידו
ותפשתה בפירודך ידידי לרעך קרביו עם כבידו
והן יבכה ולא ידע עלי מי עלי לבו ואם על סוד נגידו
וחי לבי אשר גדל כאבו לפירודך ואין תומך לידו
אשר נעצר ולא מצא טהר לב ולא נבון ולא חכם צידו
ישימך אל למטע טוב בגנו ויראיך ויראיני ידידו
ותתעדן בדעת אל והודו ותהנה בבינת סוד ילדו
ואז השיר יהי הוגה בשמחה לך השר אהוב נפשי ודודו
השלומות העצומות והברכות התמימות והטובות
הרשומות והנאומות והננאמות החקקות והרשומות
וכל ההצלחות והנחמות מלפני יודע תעלומות תהיינה
כולם חלות על ראש בחור מעם סגולה קנה שם טוב עם
ענוה יעזרהו שוכן מעונה הוא כגק מרנא ורבנא
Recto, right margin
יחיה הבחור
היקר התלמיד הנכבד
הח[כ]ם והנבון בר כבוד
גק מר ור מבורך
הזקן הנכבד החכם והנבון
אשר ריחו במור ואהלת
כל רואיו יכירוהו
כי הוא דורש שלום
וגומל חסדים יזכה
לתורות האמרות
מפי שוכן ערבות
וינחל שני עולמות
אשר דרהם מתאוים
בנים ואבות וכן יהי רצון
הגיע כתביך
אהובי ויקירי ובעת
שקרתיהו(!) היה ברכה
לחכי וכמים קרים על
נפשי וששתי בו
כמוצא שלל רב
ובעת שראיתי
הטורים הנעימים
Recto, top margin
אשר בחרט ידך
חרוטים נזכרתי
קלסטר פניך הנאים
ומעשיך
הישרים ודרכיך הטובים
תהא משוכרתך(!) שלמה
מלפני נוצר אום ברא
ותמה ותזכה לחופה
רעננה ולחזות קרית
חנה ולראות שבעה
ושמונה בגילה
וברננה אמן נצח סלה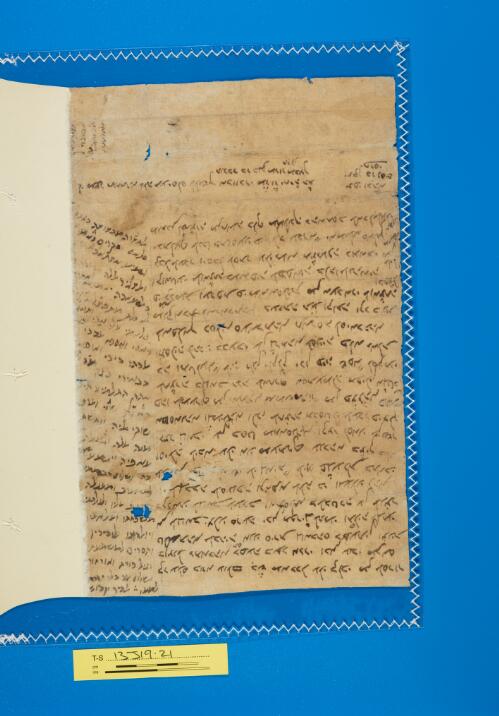 Verso
קד עלם בורא עולם בש מא דכל עלי קלבי מן אלסרור
בוצול כתאבהא דפעה בעד אכרי וכאן ענדי מקאם
טלעתהא אלבהיה //תם// אנני סירת גואבהם דפעתין וצנית
אן אלגואב יצלני סרעה יכון תפריג להמי ות/ס/ליה לגמי
בקראתי אלגואב אלעדב ואתסלא באלכטבה ען אלנצר
פי אלגבהה אלסעידה וקאהא אללה בי וגעלני להא
אלפ[ד]א פלם יצלני שי אלי גאיה אליום פגעלת כתאבי
וסילה אליהא עלי אני מעתרף ענדהא בציק כט[בי
וקצר גואבי ען בסט מחאסנהא וקצר לסאני ען נשר
אחסאנהא וגמילהא ולכן אלחצרה תבסט לי אלעדר פי דלך
פהו אלמערוף מן חלמהא ואלמשהור מן פצלהא פתנעם
אלחצרה בגואב הדה אלאחרף אסתעמלה תפילין אגטבאט(?)
בה ותטלעא אליה מן אלקלק יכון פיה שפא לסקמי
ותסליה להמי בבעדי ען גדתהא אלסנייה פלא זאלת
אלאפלאך כפלא סעאדתהא חארסה לסיארתהא
מנקאדה לאראדתהא בעזתה תע וקותה וקד בינת
פי //מא// קדמת וערפת פי מא אסלפת מן אעדארי אלואצחה
וקואטעי אלואצחה מא פיה אלכפאיה בל הו אלנהאיה ובפצל
יקבל אלעדר ויסבל אלסתר עלי מא תצמנה כתאבי מן אלזלל
ו]אכתלאף אלכט פתוסעני פי דלך עדרא יא מולאי סאלתך מ. .
מא כאן ללחצרה מן חאגה כלף ממלוכך בהא חסב אלאדלאל עלי תפצלה
Verso, right margin
אלחצרה מכצוצה באתם
סלאם ואקרי סלאמי ע[לי
גמיע אצחאב[א אלכביר
ואלצגיר אללה י[בארכהם?]
באלסעאדה יא מולאי אתפ[צל
לא זלת מתפצלא אקר[י
סלאמי עלי אכי ותאג
ראסי ואס.א עדרי
אלדהר בידי ואופא
דכאירי כגק מר ור
אהרן התלמיד ה. . .
רח ו. . . וערפה
שוקי אליה ווחשתי
מנה אללה יגעלה [פי
עאפיה ויגמע בינ[נא
ובה ושלום רב. . .
למא. .ב ומעגלה
. . .ב עליו ועל בני
משפחתו ועל אביו
ויולדתו ולידידיו
והסרים למשמעתו
וגיל פורח ואור זור[ח
ושלום עד בלי ירח
למען ייי אלהיך וקדוש
Bottom margin
אלי מצר חמאהא אללה תע יסלם ללשיך אבו זכרי מר ור יחיה הת
הנכבד בר כגק מר ור מבורך
הזקן
צפי ודהא
יצחק בר נסים
פרסי
Bottom right corner
חצרה אלשיך
אבו זכרי
אלכאתב אטאל
אללה . . . . ה
Image Permissions Statement

T-S 13J19.21: Provided by Cambridge University Library. Zooming image © Cambridge University Library, All rights reserved. This image may be used in accord with fair use and fair dealing provisions, including teaching and research. If you wish to reproduce it within publications or on the public web, please contact genizah@lib.cam.ac.uk.