Letter: T-S 13J18.12
Letter
T-S 13J18.12
Input date
In PGP since 2017
Description
Letter sent by a traveler-businessman to Abū l-Munā al-Yahūdī al-Sharābī, in the al-Muṣāṣa quarter of Fustat, to be delivered to his brother's son Abū ʿAlī, specifying items that he had sent and how to sell them. (Information from Mediterranean Society, III, p. 193, and Goitein's index cards)
T-S 13J18.12 1r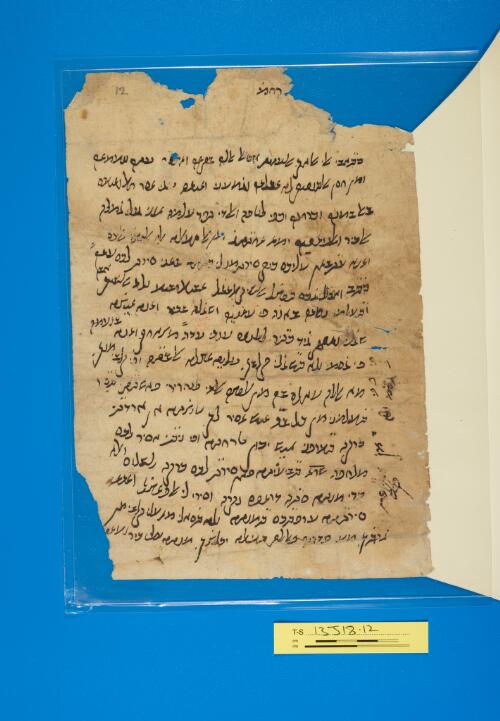 Transcription
S. D. Goitein, unpublished editions.
בשמ] רחמ
כתאבי אלי אלאך אלעזיז אטאל אללה בקאה ואדאם עזה ונעמאה
ומן חסן אלתופיק לא אכלאה וגמעני ואיאה עלי אסר חאל ואנעם
באל במנה וכרמה וכפי לטפה ואלדי תריד עלמה אנני עלי גמלה
אלכיר ואלעאפיה ומא אחתאג מן אל תעאלא אלא אלנצר אליכם
ואנא עתבאן עליכם כיף סירתמו לי כתאב באני סירת לכם עדה
כתב ואבלגכם תפצל אלשיך אלאגל אבו אלרביע ולד//אבו// אלשיך
ותעלמו ואלדה באנה פי עאפיה ושגלה בכיר ואנא איצא
שגלי נאפק גיד כתיר לאלנאס ענדי עדה מצאחף ואנא בנעמה
פי גסמי ולא תשגלי קלבך עליה אצלא אלבתה ופי קלבי מנך
מא אללה עאלם בה מן אלפצה אלדי לנ . . . . . פאשתהי תסיר
תעלמני מן כל בד איש אסיר לך עוצהא אן ארדתי
כרקה תערפני איש יכון טרחהא ופי ניתי אסיר לכם
מלחפה [[שרא]] תביעיהא פאן סירת לכם כרקה לשלום(?) ואלא
כדי מנהא סתה דראהם נקרה וסירי לי אלפאצל ואדא
סירתהא ערפתכם תמנהא ולא תסאלי מא עלי קלבי מן
גהתך מע . . . . . פאללה תעאלא יכלצך מנהא עלי כיר ועאפ[יה
T-S 13J18.12 1v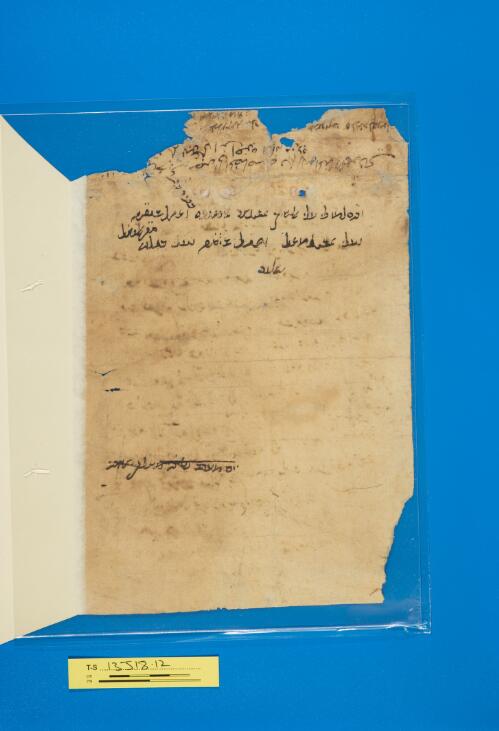 Verso.
ותסלמו לי עלי אלשיך אבו נצר א . . . כם // כתיר כתיר // ואהל ביתה
ועלי אבו גמאל ואהל ביתה ועלי כאלתי סת אלפצל
שלום
Top margin, parallel lines written upside down. Address, Arabic script:
الى محروسة مصر الى المصاصة يسلم لابو المنا اليهودي
يسلم لبو علي ابن اخوه امانة مودة
Address, Judaeo-Arabic:
אלמצאצה יסלם [לאבו אלמנא] אלשראבי יסלמה לבו עלי
[אבן אכו]ה אמאנה מודה
Bottom margin, parallel lines written in same direction.
[[יום מע . . . . . . מ . ל . . . . . . ]]
Image Permissions Statement

T-S 13J18.12: Provided by Cambridge University Library. Zooming image © Cambridge University Library, All rights reserved. This image may be used in accord with fair use and fair dealing provisions, including teaching and research. If you wish to reproduce it within publications or on the public web, please contact genizah@lib.cam.ac.uk.