Letter: T-S 13J15.2
Letter
T-S 13J15.2
Input date
In PGP since 2017
Description
Letter from Shelomo b. Ḥayyim, in Alexandria, to Abū l-Faḍl Maṣliaḥ b. Yosef, in Fustat. Dating: Ca. first half of the 12th century (the same people appear in T-S 8J4.24 + T-S 8J7.8 in 1111 CE). The writer had been informed that the boat from Cairo to Alexandria, on which the addressee was aboard, had been turned back by the qāḍī. The addressee is expected to return to Alexandria soon. (Information from Mediterranean Society, II, p. 611 and Goitein's attached notes.) After making some purchases in Fustat, the writer realized that he lost some gold, whether in Fustat or while in transit. In the margin, he excuses himself from returning to Fustat and seeing the address in person because he was ill. He hopes that the addressee will be able to see his state when they are reunited (perhaps he has some medical expertise?). In the meantime, the son of the Rayyis, Ibn Naḥūm, has seen him and will give a report on the writer's state to the addressee.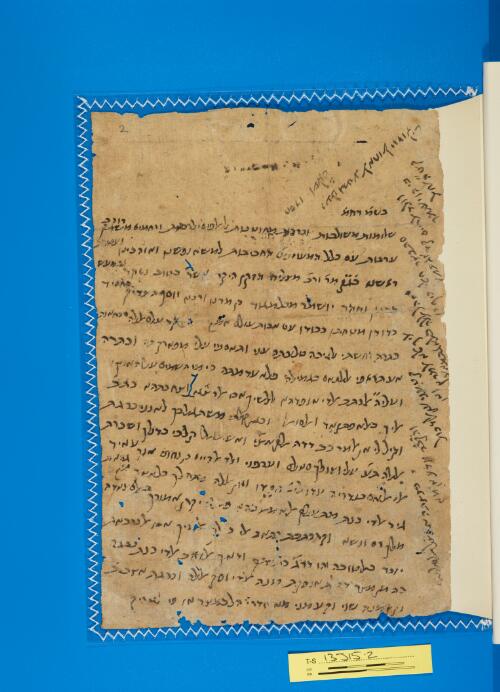 Transcription
S. D. Goitein, unpublished editions.
Recto:
בשמ רחמ
שלומות משולכות וברכות מחוטבות לאלפים ולרבבות ורחמים מ[[שוכן//רוכב//]]
ערבות עם כלל המעוזנים החביבות למשא נפשנו ואוהבינו ועטרת
ראשנו כגק מר ור מצליח הזקן היקר אשר בטוב נסקר ובמעש
[.......ן נחקר יושמר מכל מגור בן מרנו ורבנו יוסף הצדיק החסיד
בדורו מנוחתו כבודו עם אבות עולם אמן קד עלם אללה סבחאנה
כתרה וחשתי לגיבה טלעתה עני ותאספי עלי מפארקתה וכתרה
אעתראפי ללנאס בגמילה פלא עדמתה כימי השמים על הארץ
ועליה אלכתב אלדי אנפדהא ללשיך אבו אלרצא וצחבתהא כתב
אליך באלאפתקאד ואלסואל וכאן קלבי משתגל בך לאנני כרגת
וקיל לי אן אלמרכב רדה אלקאצי ואשתגל קלבי בדלך ושכרת
אללה תע עלי וצולך סאלם וערפני ולד אלרייס בן נחום אנך עאיד
אלי אלאסכנדריה יודו לד' חסדו ואן אללה פתח לך כלאצה מן גהאת
גיר אלדי כנת מתעלק אלאמאל בהא פאללה יקרן אמורך באלסעאדה
מלך רם ונשא וקד כתבת כתאב אלי דאלך אלשיך אבו אלברכאת
יזכר באלטובה והו דרג כתאבך ודאך אלדהב אלדי כנת כרג
בה מן מצר דכלת אנפקת מנה אלדי ופק אללה וכרגת אצבת
נקץ מנה שוי וקע מני מא אדרי הל במצר או פי אלטריק
Recto, right margin:
כצצתה אפצל אלסלאם
והקבה יודע אן מא
קטעני ען אלדכול
אליך אלא אלמרץ ואן
סאהל אללה באלאגתמאע
סתבצר חאלי כיף הו
וולד אלרייס קד אגתמע
בי הו יעלמך
קציה אלחאל
Recto, upper margin:
ועלי

גמיע

אלאחואל

יודו

לייי

חסדו

ושלום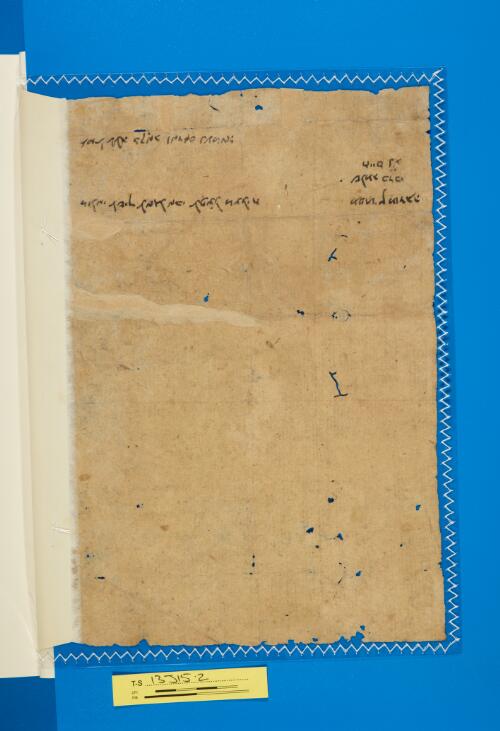 Verso:
מולאי אלשיך אלאגל אבי אלפצל מצליח
אטאל אללה בקאה ואדאם נעמאה
מפתרץ מודתה
שלמה ברבי
חיים נע
Image Permissions Statement

T-S 13J15.2: Provided by Cambridge University Library. Zooming image © Cambridge University Library, All rights reserved. This image may be used in accord with fair use and fair dealing provisions, including teaching and research. If you wish to reproduce it within publications or on the public web, please contact genizah@lib.cam.ac.uk.