Letter: T-S 13J13.22
Letter
T-S 13J13.22
Input date
In PGP since 2004
Description
Letter from Bū Manṣūr b. Abū Saʿd Shemuel to Avraham al-Maḥallī al-Talmid (the student/scholar). Addressed to Fustat, the synagogue of the Palestinians, situated in Zuqāq Khabīṣa. The letter consists entirely of well wishes and greetings for the holiday. Sending regards: the children, Sitt Rayḥān, Najmiyya, Thanāʾ, ʿAfīf. Regards to (among others): Yosef b. Abū ʿImrān and his mother and brother-in-law and wife, and Rabbenu Yeḥezqel ha-Dayyan ha-Gadol. (Information in part from CUDL and Goitein's index cards.) VMR. ASE.
T-S 13J13.22 1r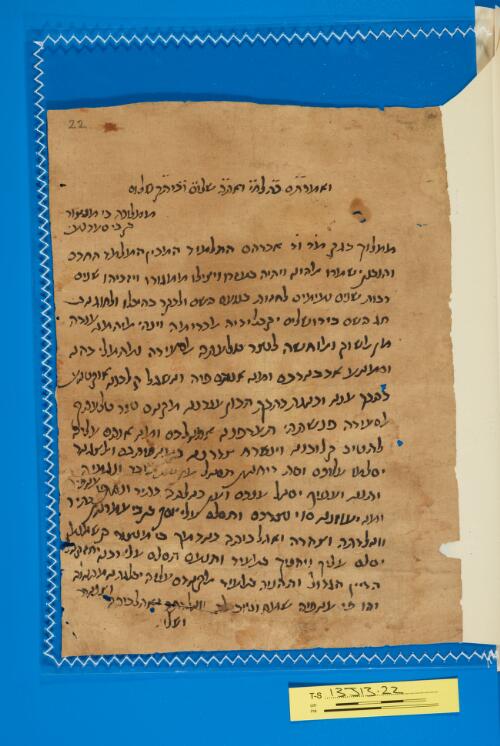 Transcription
S. D. Goitein, unpublished editions.
ואמרתם כה לחי ואתה שלום וביתך שלום
ממלוכה בו מנצור
בן בי סעד נע.
ממלוך כגק מר ור אברהם התלמיד המבין המלמד החכם
והנבון ישמרו אלהינו ויהיה בעזרו ויצילו ממגורו ויזכיהו שנים
רבות שנים נעימים לחזות בנועם השם ולבקר בהיכלו ולחוג את
חג השם בירושלים יקבל ידיה אלכרימה וינהי אליה מא ענדה
מן אלשוק ואלוחשה לנצר טלעתה אלסעידה ואלתמלי בהא
וסמאע אכבארכם ומא אנתם פיה ואשגל קלבנא אנקטאע
כתבך ענא וכאנת כתבך תכון ענדנא מקאם נצר טלעתך
אלסעידה פנשתהי תערפנא אחואלכם ומא אנתם עליה
להטיב קלובנא וינשרח צדרנא בעאפיתכם ואלצגאר
יסלמו עליכם וסת ריחאן תסאל ען . . . . . וכי ונגמיה
ותנא ועפיף יסאל ענכם וען כאלתה כתיר ונחן פי עאפיה
ומא יעוזנא סוי נצרכם ותסלם עלי יוסף בן בי עמראן כתיר
וואלדתה וצהרה ואהל ביתה כאדמך בי מנצור בן שמואל
יסלם עליך ויהפיך באלעיד ותנעם תסלם עלי רבנו יחזקאל
הדיין הגדול ותהניה באלעיד אלקאדם עליה יבלגה אמתאלה
והו פי עאפיה שמח וטוב לב וואלדתה ואהל ביתה וצגארה
ושלום
T-S 13J13.22 1v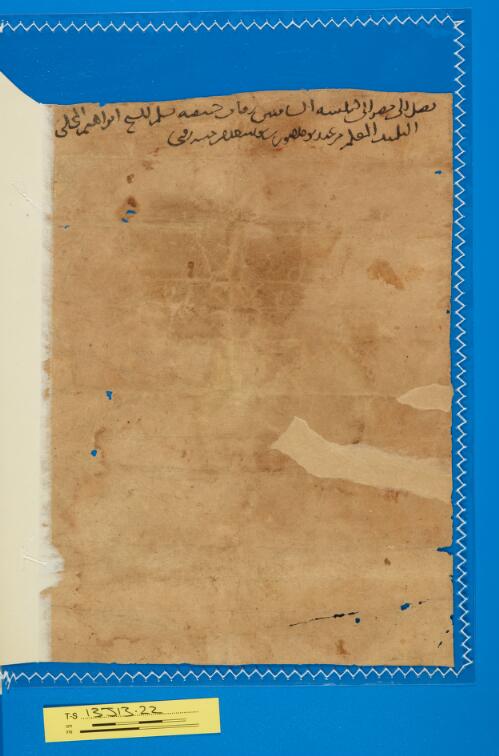 Verso. Address.
תצל אלי מצר אלי כניסה אלשאמיין זקאק חביצה תסלם ללשיך אבראהים אלמחלי
אלתלמיד אלמעלם מן עבדה בו מנצור בן בו סעד מן ח . . . . . י
Image Permissions Statement

T-S 13J13.22: Provided by Cambridge University Library. Zooming image © Cambridge University Library, All rights reserved. This image may be used in accord with fair use and fair dealing provisions, including teaching and research. If you wish to reproduce it within publications or on the public web, please contact genizah@lib.cam.ac.uk.