Letter: T-S 13J13.19
Letter
T-S 13J13.19
Input date
In PGP since 2004
Description
Letter from Mūsā (or Musallaḥ?) b. Ṣāliḥ to an unknown addressee. In Hebrew and in Arabic script. Appealing for help from the addressee. (Cf. Geoffrey Khan, "The Historical Development of the Structure of Medieval Arabic Petitions," BSOAS, 53:1 (1990), 21). EMS On verso long text in Judaeo-Arabic.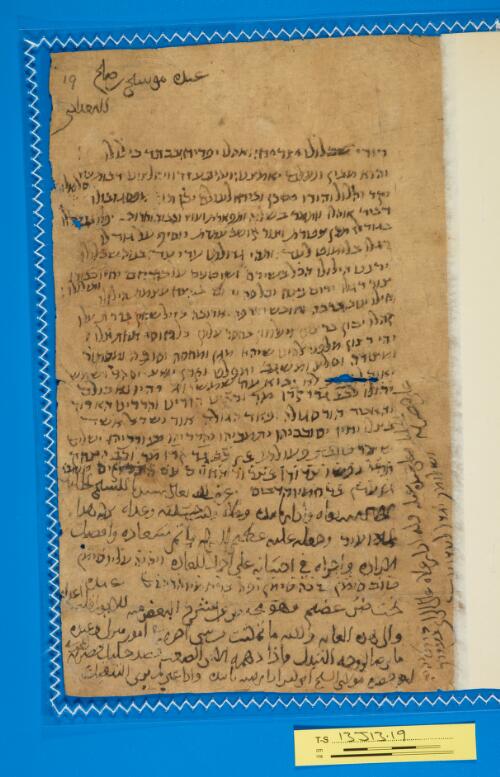 Transcription
S. D. Goitein, unpublished editions.
Arabic:
[עבדה] מוסא . בן צאלח
אלבגדאדי
דודי שכלולו יצריח: ואהלו יפריח: בכתר כילולו:
והוא מבין ונעלם יאמצנו: ויהי בעזרו ויחלצינו רבות עוז
יקר וה/י/לול והודו יסכן וכירח לעולם יכ/ו/ן תגה מפסג זבולו סלסולו
דביר אוהלו יותמד בשלוה ותפארת ועוז וכבוד וחדוה ביפיו [[בגודלו]]
בגודלו תכן עטרת וצור קושב עתרת יוסיף על גודלו
רגלו בל ימוט(!) לעד: ותהי גדולתו עדי עד: בנוה שכלולו
ירננו הילולו הכל בשירם ושוטנים על כורחם יחיו כבודו
צור רגלו ידום נצח וכל פה ירום בפצח עצמת הילולו ותילולו:
וחילו ינוב ברכה וחובש ומרפא ארוכה כזיל שחק ברדת עלו
אהלו יכון ברצונו ו . . מון בחסד עליון כל חוסי תחת צלו
יהי רצון מלפני אלדינו שיהא מגן ומחסה וסוכה ומסתור
ומצודה וסלע ומשגב ומפלט וקרן ישע יסהר וישמש
יא . ה [ . . . . ] לא יבוא עוד שמשו וג יהיו נא כולם
י . ולו לכב גד קדו מר ורבינו הודינו והררינו האדיר
והאביר הוד סגולה ופאר הגולה אור ישראל אשר
בצלו יחיו יסובביהו יתמכיהו יהדריהו יעורריהו ישלים
שכר טובת פעולתו בן כב גד קדו מר ורב יצחק
תהי נפשו צרורו(!) בצרור החיים עם הצדיקים יושבי
גן עדן ברחמיו הרבים עבד אללה תעאלי . . . אלסאלח אלחליל
אטאל אללה בקאה ואדאם מאסדה וכבת חסדה ודאם עדאה עלי הקא
אלמועיד וגעלה גליה . . . . . . . . . ואתם סאעדה ואפצל
אלאראדה ואגראה פי . . . . . . עלי אחמאל ללעאדה ויהיו עליו סימן
טוב סימן ברכה סימן יפה ברחמיו הרבים עבדה
. . . . . . . . . . . . . . . . . . . . . . . . . . . . . . . . . . . . . . . . . .
ואלי הדה אלעאיה ואללה מא תמכנת מן שיא אחרצה פי אמור מזלי ירבדה
מא ירדא לרוחה אלתבדל ואדא דהמה אלזמן אלצעב קצד גליל חצרה אלמחי . .
חצרה מולאי אלשיך אבי כתיר אדאם אללה תאיידה
Right margin, perpendicular lines.
עלי פצלה אלגלילה ועלי עבדה ע . . . ולה אדאם עלאה עאלי אלראי כי ייי יהיה בעזרך | ושלומך יגדל לעדי עד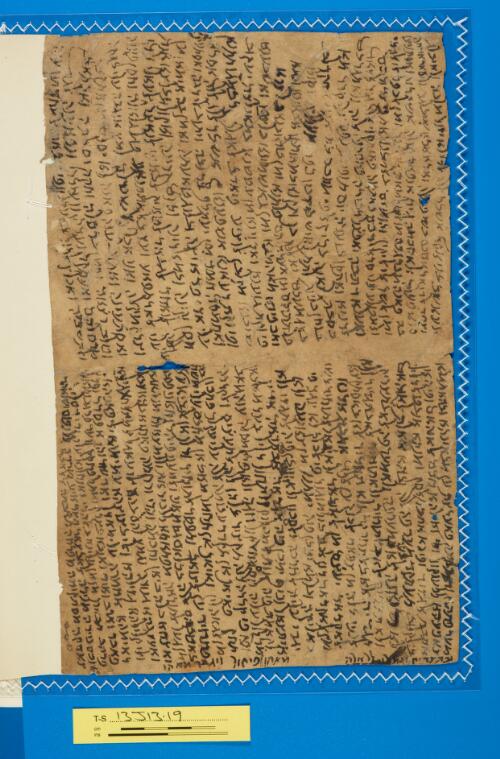 Image Permissions Statement

T-S 13J13.19: Provided by Cambridge University Library. Zooming image © Cambridge University Library, All rights reserved. This image may be used in accord with fair use and fair dealing provisions, including teaching and research. If you wish to reproduce it within publications or on the public web, please contact genizah@lib.cam.ac.uk.