Letter: T-S 12.417
Letter
T-S 12.417
Input date
In PGP since 2017
Description
Letter from a certain Simḥa, who was in charge of a building. In Judaeo-Arabic. Dating: ca. 1200 CE. He reports that the upper floor (the one adjacent to the house of some Christians in a Jewish communal building) was restored for a cost of 30 dinars, while the ground floor beneath it was completely occupied, bringing revenue. He briefly reports on somebody who was housebound with a sickness, but who returned to week this week (v17–18). Information in part from Med Soc, IV, pp. 101, 375)
T-S 12.417 1r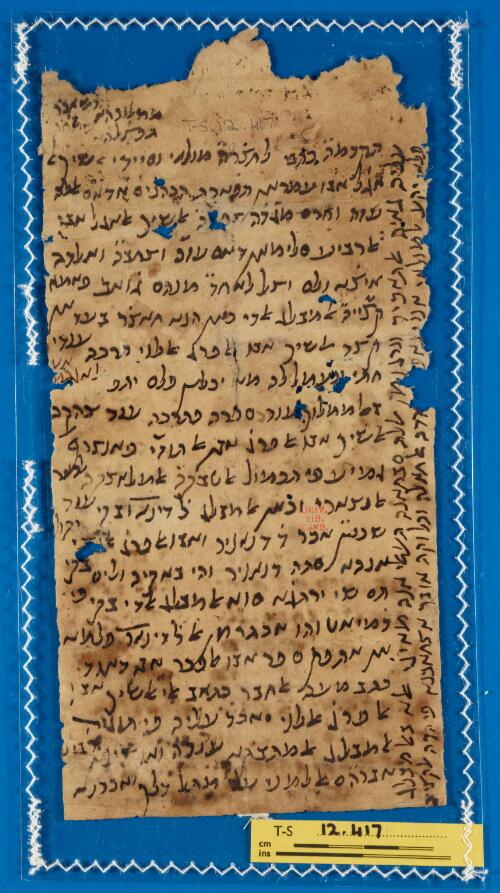 Transcription
S. D. Goitein, unpublished editions.
. . . . . . . . . . . . . . . . . . . . . . ממלוכהא ומשאכר
. . . . . . . . . . . . . . . . . . . . . . תפצלהא שמחה
תקדמת כתבי לחצרה מולאי וסיידי אלשיך אל
אגל אבו עמראן תפארת הכהנים אדאם אללה
עזה וחרס מגדה צחבה אלשיך אלאגל אבי
אלרביע סלימאן דאם(!) עזה וצחבה ואלדה
איצא ולם יצל לאחד מנהם גואב פאמא
קצייה אלמבלג אלדי כאן הנא חאצר בעד אן
קצד אלשיך אבו אלפרג אללוי תרכה ענדי
חתי ינעמל לה מא יכלץ פלם יתפ[ק] אלאגתמאע
ואלממלוך ענד ספרה פתרכה ענד צהרה
אלשיך אבו אלפרג אבן אלתוזי פאנצרף
גמיע פי תכמיל אלטבקה אלמלאצקה לדאר
אלנצארי וכאן אלמבלג ל דינא ובקי ענד
שכץ אכר ד דנאניר ואבו אלפרג אללוי יקול
אנהא סתה דנאניר וחי באקיה וליס בקי
תם שי ירתגא סוא אלמבלג אלדי בקי פי
דמיאט והו אכתר מן אלל דינאר פלמא
אן אתפק ספר אבו אלפכר אבן דאוד
כתב מעה אלחבר כתאב אלי אלשיך אבו
אלפרג אללוי יאכד עליה פי תוגיה
אלמבלג אלמתבקא ענדה ואו דינא ורבינו
אברהם אללמני עלי מתל דלך ואכרנא
Right margin, perpendicular lines.
עליה גאיה אלתאכיר ונרגו מן אללה סבחאנה תעאלי אנה מא יגי אלא באלמבלג
פלא יקע אלמולאי אנני בגאפ[ל ען] הדה אלחאלה וכל וקת אובך אצחאבנא פי הדה אלקצייה
T-S 12.417 1v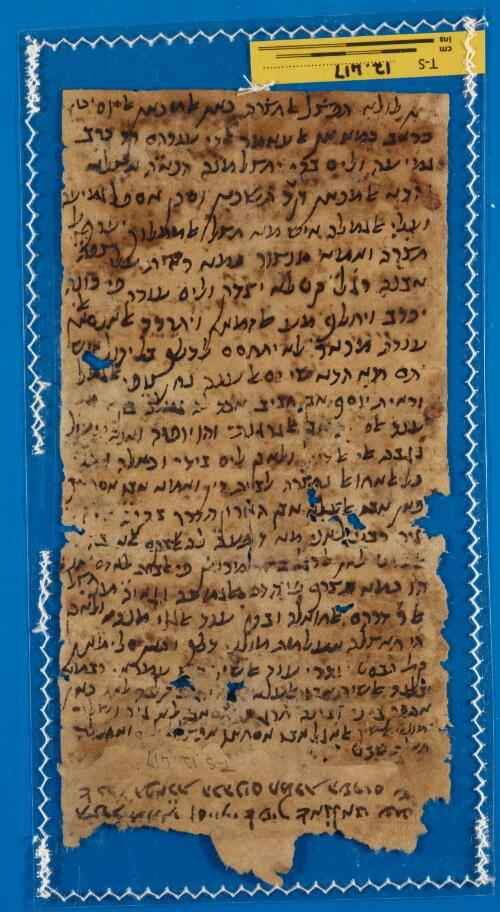 Verso.
לאן לולא תפצל אלחצרה כאן אלמכאן אליום יכון
כראב כמא אן אלעאמר אלדי ענדהם קד כרב
גמיעה וליס ביק יחצל מנה הנאה אצלא
והדא אלמכאן קד תשכץ וסכן אספל גמיעה
ועלי אלגמלה איש מא תצל אלממלוך יערף אל
חצרה ואמא מנצור פמא ראית עלי צפה
אבנה רגל קט לא יצדק וליס ענדה פי כונה
יכרב ויחלף מע אלזמאן ויתרדד אלאנסאן אלי
ענדה מראר לא יתחסס לדלך בל יקול איש
תם מא הדא שי תסאל ענה נחן נופי אלגמל
וראית יוסף אבן חביב אכד לה גמלה בקי מן
ענד אלפקיר אבן אלגרגנתי והו יופיה ואנה מעול
נגבה אלי אלדיאן ולאכן ליס בידי וכאלה ול .
כל אלאחואל נחצרה לבית דין ואמא אבו אסחאק
פאן אבו אלעלא אבן הארון תדכר בקיה . . . . .
גיר רבע לאני מא דפעת לה אלבקם אלא בקיה
אל . . . לאן אלרגל בקי מריץ פי אלבית לאזם . . .
הו כמא תצרף פי הדה אלגמעה וגאיה מא חצל
אלר דרהם אלחואלה ובקי ענד אלגוי מנהא ולאכן
הי חאצלה אעלמת מולאי דלך ובאן סלימאן
קאל תבסט עדרי ענד אלשיך אבו עמראן רבמא
יבלגה אלשיך אבו אלעלא . . . . . . . . לא . כאן
אתפק ביני ובינה חר. . . חסאב לא גיר ושלום
מולאי אלשיך אלאגל אבו אסחאק אפצל אלסלאם וא . . לה
ת . . . שבט
Bottom margin, straight lines written upside down. Address.
חצרה מולאי וסיידי אלשיך אלאגל אבי עמר[אן
אלכהן תפארת הכהנים חמדת השרים שצ
Image Permissions Statement

T-S 12.417: Provided by Cambridge University Library. Zooming image © Cambridge University Library, All rights reserved. This image may be used in accord with fair use and fair dealing provisions, including teaching and research. If you wish to reproduce it within publications or on the public web, please contact genizah@lib.cam.ac.uk.