Legal document: T-S 12.1
Legal document
T-S 12.1
Input date
In PGP since 2017
Description
Recto: Testimony by Nissim b. Shemarya that Sason b. Natan had deposited with him seventeen counterfeit dinars. The counterfeiter was the mutawallī al-sikka, or the ṣāḥib dār al-ḍarb. When Nissim tried to exchange the dinars, the deceit was discovered and he was in mortal danger. The judge Yaʾir b. Avraham quelled the matter but the money was lost. Dating: ca. 1090 CE. (Information from Gil and from Goitein's index cards.) Verso contains drafts/formularies of multiple different Judaeo-Arabic legal documents (including one dated Tishrei 1393 Seleucid = 1081 CE concerning a marriage or divorce case between Avraham b. Yeshuʿa ha-Kohen and Rayyisa bt. Yefet) as well as an earlier Arabic state document (see separate record). Also a letter or legal document resembling a letter with the name Shelomo b. Kalev, Yosef ha-Kohen, and terms of address for a dignitary of the yeshiva (Mevasser?).
T-S 12.1 1r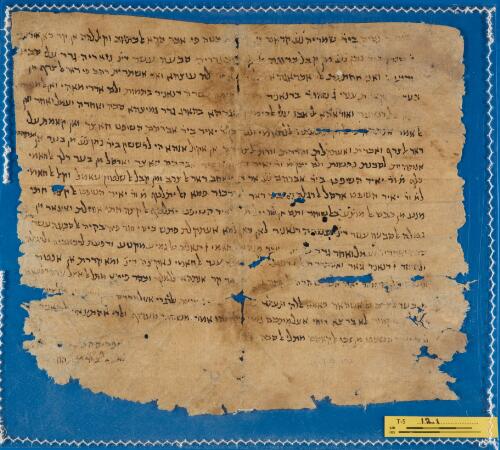 Transcription
S. D. Goitein, unpublished editions.
חצר ר נסים ביר שמריה נע קדאם מן אתבת כטה פי אכר הדא אלכתאב וקאל להם אן קד כאן אודעני
ר ששון ביר נתן נע מן קבל כרוגה אלי אלאסכנדריה סבעה עשר דינ נזאריה גדד עלי סביל
אלודיעה ואני אחתגת אלי אכראגהא עלי אן ארד לה עוצהא ואני אשתרית דהב פי דאר אלצרף מן
בעד [מא] אקאמת ענדי ג שהור בדנאניר [מצר] קימה עשרה דנאניר בתמות ולם אדרי מא הי ואן אלמנאדי
[ . . . לא] באלדנאניר ואוראהא אלי אבו עלי אלכימיין פוגדהא בהארג גדד גמיעהא סכה ואחדה ועמל ואחד ואן
אלאמר אנתהא פי אלוקת בעינה ללחאמי ולם יכן מור יאיר ביר אברהם השופט חאצר ואן קאמת עלי
דאר אלצרף(!) ואכדת ואעתקלת והדדת וודת אלצרורה אן אקול אנהא הי לר ששון ביר נתן נע מן בעד אן [[אנתהי]]
אנתהית לסכנת נפשות ולם יכן מ ור יאיר השופט ביר אברהם חאצר וארסל מן בעד דלך אלחאמי
כלף מ ור יאיר השופט ביר אברהם נע אד ה[ו] צאחב דאר אלצרב ומן קבל אלשלטון עאמל וקאל אלחאמי
למ ור יאיר השופט ארסל אלרגאלה ואכבס דאר אלמדכור פמא זאל יתלטף מ ור יאיר השופט אלקצה חתי
מנע מן כבס אלמוצע באלשוחד ותם אן לם יזל מ ור יאיר השופט יתלטף אלקצה חתי אנחלת ואעאד מן
גמלה אלסבעה עשר דינ עשרה דנאניר לאן כאן למא אעתקלת פתש כיסי ווגד פיה בקיה אלסבעה עשר דינ
סכה ואחדה ועמל ואחד גדד טריה אכד מנהא אלחאמי ז דנאניר ואלגמיע מקטע ודפעת לרכאביה ולרגאלה
ולס[וח]ר ז דנאניר גיאד ואסתרדת אלז דנאניר [אלתי כא]נת ענד אלחאמי נאקצה דינ ומא קדרת אן אנטק
ולולא תלטף מ ור יאיר השופט הדה אלקצה לכ[אן הדא אלא]מר קד אנתהא ללמלך וכסר פיהא מתל אלאצל עדה דפעאת
מן בעד אלצרב ואלאשהאר פאמא אללה תעאלא [ . . . . . . . . . . . ] . ים ואלרג די אעלמתכם [ . . . . . . . . ] אלדי . . .
לא מגבור ולא] מקהור אלא ברצא רוחי אעלמתכם גמיע דלך והו אמר משהור מערוף ואלדי אסתעאד אלדנאניר
מ ור יאיר השופט מן אבו אלקאסם מתלי אלסכה
אפרים הכ[ה]ן
נתנאל ביר יפת הח[בר נע]
T-S 12.1 1v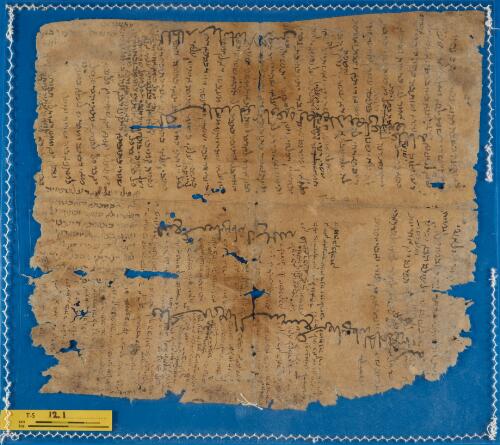 Image Permissions Statement

T-S 12.1

: Provided by Cambridge University Library. Zooming image © Cambridge University Library, All rights reserved. This image may be used in accord with fair use and fair dealing provisions, including teaching and research. If you wish to reproduce it within publications or on the public web, please contact genizah@lib.cam.ac.uk.