Letter: T-S 10J9.32
Letter
T-S 10J9.32
Input date
In PGP since 2004
Description
Letter in which Eli b. 'Amram invites a scholar to give a lecture in the synagogue on the following Saturday and requests a prompt reply. Dated to the third quarter of the 11th century. (Information from Mediterranean Society, II, pp. 218, 568, and Goitein's index cards.) There appear to be two different folios sharing the same shelfmark. Also under this shelfmark: (1) A draft of a legal document concerning a woman called Mubāraka who had sold her maidservant for 20 and a half dinars and had given the money to her brother as capital for a business trip, but was then sued by her husband as only 10 of the 20 and a half dinars were her dowry, so she empowered her husband to sue her brother for the remaining 10 and a half dinars and profits; (2) a letter to a Ḥaver; and (3) a letter in Arabic script. Information from CUDL. Needs further examination.
T-S 10J9.32 1v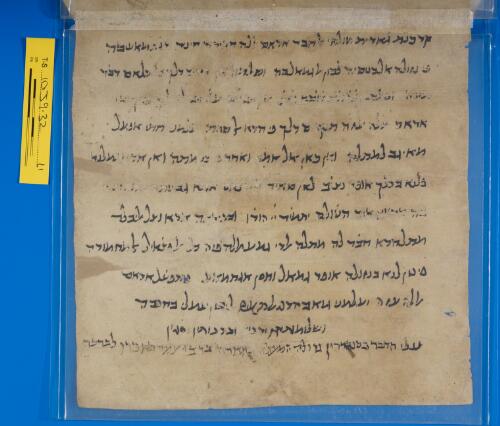 Transcription
S. D. Goitein, unpublished editions.
קד כנת גארית מולאי אלחבר אדאם אללה תאידה חיניד . . ת מא . . בה
פי נזולה אלכניסיה לכון אלגמאל בה וסאלתה אן בעד דלך אלכלאם דבר
תורה וסאלת מר ורב דוסא שצ אן י . . ל . עלי מאל . . . . . . . . .
אדאם אללה עזה תקדם דלך פי הדא אלסבת עלמנ[י] חתי אפעל
מא יגב למתלה ואן כאן אלאמר ואחד . . .מתה ואן אדא עמלנא
פלנא בדלך אופד נציב לאן סאיר אלנאס אמא גב. . . . . . . .
בה . . . . אור העולם יתמיד ייי הודו וב . . . . אדא וצל אלי בלד
מתל הדא חבר לה מתלה אלדי גמע אללה פיה כל אלפצאיל אלמחמודה
פיכון לנא בנזולה אופד גמאל וחסן אגתמאע פיתפצל אדאם
אללה עזה יעלמני גואב הדה אלרקעה ליכון עמלי בחסבה
ושלומותיו ירבון וברכותיו יסגון
עלי החבר בסנהדרין גדולה המעולה בחבורה ברבי עמרם זכרו לברכה
T-S 10J9.32 1r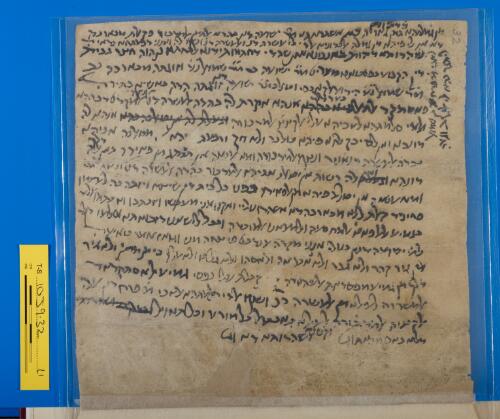 T-S 10J9.32 2r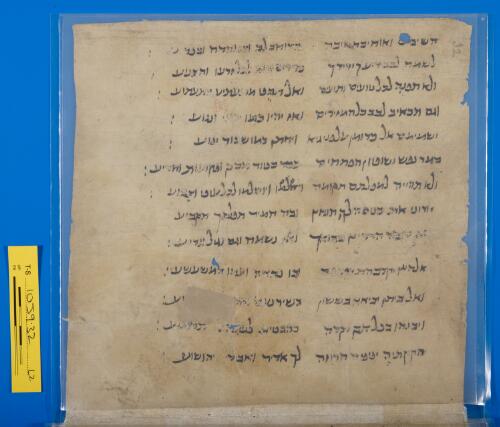 T-S 10J9.32 2v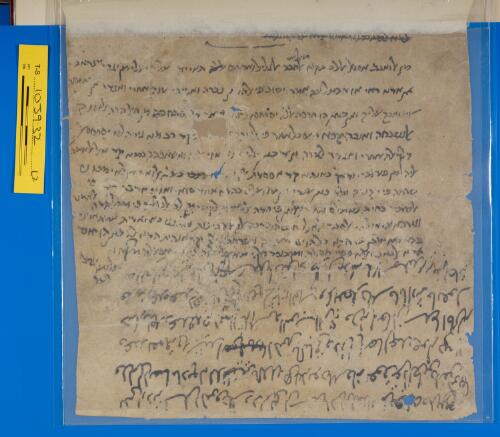 Image Permissions Statement

T-S 10J9.32: Provided by Cambridge University Library. Zooming image © Cambridge University Library, All rights reserved. This image may be used in accord with fair use and fair dealing provisions, including teaching and research. If you wish to reproduce it within publications or on the public web, please contact genizah@lib.cam.ac.uk.