Letter: T-S 10J6.10
Letter
T-S 10J6.10
Input date
In PGP since 2004
Description
Complete letter by Mubarak b. Yiṣḥaq b. Sabri to Abu al-Faraj Nissim complaining about a business issue and urging a prompt response to his letter.
T-S 10J6.10 1r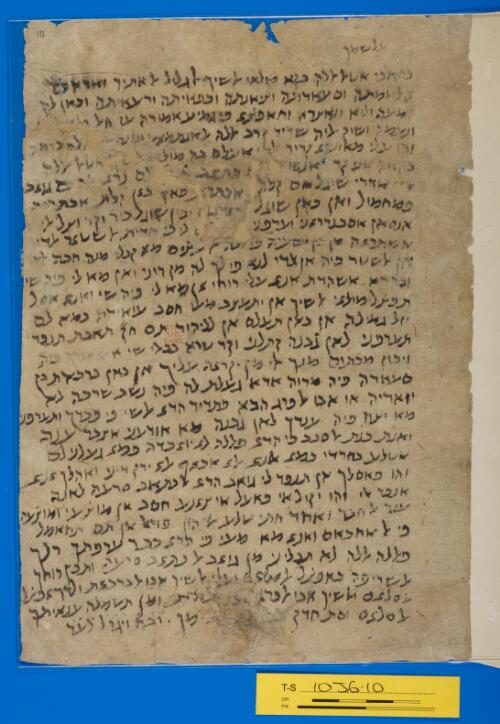 Transcription
S. D. Goitein, unpublished editions.
על שמך
כתאבי אטאל אללה בקא מולאי אלשיך אלגליל אלאתיר ואדאם
סלאמתה וסעאדתה וציאנתה וכפאיתה ורעאיתה וכאן לה
ומעה וליא חאצרא וחאפצא פי גמיע אמורה ען חאל סל[אמה
ונעמה ושוק אליה שדיד קרב אללה אלאגתמאע מעה [בפצ]לה וכרמה
והו עלי מא ישא קדיר אלדי אעלם בה מול[אי אלשי]ך אטאל אללה
בקאה אני קד אנפדת [ל]ה כתאב [ולכן] לם נרא להם גואב
ולא] אדרי שוגל אם קלת [אם] אכתרית פאן כאן קלת אכתרית
פמחמול ואן כאן שוגל ארגו יכון שוגל כיר וקד וצל אלי
אנסאן אסכנדראני וערפני [ . . . . . . ] . פי חדית אלשטאר אלדי
אשתראה מן בן ישעיה פ . . הא עצים מא קבלי מנה חבה אלא
וזן אלשטר פיה אן ברי לנא פי לך לה מן דוני ואן מא לי פיה שי
ובהדא אשהדת אנא עלי רוחי אן מא לי פיה שי ואנא אסל
תפצל מולאי אלשיך אן יתעצב מאלי חסב עואידה כמא לם
יזל גמילה אן כאן תעלם אן לליהוד תם חק תאבת תנפד
תערפני לאן גבנה קתלני וקד טרא בבאלי שי אשאורך פיה
ויכון מכתום מנך אלי מן יקראה עליך אן כאן ברכאת בן
סעאדה פיה מרוה אדא געלת לה פיה נשב שרכה לא
יזאריה או אבו אלפרג הבא פתריד הדא אלשי פי פכרך ותערפני
מא יצח פיה ענדך לאן גבנה מא אודעני אצבר ענה
ואנת כנת אלסבב פי הדא פאללה לא יואכדה פמא געלני לם
אטלע בחרדי כמא אנא אלא אכאף אלא ידין דיני ואהלך אנא
והו פאסלך אן תנפד לי גואב הדא אלכתאב סרעה לאנה
אנפד אלי והו יקולאי פאעל אי צאנע חסב אן מוצעי ומוצעה
ענד אלחבר ואחד חתי טלע אלי הון פקאל אן תם תחאמל
פי אלאחכאם ואנא מא מעי פי הדא כבר ערפתך דלך
פאללה אללה לא תכליני מן גואב אלכתאב סרעה ותכץ רוחך
אלשריפה באפצל אלסלאם ועלי אלשיך אבו אלברכאת ולדך אפצל
אלסלאם ואלשיך אבו אלפרג אפצל אלסלאם ומן תשמלה ענאיתך
אלסלאם וסת חדק [. . . . ושל]ומך ירבה ויגדל לעד
T-S 10J6.10 1v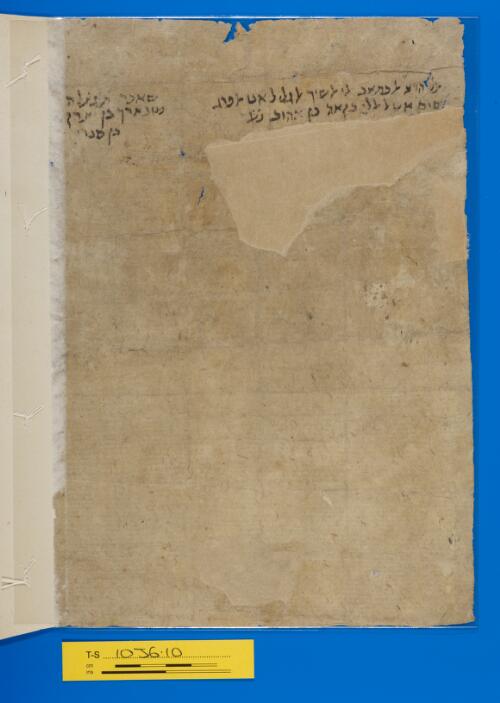 Verso. Address.
יצל הדא אלכתאב אלי אלשיך אלגליל אבו אלפרג
נסים אטאל אללה בקאה בן אהוב נע
שאכר תפצלה
מובארך בן יצחק
בן סברי
Image Permissions Statement

T-S 10J6.10: Provided by Cambridge University Library. Zooming image © Cambridge University Library, All rights reserved. This image may be used in accord with fair use and fair dealing provisions, including teaching and research. If you wish to reproduce it within publications or on the public web, please contact genizah@lib.cam.ac.uk.