Legal document: T-S 10J5.20
Legal document
T-S 10J5.20
Input date
In PGP since 2004
Description
Attestation (qiyyum) of a legal document by the Gaʾon Maṣliaḥ b. Shelomo ha-Kohen (1127–39); also signed by Moshe b. Sadoq Av Beit Din (president of the high court) and Yehuda b. Shelomo. The main document (now missing) was signed by the parnas Hillel b. Shabbat ha-Kohen and the cantor Eliyyahu b. ʿEli he-Ḥaver. See NLI 577.3/5 for another attestation of a document by Maṣliaḥ Gaʾon.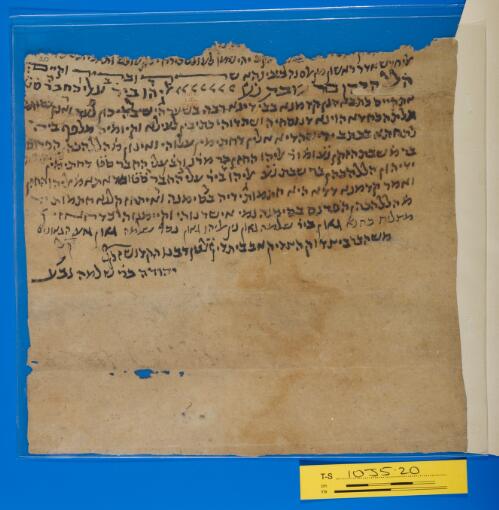 Transcription
S. D. Goitein, unpublished editions.
[ . . . . . . . . . . . . . . . . . . . י]עקב יהי שמו לעולם כירח יכון עולם ותאכרת [כתאמתנא
אלי חדש אדר ראשון מן אלסנה בעינהא שריר ובריר וקיים:
ד ב ו ה
הלל הכהן ביר שבת נע>>>>>>> אליהו ביר עלי החבר סט
ג ל ת ר
אתקיים כתבא דנן קדמנא בבי דינא רבה בשער הישיבה יכון לעד ואנן במותב
תלתה כחדא הוינא דנוסחיה ושהדוהי כתיבין לעילא וקיומיה מלפף ביה
לתחתא בכתב ידי שהדיא אלין דחתימין עלוהי ואינון מ הלל הכהן הפרנס
בר מ שבת הזקן נע ומ ור אליהו החזן בר מרנ ורב עלי החבר סט דחתימין בחתמות
ד ב ו ה
ידיהון הלל הכהן בר שבת נע אליהו ביר עלי החבר סט וכדאתא מ אליהו החזן
ג ל ר
ואמר קדמנא דדא היא חתמות ידיה בסימנה ואיתחזק לנא חתמות יד
מ הלל הכהן הפרנס בסימנה נמי אישרנוהי וקיימנוהי כדחאזי [[ו]]
מצליח כהנא גאון ביר שלמה גאון נין אליהו גאון נכד שלמה גאון גזע הגאונים [ז]קל
משה ברבי צדוק הצדיק אב בית דין זל נין רבנו הקדוש זקל
יהודה בר שלמה נבע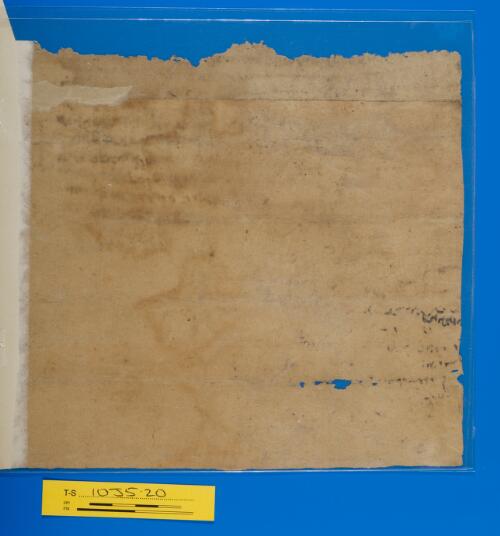 Image Permissions Statement

T-S 10J5.20: Provided by Cambridge University Library. Zooming image © Cambridge University Library, All rights reserved. This image may be used in accord with fair use and fair dealing provisions, including teaching and research. If you wish to reproduce it within publications or on the public web, please contact genizah@lib.cam.ac.uk.