Legal document: T-S 10J5.1
Legal document
T-S 10J5.1
Input date
In PGP since 2004
Description
Deed of acknowledgment of a debt of 76.25 black dirhams to be repaid in weekly installments by Bū l-Fakhr b. Bū l-Futūḥ al-Levi, who works in the perfumers' market, to the perfumer Barakāt b. Bū Saʿd. Location: Fustat. Dated: Last decade of Tishrei 1526 = September/October 1214 CE, under the authority of the Nagid Avraham Maimonides. (Information mainly from Mediterranean Society, I, pp. 388, 492.) Reused for accounts on verso.
T-S 10J5.1 1r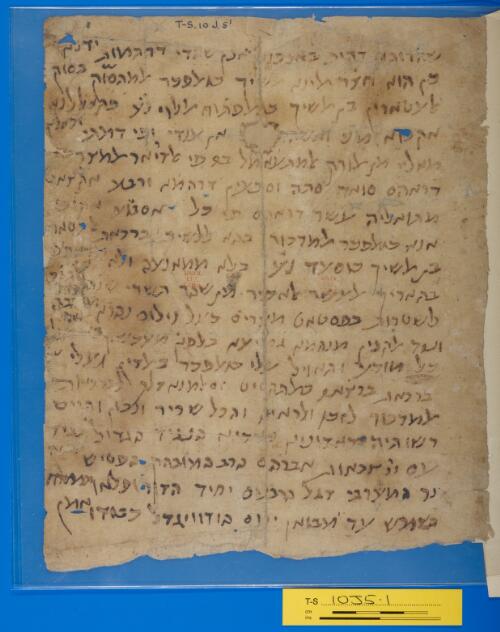 Transcription
S. D. Goitein, unpublished editions.
שהדותא דהות באנפנא אנן שהדי דחתמות ידנא
כן הוא חצר אלינא אלשיך בו אלפכר אלמתסוק בסוק
אלעטארין בן אלשיך בו אלפתוח אללוי נע פקאל לנא
אקנוא מני ואשהד[ו עלי] אן ענדי ופי דמתי וכאלץ
מאליי מן אלורק אלמתעאמל בה פי אלדיאר אלמצריה
דראהם סואד סתה וסבעין דרהמא ורבע אקצאט
מתואליה עשר דראהם פי כל אסבוע אקום
אנא בו אלפכר אלמדכור בהא ללשיך ברכאת אלעטאר
בן אלשיך בו סעד נע בלא ממאנעה ולא מדאפע[ה
בתאריך אלעשר אלאכיר מן שהר תשרי שנת אתקכו
לשטרות בפסטאט מצרים דעל נילוס נהרא מותבה
ונפד אלקנין מנהמא גמיעא בלפץ מעכשיו באבטאל
כל מודע ותאויל עלי בו אלפכר באלדין ועלי
ברכאת ברצאה באלתקסיט וסלמנהא דלך לברכאת
אלמדכור לזכו ולראיה והכל שריר ונכון וקיים
רשותיה דאדונינו נגידינו הנגיד הגדול נגיד
עם ייי צבאות אברהם הרב המובהק הפטיש החזק
נר המערבי דגל הרבנים יחיד הדור ופלאו ממזרח
שמש עד מבואו ירום הודו ויגדל כבודו אמן
T-S 10J5.1 1v
Image Permissions Statement

T-S 10J5.1: Provided by Cambridge University Library. Zooming image © Cambridge University Library, All rights reserved. This image may be used in accord with fair use and fair dealing provisions, including teaching and research. If you wish to reproduce it within publications or on the public web, please contact genizah@lib.cam.ac.uk.