Letter: T-S 10J18.2
Letter
T-S 10J18.2
Input date
In PGP since 2020
Description
Letter in which a man complains about a conflict over a power of attorney and a deposit. The sender of the letter held the opinion that he had not done his opponent any harm but the latter had accused him in public of the opposite, threatening to bring this and other matters to the attention of the government.
T-S 10J18.2 1r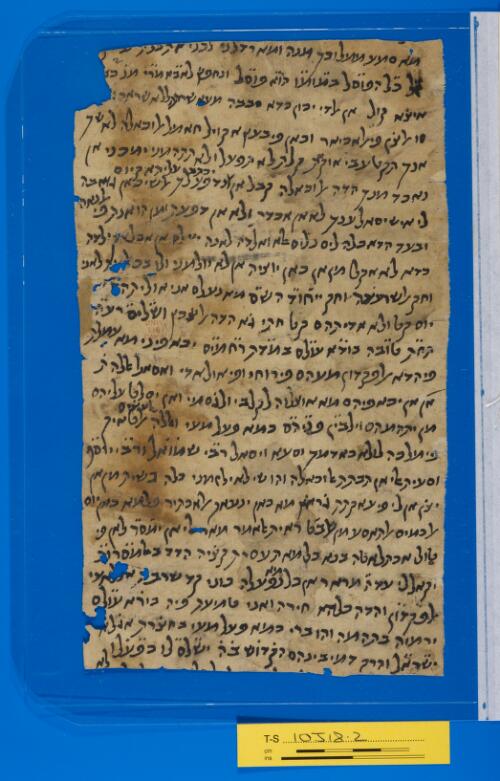 Transcription
S. D. Goitein, unpublished editions.
מא סמע ממלוכך מנה ומא רדלני לכני את . . ת . [ . . . .
[[ . ל ]] כל הפוסל במומו הוא פוסל ונחפץ לאבא מרי מנ כב [ . .
איצא קול אן אלדי יכון הדא סבבה מעאשרתה ללאשראר:
סו אלצן פי אלאכיאר וכאן פי בעץ אקויל חאמל אלוכאלה לא שך
אנך תקטע בי אוקאת קלת לא תפעל ולא תתהמני ימכני אן
נאכד מנך הדה אלוכאלה קבל אן //יכתב עליהא קיום// תדפע לך אלשי כאן גואבה
לי איש יסאל ענך לא אן אכדת ולא אן דפעת ומן הו אנת פי אלנאס
ובעד הדא כלה ליס נלום אלא ואלדה לאנה יעלם אן אכלאק ולדה
כדא לא אקל מן אן כאן יוציה אן לא יולמני [ולו בכל . . ת לאני
וחק אלשריעה וחק ייחוד השם מא נעלם אני אוליתהם
יוסקט ולא אדיתהם קט חתי גא הדה אלשכץ ושלים רעה
תחת טובה בורא עולם במדת רחמים יכאפיני מא עמלת
פי הדא אלפקדון מעהם פי רוחי ופי אולאדי ואסאל אללה ת
אן אן(!) יכאפיהם מא אוצלוה לקלבי ולגסמי ואן יסלט עליהם
מן יתהמהם וילבין פניהם כמא פעל מעי ואללה //אלעצים// אלטאיק
פי מלכה לולא כאדמך יסעא ויסאל רבי שמואל ורבי יוסף
וסעית אלי אן תבתת אלוכאלה והו שי לא ילזמני כלה כשית מן אן
יצן אן לי פי עאקתה גראץ מא כאן ינעאק אלא כתיר פלמא כאן יום
אלכמיס אלתאסע מן שבט ראית אלאמר מאר אלי אן ימסר לאן פי
טול אכתלאטה בנא כל מא תעסרת קציה הדד באלמסרות
וקאל לי עדה מראר אן כל //מא// נפעלה כוני קד שרבת א . ל . אעי
אלפקדון והדה כלהא חירה ואני טמעת פיה בורא עולם
ירמיה בתהמה והו ברי כמא פעל מעי בחצרת אגלא
ישראל והדה דמי בינהם הקדוש בה ישלם לו כפעלו
. . . . . . . . . . . . . . . . . . . . . . . . . . . . . . . . . . . ] לא
T-S 10J18.2 1v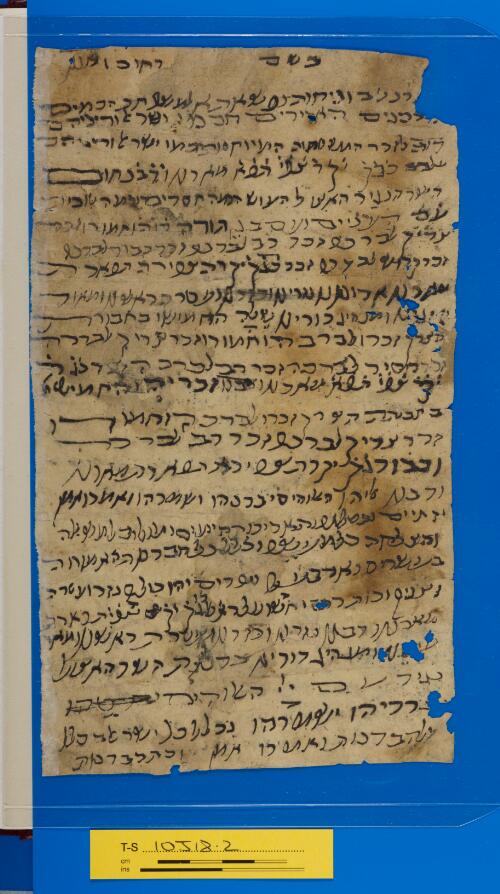 Image Permissions Statement

T-S 10J18.2: Provided by Cambridge University Library. Zooming image © Cambridge University Library, All rights reserved. This image may be used in accord with fair use and fair dealing provisions, including teaching and research. If you wish to reproduce it within publications or on the public web, please contact genizah@lib.cam.ac.uk.