Letter: T-S 10J17.9
Letter
T-S 10J17.9
Input date
In PGP since 2019
Description
Letter from Yeshūʿa ha-Kohen b. Avraham ha-Galili, in Shubra Damsīs, to Efrayim b. Meshullam (judge, active 1142–54). Dated: 1142 CE (month of Av). The writer sends greetings in the name of his two sons. He encloses a letter from Rabbenu Zakkay for Efrayim, as well as another letter from R. Zakkay and a letter from himself to be delivered to the Nagid, whether by Efrayim himself or by the bearer of the present letter. The bearer is a worthy man and has with him a sick girl whom he "wishes to treat," and the bearer himself is also chronically ill and weak of sight. (S. D. Goitein, Mediterranean Society, 2:513; Norman Golb, "Topography of the Jews of Medieval Egypt," JNES 33 (1974), 141. See also Goitein's index card) EMS. ASE.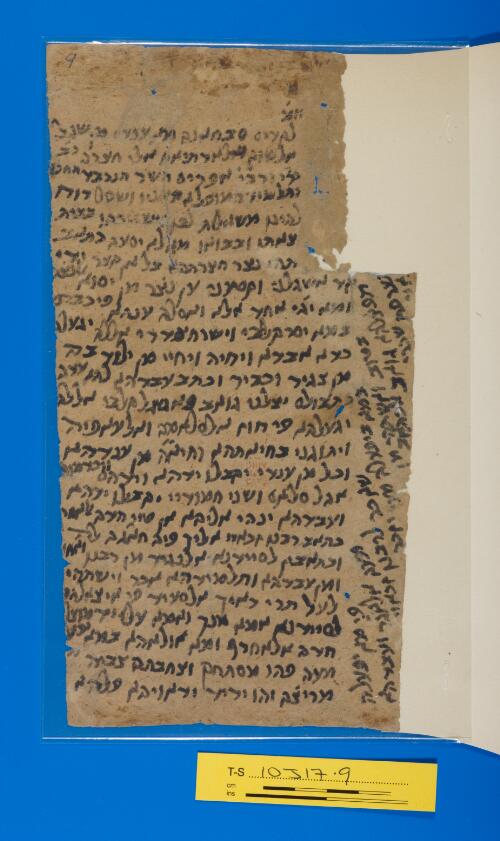 Transcription
S. D. Goitein, unpublished editions.
בשמ ר]חמ
ערף] אלקדים סבחאנה מא ענדי מן שגל
אלקלב ו]אלשוק ואלארתיאח אלי חצרה רב
. . . . . . ] מרי ורבי אפרים השר הנכבד החכם
. . . . . . ] התלמיד המופלא העניו ושפל רוח
. . . . . א]להינו משאלות לבו וישמרהו בבית
. . . . . ב]צאתו ובבואו מא לא יסעה כתאב
. . . . אש]תהי נצר חצרתהא בל אן קדר ידי
וקד אשגלני וקטעני ען נצר מן יסוא אלנצר
ומא יגי אחד אלא ואסאלה ענהא פיכברני
במא יסר קלבי וישרח צדרי אללה יגעלה
כדא אבדא ויחיה ויחיי מן ילוד בה
מן צגיר וכביר וכתב עבדהא להא עדה
כתב ולם יצלני גואב פאנשגל קלבי אללה
יגעלהא פי חוז אלסלאמה ואלעאפיה
ויתוגני בחיאתהא וחיאה מן ענדהא
וכל מן ענדי יקבלו ידהא וידהם ויכדמוה
אגל סלאם ושני חמודיי יקבלו ידהא
ועבדהא ינהי אליהא אן טיי הדה אלאמר
כתאב רבנו זכאיי אליך פיה חאגה לה
וכתאבין לסיידנא אלנגיד מן רבנו ואחד
ומן עבדהא ותלמידהא אכר וישתהי
לעל תרי ראיך אלסעיד פי איצאלהם
לסיידנא אמא מנך ואמא עלי יד מוצל
הדה אלאחרף ומא אולאהא במא יפעל
מעה פהו מסתחק וצחבתה צביה
מריצה והו יריד ידאויהא פלהא
Right margin, diagonal lines written upside down.
פי מא יפעלה
מעה אלאגר ועבדהא
שאכר לרבנו זכאיי
במא ביפעלה מעי יזכר
בטוב ואשתהי מן
תפצלהא גואב אלכתאב
נערפה שכרי[
א[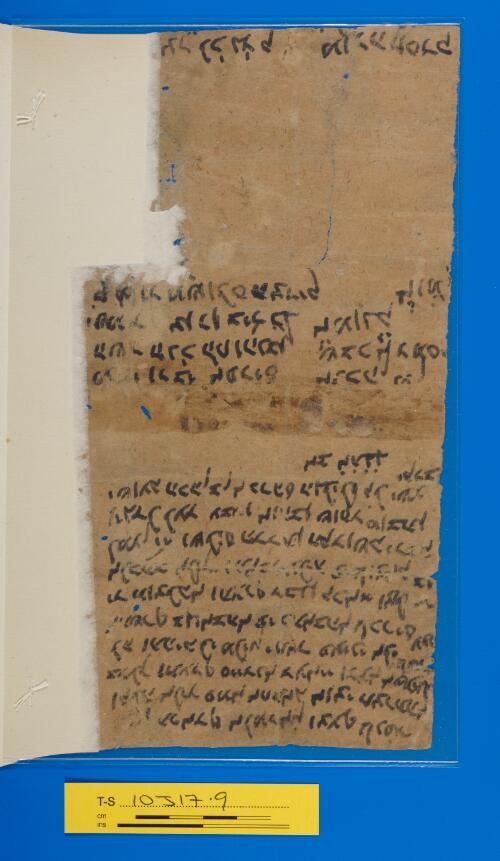 Verso.
. . . . ] תראדף אלמראץ(!) וצעף אלנטר
וקלה אליד פמא אחתאג אוצי חצרתהא
בדלך ותערף סיידנא דעאיי ודעא אטפאל
לה ותהיה לי מליץ יושר פעיני אלי אלשר
אתשרף בגואבהא פי כתאבהא אלכרים עלי
יד מוצלהא ותערף רבנו זכאיי וצול
אלכתאב אליך ותאכד עליה פי אלוצאה בי
למען ייי ושלום הדרתו הקדושה ירבה
ויגדל לעד עבדו אוהבו שוקד טובתו
ישועה הכהן בן אברהם הגלילי זל ישע יקרב
אב אתנג
Address, right side:
מרי ורבי אפרים
השר הנכ הח והנבון
ישמרו צורו ביר כג
ק מ ור משולם הצדיק
Address, left side:
אלכהן מן
שברא דמסי[ס
אמונה
אומן
Image Permissions Statement

T-S 10J17.9: Provided by Cambridge University Library. Zooming image © Cambridge University Library, All rights reserved. This image may be used in accord with fair use and fair dealing provisions, including teaching and research. If you wish to reproduce it within publications or on the public web, please contact genizah@lib.cam.ac.uk.