Letter: T-S 10J17.28 + T-S AS 151.30
Letter
T-S 10J17.28

+

T-S AS 151.30
Input date
In PGP since 2004
Description
Letter addressed to Yosef ha-Kohen Segan ha-Kohanim. In Hebrew. Containing greetings and an apparent request for charity. The letter is written in the same hand as T-S 10J17.27 and T-S 10J17.29–30. (Information from Gotein's index cards.) Join: Oded Zinger.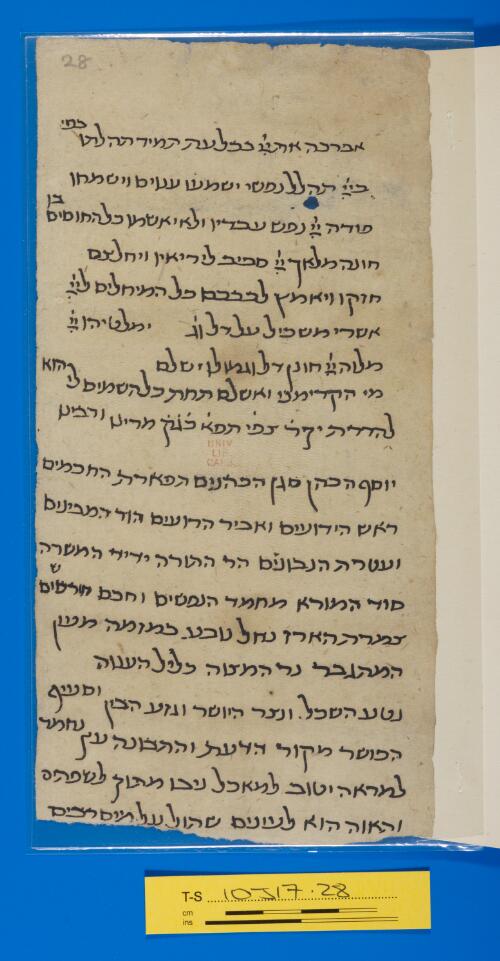 Transcription
S. D. Goitein, unpublished editions.
אברכה את ייי בכל עת תמיד תהלתו בפי
בייי תהלל נפשי ישמעו ענוים וישמחו
פודה ייי נפש עבדיו ולא יאשמו כל החוסים בו
חונה מלאך ייי סביב ליריאיו ויחלצם
חזקו ויאמץ לבבכם כל המיחלים לייי
אשרי משכיל על דל וג ימלטיהו ייי
מלוה ייי חונן דל וגמולו ישלם
מי הקדימני ואשלם תחת כל השמים לי הוא
להדרת יקר צפי תפא כגק מרינו ורבינו
יוסף הכהן סגן הכהנים תפארת החכמים
ראש הידועים ואביר הרועים הוד המבינים
ועטרת הנבונים הר התורה ידיד המשרה
סוד המורא מחמד הנפשים וחכם חרש//ש//ים
צמרת הארז נחל נובע כמזמה מעין
המתגבר נר המצוה כליל הענוה
נטע השכל ונצר היושר וגזע הבין וסעיף
הכושר מקור הדעת והתבונה עץ נחמד
למראה וטוב למאכל ניבו מתוק לשפתים
ותאוה הוא לעינים שתול על מים רבים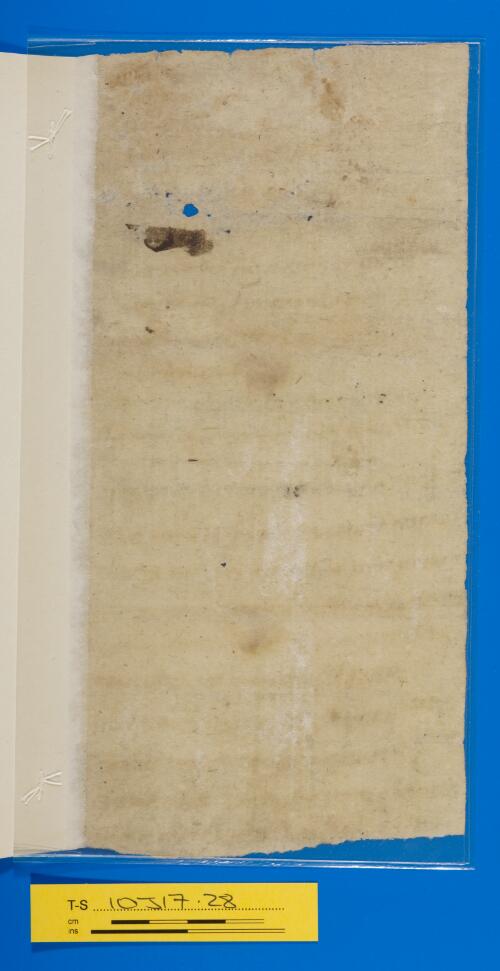 Image Permissions Statement

T-S 10J17.28: Provided by Cambridge University Library. Zooming image © Cambridge University Library, All rights reserved. This image may be used in accord with fair use and fair dealing provisions, including teaching and research. If you wish to reproduce it within publications or on the public web, please contact genizah@lib.cam.ac.uk.