Letter: JRL SERIES B 6116
Letter
JRL SERIES B 6116
Input date
In PGP since 2020
Description
Informal note addressed to Abū l-Afrāḥ requesting that he urgently send the writer 5 dinars with the bearer. Also mentions sending it with the jāriya (female slave?). Verso: "We will pay you by Sunday at the latest." Probably the response to recto; in a different hand.
JRL SERIES B 6116 1 / 1 leaf, recto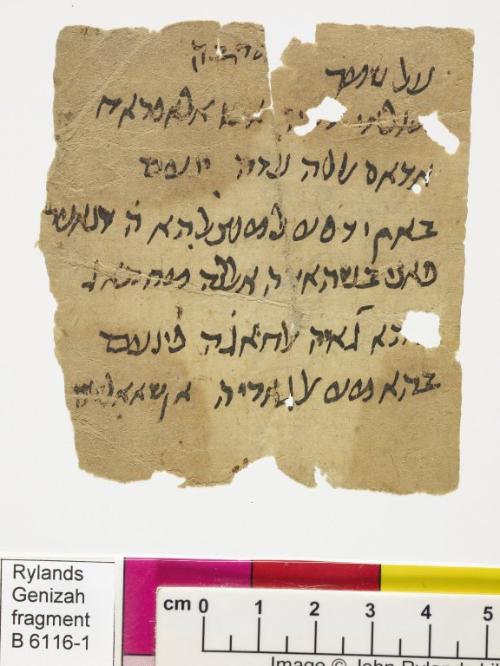 Transcription
Alan Elbaum, [digital geniza document edition] (n.p., 2023).
Recto
. . . בה
על שמך
מולאי אלשיך אבו אלאפראח
אדאם אללה עזה ינעם
באן ידפע למוצלהא ה דנאניר
פאני בשהאדה אללה מחתאג
להא גאיה אלחאגה פינעם
בהא מע אלגאריה אן שא אללה
JRL SERIES B 6116 1 / 1 leaf, verso
Verso
יום אלאחד עלי כל
חאל נדפע . .
אחיאך אללה ושלום
Image Permissions Statement

JRL SERIES B 6116: Image rights: The University of Manchester Library. Access rights: CC BY-NC-SA 4.0