Legal document: T-S NS J203 + T-S 10J14.21
Legal document
T-S NS J203

+

T-S 10J14.21
Input date
In PGP since 2004
Description
Legal document containing the wording of the vow to be made by Bū Isḥāq Ibn Kathīr. Also mentions ʿOvadya b. Aharon and the wife of the baker. Deals with custom duties (maks), mentioning a shop, money changers and 'The Apple House' (Dār al-Tuffāḥ). Money (dirhams and dinars) are weighed and kept with different men. Among many other things, Bū Isḥāq must vow that he reported all of the profits from the sale of a special kind of watermelon (al-Burullusī) and that he embezzled nothing "except what a mosquito (baʿūẓa) can carry." Join: Alan Elbaum. ASE.
T-S 10J14.21 1r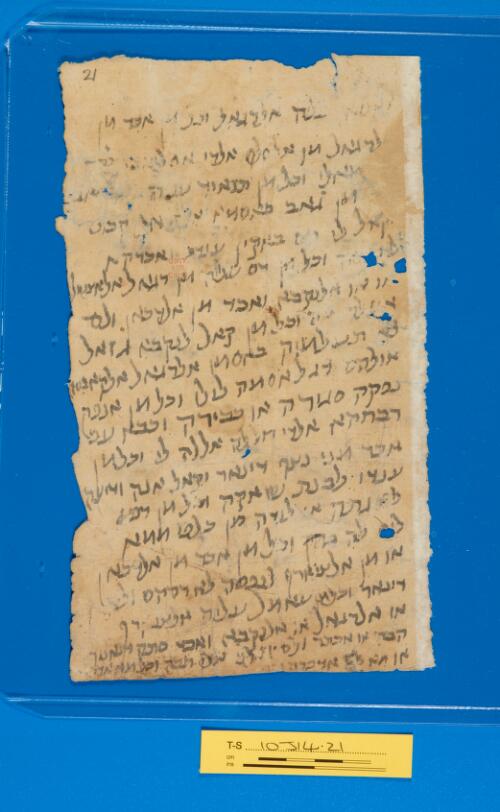 Transcription
S. D. Goitein, unpublished editions.
T-S NS J203:
בשמך ר
אלדי יחלף עליה [א]בו אסחק אלמערוף
באבן כתיר אלגזי [אנה] //מן// יום אתפק שרכה
עובדיה בן אהרן [אלח]בר זל ושרכה הדא
אלמסמא פי הדה [אלותי]קה לם יכונה פי דאר
אלתפאח פי גב[. . . .] . . לא בדרהם
ולא בדינאר ולא [בח]בה ולא בגירה מן קליל
וכתיר ולא פי א[לדא]ר אלסגירה לא דינאר
ולא דרהם ולא אכד מן כלף שריכה מן רבח
או ראס מאל או דפע לבנת שואקה
מעאמלתה דנאניר או דראהם מן כלף [[.]]
שריכה ממא היא לה בחק ולא דפע
ללאכתין אמראת אלכבאז ואכתהא
מן דהב או דראהם או גאלטני פי
חסאב נפקה או ביע פי אלדכאן מן רבח
וגירה מן דראהם או דהב ממא לה
אסם והגא או מן שאל מן אלדראהם
אלגיאד וחט בדלהא נחאס ואכדהא מן
גיר עלמי או מן אכד מני סתה דנאניר
וגאבהא עלי באסמו רגאל אלאצטול
ולם יכונו אכדי מנהא גיר אלבעט [[ואפק]]
ואנפק הו[[ה]] פי ביתה אלבקיתי וכל מן
T-S 10J14.21 1v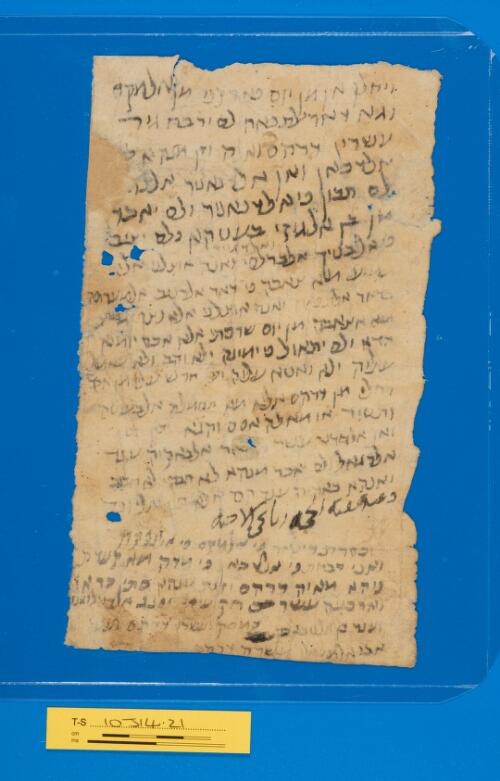 T-S 10J14.21, recto:
ואטא עליה אלרגאל וכל מן אכד מן
א]לרגאל מן אלסל . אלדי אסלפתה לה
מן] מאלי וכל מן תזאיד ענה . . . . . .
וכל] מן גאב באסמא אלרגאל(?) קבוס(?)
וקאל לי כם(?) באקין ענדי ואכדהא
ל[. . . ]ה וכל מן דס עליה מן רגאל אלאצטול
או או אלנקבא ואכד מן אלדכאן ולם
אעלם [ב]ה וכל מן קאל לנקבא גזאל
מא תעלמוה באסמו אלרגאל אלקאבסון
אולהם רגל אסמה לולו וכל מן אנפק
נפקה סגירה או כבירה וכבא עני
רבחהא אלדי חללה אללה לי וכל מן
אכד מני נצף דינאר וקאל אנה ודיעה
ענדו לבנת שואקה וכל מן דפע
לי .ת. א . לודה מן כלפי ממא
ליס לה בחק וכל מן אכד מן אלדכאן
או מן אלצוארף לנפסה לא דרהם ולא
דינאר וכל מן עאמל עליה אלצוארף
או אלרגאל או אלנקבא ואכד סתה דנאניר
הבה או אכתר ולם יוצלני אלי הבה וכל מא אדכר
או מא לם אדכרה[ . . .
T-S 10J14.21, verso:
ויחלף אן מן יום פארקני מן אלמקס
וגא דאר אלתפאח לם ירבח גיר
עשרין דרהם ואנה וזן מנהא כ[רא
אלדכאן ואן אלדנאניר אלצ[רף?
לם תכון פי אלדנאניר ולם יאכד
מן בן אלגוזי בעטהא פלס יציב
פי אלבטיך אלברלסי //ואלר . יידי// ואנה אוצלני אלי
גמיע מא צאבה פי דאר אלכטב(?) אלמערופה
בדאר אלתפאח ואנה אוצלני אלא נצף גמיע
מא אצאבה מן יום שרכתי אלא אכר יומנא
הדא ולם יתאול פי ימינה ולא והב ולא עאמל
עליה ולא ואטא עליה ולא חרש עלי מן אכד
רחלי מן דרהם אלא מא תחמלה אלבעוטה
ותטור או מא לה אסם והגא יכון(?) לה(?)
ואן אלחדא עשר [די]נאר אלבאקיה ענד
אלרגאל ולם יאכד מנהא לא חבה [ולא] רביב(?)
ואנהא באקיה ענדהם אלא . . . . אליום(?)
وعند بقية الحجة وما . . . الا حبة
וכסרת דינאר פי אלמקס פי אלנפקה
ואני רבחת פי אלדכאן פי מדה מא קעדת
פיהא מאיה דרהם וזנת מנהא סתין כרא
וארבעה עשר [[. .]] חק עישי(?) וסבב אלדי ילזמני
וענד בן אל . . בא . . כמסה ועשרין דרהם וענד
אבו אלמע[א]לי עשרה דרהם
Image Permissions Statement

T-S 10J14.21: Provided by Cambridge University Library. Zooming image © Cambridge University Library, All rights reserved. This image may be used in accord with fair use and fair dealing provisions, including teaching and research. If you wish to reproduce it within publications or on the public web, please contact genizah@lib.cam.ac.uk.