Letter: T-S 10J13.3
Letter
T-S 10J13.3
Input date
In PGP since 2004
Description
Recto: Letter sent to al-Mahalla concerning various business matters and dealing with the sale of sugar, chewing gum (mastaka) and rice. Dated 1165. (Information from Mediterranean Society, II, pp. 605-606, and Goitein's index cards). Verso: Recipes in Arabic script. (Information from CUDL).
T-S 10J13.3 1r
Transcription
S. D. Goitein, unpublished editions.
. . . . . . ] ואפקה פי אל[ . . . . ] גרץ משתרי
אלעדד . . ל גייד מכבור וצבגה ודפעה
לשכץ יעמלה עשרין דראע והו יצל אליה
עאגל ענד רגוע אלעבד אלי אלמחלה פיטיב
עישה ואלקטן אלדי טלבה ר יעקב אשתראה
אלעבד וסלמה לרשיד בן מפצל צאמן
[[דמיר]] שרבין והו יצל אליה פי הדא אלאסבוע
אלי דכאן אלשיך מפצל בן אלנשילי כמא
עמל אלעבד פי קטן אשתראה לר עמנ[ואל
נין הרב רבנו יחיאל זל יחיט עלם סיידי בדלך
וצל לא שך יא סיידי אן אלמצטכא וצלת כתיר
ואנבאעת פי אלריף בסתה נקרה אלמן וכל מן
אבאעה אלעבד שי בקי בגמאנתה לם יביע
לאן מא כאן אליהם מעאש ולם יסתכרג אלעבד מן
תמנה שי לכן סידי יטייב עישה פגנה . . . . .
יתחצל אלי בין ידי סיידי וקד סייר אלעבד צחבה
מוצלם מן תמן אלסכר אלאול . ק צ . גר . . .
ולם יבק לסיידי שי מנה סוי אבל נגה ואחדה ענד
סרור בן אברהים מן אלמניה זפתי לם יגדר אלעבד
הדא אלדי חצל תמן אלסכר אלמקארב אלדי וצל
צחבה [ . . . . . ] אלשאמי סער תסעין אלקנטאר ענדה
גמיע מא . א מנה קנטארין ועשרין רטל אלא רבע
רטל לא גיר ולולא ציקה אלוקת ענד כתבהא סייר
אלעבד ורקה באסאמי אלאשכאץ אלדי אשהר . י . .
והי תצל אלי סידי ען ידהא ואלדי יתחצל מן תמן
אלמצטכא ואלסכר ואלרוז יצל לסיידי א . ל . . . . ל
ואן קדרת תסייר לי צחבה נגיב ארבע וגו . סכר
יכון וסט טייב יסייר סיידי לא[ . . ] בגדה אלדי
מעה מא תחמל אכתר ואמלא כטה שבאב טייב
לימון סאיל תכון עאלי מן אלסכר אלגדיד אל[ . . . .
חלב צ . . . [ . . . . . . . . . . . . . . . . . . . . . .
T-S 10J13.3 1v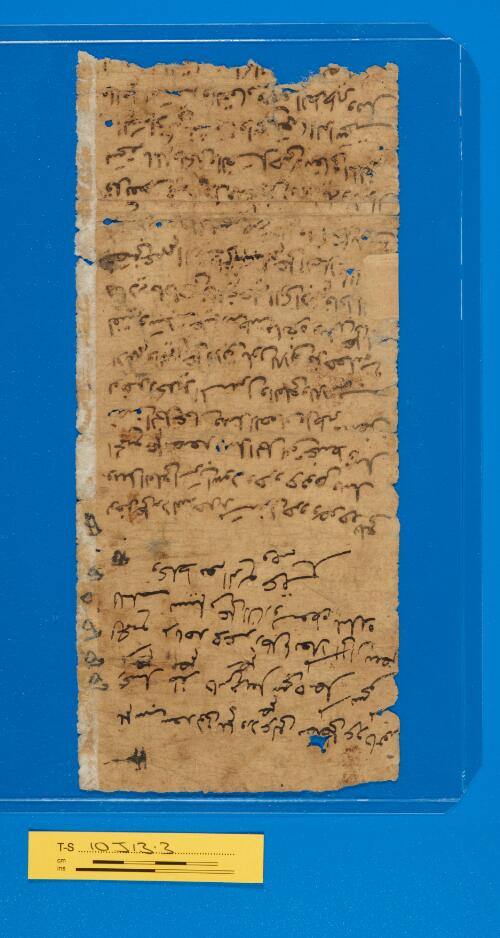 Image Permissions Statement

T-S 10J13.3: Provided by Cambridge University Library. Zooming image © Cambridge University Library, All rights reserved. This image may be used in accord with fair use and fair dealing provisions, including teaching and research. If you wish to reproduce it within publications or on the public web, please contact genizah@lib.cam.ac.uk.